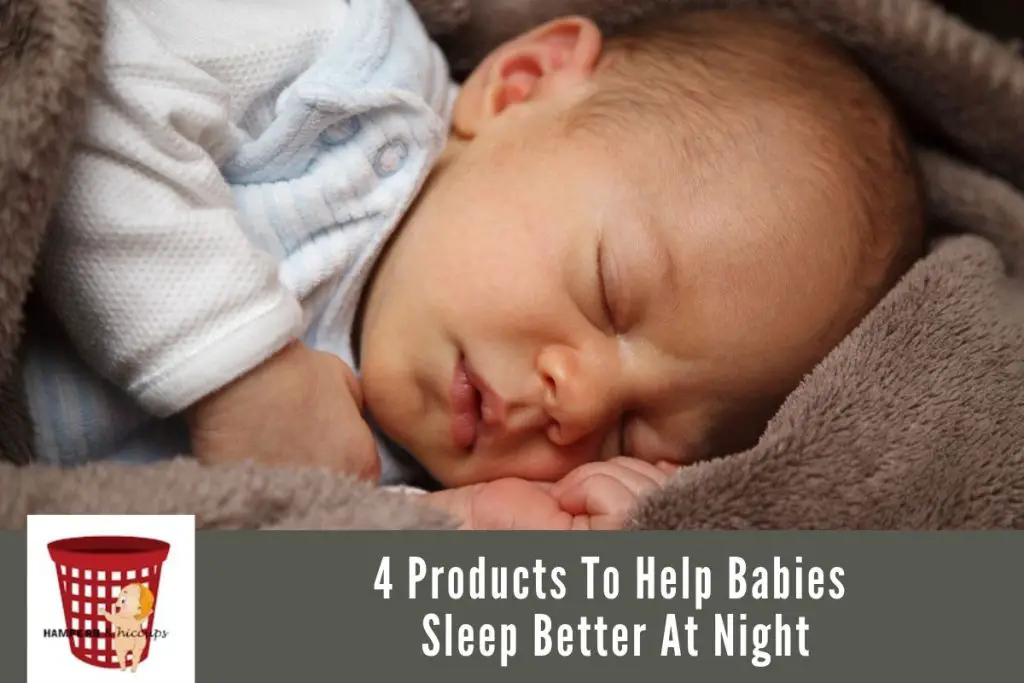 A few years back a survey found that parents lose a staggering 6 months sleep during the first two years of their child's life.
One of the reasons is that whilst babies (and especially newborns) sleep a lot, they do it in fits and starts throughout the 24 hour period, making it virtually impossible for parents to get a consolidated 8 hours sleep.
But despite the universal problem of parental sleep deprivation, there's no one-size-fits-all solution.
So where do you turn when you've listened to countless experts, bought every single baby sleep book, but still face the seemingly endless frustration of getting baby to sleep?
One solution you may not have considered is the fast-growing market in smart, sleep technology products that have exploded onto the market in recent years.
What is sleep technology?
'Sleep tech' is a relatively new category in the field of consumer electronics, and it's a result of increasing public awareness of the vital importance of sleep health, fuelled in part by the massive success of recent books like Arianna Huffington's Sleep Revolution and Matthew Walker's Why We Sleep.
If you're not familiar with the sleep technology market, there are products tailored for just about every aspect of your sleep health. These include sound machines, sunrise alarm clocks, insomnia sleep aids, wearables and bed gadgets to heat and cool your mattress.
Depending on your specific needs, these devices can help you:
track and measure your sleep
fall asleep faster and deeper
stop you snoring automatically
create relaxing soundscapes for your bedroom
improve the lighting in your sleep environment, and of course..

help babies and parents get a better night's sleep
So, to give you a taster of some of the best baby sleep gadgets on the market today, here are a few of my top recommendations.
Best Baby Sleep Gadgets: Our Top 4 Picks
As the name suggests Sleep Sheep is a soft, cuddly toy lamb. But it also contains a hidden sound machine that plays soothing sounds to mask unwanted noise in your baby's sleep environment to help calm and settle them.
The winner of several industry awards, including the National Parenting Council's Seal of Approval, Sleep Sheep has received wide acclaim, as evidenced by a 4-5 star rating on Amazon and over 600 reviews.
Sleep Sheep by Cloud B employs the science of 'white noise' to help your baby sleep better.
White noise refers to sounds that 'mask' (rather than completely block out) other sounds in the bedroom. For instance, if you live near a busy road, white noise – which can include nature sounds, lullabies and more – could help lessen the disturbance caused by traffic sounds.
Several studies have found that using white noise can be an effective way to help babies fall asleep and stay asleep longer.
Sleep Sheep is designed for newborns and upwards. You can either place it in the baby's bed when they're trying to settle, or use the velcro tab behind the toy's head to attach it to the outside of the crib.
There are 8 soothing lullabies and sounds to choose from:
Mothers Heartbeat
Spring Showers
Ocean Surf
Whale Songs
Twinkle Twinkle
Rockabye Baby
You can adjust the volume of the sounds and set a timer to auto-shutoff after either 23 or 45 minutes.
Sleep Sheep ticks all the boxes in terms of safety and baby friendliness. It actually exceeds the safety standards, using materials that are certified Phthalate Free, latex Free, lead free and BPA Free.
It's also fully machine washable. Just remove the sound box from inside the toy, and pop the Sleep Sheep into your washing machine.
Sleep Sheep combines both the cuteness of a cuddly, newborn-safe soft toy with the practical benefits of a white noise machine. And just in case sheep aren't your thing, Cloud B has extended its product range to include many other cute animals including a panda, fox, giraffe, bunny and more!
Baby sleep gadgets don't always have to be super hi-tech. One such example is the Baby Shusher a simple, but extremely effective sound machine with over 1100 5-star Amazon reviews.
Husband and wife team Chad & Katie Zunker came up with the idea of the Baby Shusher when they discovered the only thing that would settle their first newborn to sleep was the sound of Mom whispering gentle shushing noises.
This led to the invention of the Baby Shusher Sleep Miracle Soother, a portable, sleep sound machine that looks like a cross between a toy space rocket and a salt & pepper shaker. This strange looking device only has one function, to replicate the rhythmic "shhh" sound that moms and dad instinctively use to lull their little ones to sleep.
Using the Baby Shusher is really simple, just twist the top to turn the shushing sound on and if you want to adjust the volume, simply twist the bottom section.
You can also select a timer to switch off the sound automatically after 15 or 30 minutes. It's powered by 2 AA batteries which should last a few weeks under normal use.
Because it's portable you can either hold the Baby Shusher in one hand whilst you're rocking your baby, or you can place it in the crib. It's also great for car journeys, whether you're doing the groceries, visiting friends or on vacation.
Like many of the best ideas, the Baby Shusher is incredibly simple, but as thousands of parents have testified, it really works!
Hatch Baby, a startup form by husband and wife team, Anne and David Weiss, got their big break after appearing on the infamous ABC show, Shark Tank pitching their clever app-controlled baby changing pad with a built-in scale.
Since then, the firm has raised millions in funding and introduced many more innovative products to their range including the Hatch Baby Rest.
Hatch Baby Rest is a combined night light, sound machine, and time-to-rise alert in one modern, easy-to-use device.
All the functions can be controlled from your Android device or iPhone, enabling you to set programs that turn on and off automatically based around your family's sleep schedule.
Hatch Baby Rest is designed for newborns, especially to help assist with night-time feedings, and diaper changes, but it also grows with your child's need. For instance, as one of the testimonials explains. "In the morning, we've been able to get a bit more sleep by teaching our 2 year old to wait until the light turns green before getting out of bed. Those few extra minutes in the morning make a huge difference."
Because everything is app controlled, you can create your own programs to aid sleep and encourage healthy routines. This means you can set up lighting and sound presets for different occasions, such as night-feeding, nap-time,  crying etc.
When baby has grown, you might want to set a bath time program to let your little know it's time to get ready for bed, or activate the 'Time-to-Rise' feature which uses colored light to let your toddler know when it's OK to get out of bed.
Rest comes as a plain white device, but if you want to customize the look you can browse among several 'coverlets' to jazz up your device with polka dots, animal prints or something else.
There are lots of other sound machines and baby night lights on the market, but Hatch Baby Rest combines good design, with just the amount of tech features to be a smart device, but not too smart to overwhelm parents.
The Snoo Smart Sleeper is an extremely hi-tech 'robotic' baby bassinet that uses the latest science and technology to settle your newborn back to sleep in under a minute.
Snoo, made by Happiest Baby is the brainchild of paediatrician Dr Harvey Karp, a famous baby sleep expert and author of best selling book, The Happiest Baby on the Block. After collaborating with award-winning designer Yves Behar, the Snoo Smart Sleeper was born.
Snoo Smart Sleeper features a range of unique innovations that have not only won it praise from celebrity parents including Molly Sims, Ashton Kutcher and Mila Kunis, its patented safety features make Snoo the only bassinet that meets all American Academy of Pediatrics safe sleep recommendations.
Snoo Smart Sleeper applies Dr Karp's well-known '5 S's', a highly successful method to calm and sooth newborns. The 5 S's include the need to swaddle, swing and shush which Snoo achieves in a unique and smart way.
The swaddle element is taken care of with the Snoo Sack. This is an integral part of the Snoo system, taking the ancient concept of swaddling (tightly wrapping your newborn in a cloth to calm and sooth) and updates it for the 21 century. The Snoo Sack wraps your baby in a hip-safe, breathable swaddle that straps securely to the bassinet, preventing your newborn from rolling over.
But that's just the start of Snoo's innovative features. The real clever stuff happens with the crib's built in microphone and movement sensors that can detect the earliest signs of your baby crying or becoming unsettled in their sleep.
Snoo features a built in white noise machine to play relaxing sounds to your baby in the crib. But it can also detect when your baby has fallen asleep, is about to wake, or start crying and automatically respond with gentle rocking and shushing all night.
If the baby doesn't calm within the space of a minute, the machine stops, and alerts the parent that the baby might needs more attention, perhaps they're hungry or need changing.
This boosts the amount of sleep every night for both babies and parents because your fussy baby is usually lulled back to sleep in less than a minute, removing the need to mom to get out of bed and solving the number one problem of new parents – exhaustion!
The built-in swing is also a clever feature. Rocking a baby to sleep is something that humans have done for thousands of years. But how do you make a crib that automatically responds with a rocking motion, without running the risk of putting baby into danger of rolling over and potential suffocation?
Dr Karp's Snoo solved this dilemma by making their swing only move in a horizontal direction. This means baby can be rocked without any manual intervention, but also they'll be completely safe and never on an incline.
So, whilst undoubtably super-impressive, the Snoo Smart Sleeper has a downside. The cost.
This hi-tech crib comes at an eye-watering cost of $1160, putting it out of the range of many parents, especially as the bassinet is only suitable for babies of up to 6 months old. But as the website says you can 'either spend $6/day on coffee to try to stay awake or to buy SNOO and get hours more sleep + peace of mind your baby is safe…. '
All said, to ease the blow, there's a 0% finance options, plus a 30-day money back trial. Also, because the Snoo has such a good track record, there's a growing interest amongst parents in buying lightly used second-hand Snoo cribs from listing sites like Ebay, kijiji, and Craiglist.
Regardless of the cost, parents who have invested in Snoo swear by its effectiveness. The question is, what price do you put on your sleep?
I hope you enjoyed our round up of some of the best baby sleep gadgets. If you have any questions, please feel free to post them in the comments below!
(Visited 165 times, 1 visits today)