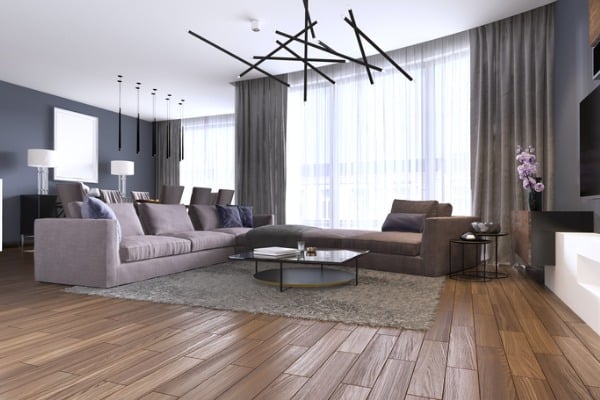 Are you thinking about a new house look this year? Do you want to get rid of your bland-looking floors at home? Have you ever been craving for a change in flooring design but no money to start a huge makeover?
Having a cozy and beautiful floor renovation does not have to be expensive, although it can consume a large part of a remodeling budget (plus your time and effort).
Most people take time out of their lives to renovate their homes. This is just one part of our journey that we have to go through.
Since your floor is the first thing people notice, read on to find out what's the best flooring project to consider for you and your lovely home.
DIY Flooring Ideas For A Cozier Home
If you want to improve the style of your home for more comfortable living, change your flooring perspective as soon as you can. Below are some awesome DIY projects for a brand-new look you can enjoy.
Hardwood Flooring
Whether it is from your stockroom, from a lumber store, or from a furniture shop, a wooden floor is always catchy when styled and polished accordingly.
An unfinished material is recommended if you want to customize your preferred design. Tools such as a planer, good sandpaper, varnish, paint, and some wipe-on products can be of great help to finish your hardwood.
Painted DIY Plywood Plank
If you don't want very thick flooring, you may opt to use plywood planks. This may take some time to install, but it can suit your personal choice particularly in color and style.
Does this flooring idea appeal to you? You may want to get to know some facts here.
Personalized Wallpaper Flooring
You may buy well-designed wallpaper suitable for flooring from local bookstores or department stores, depending on your own preference.
You may also need some support tools like varnish, wallpaper brush, and roller paintbrush for your finished handy work. The design of your wallpaper is based on your choice.
Pebbles And You
Whether you are thinking about redesigning your bathroom tiles or your garage, or you are a pebble lover or collector, this idea is perfect for you. This is in fact cheap and easy to install.
You just need a few working tools for installation, and you are good to go. However, this may require little expertise to perfectly fix it.
Scrapped Tiles
You can always customize your floor designs using excess tile parts that are not used anymore. Arranging the small pieces into a beautiful design may take your time, but the result will give you amusement.
Instead of putting these tiles into the trash, why not try to recycle them and organize them fairly using other DIY materials with quality assured coating products that would last longer.
There are a lot of reusable resources and scraps around you or in your storage room that can be used as flooring materials. It just depends on how you reuse them.
After you installed your preferred floor design from your DIY project, how are you going to take care of it to preserve its nice look?
Tips To Maintain A Cozy DIY Flooring
Some floor designs are not long-lasting, but they add more vibrancy and life in your home. Here are some ways to keep your DIY flooring catchy and cozy.
Vacuum Weekly
This is a tiring task to do, but it can make your house clean and makes sure that the dirt is removed because of frequent cleaning.
Vacuum cleaners are great in helping to retain the coziness of your floor without destroying any part of it.
Clean Spills Or Stains Immediately
Every time you see a mess on your beloved floor, or any spill from your coffee or milk, do not let a day end without cleaning it.
Stains are often hard to get especially when they are stuck hardly on the floor, and you don't want to exert too much effort to scrub them and destroy your beautiful floor design.
Use Appropriate Material For Cleaning
When you clean the dirt on your floor, think about the right cleaning tool that is appropriate for your flooring material. If your floor is made of wallpaper, make sure to use cleaning equipment that will not ruin the design.
Floor scrubs are not recommended for these types of flooring.
Occasional Check
Not all floors need to be repaired constantly but to make sure that your floor is well-maintained, you may assess its materials.
Hardwood floors, for example, are sometimes prone to termites and other wood insects so there is a tendency of destruction as time goes by.
Use High-Quality Floor Coating
To ensure the durability of your flooring, the best technique to have it is to use high standard and well-recommended floor coating materials.
Say for example your garage is wide enough for a vehicle or two to fit in, solid-based garage epoxy floor is recommended. There are various kinds of this coating, and you can definitely find them in some local hardware stores in your area.
Make The Most Out Of It
A comfortable home with a directly noticeable floor can spice up your daily mood.
The completion of your DIY floor project is one of your goals so feel its comfort as it can only be once because you might change your thoughts again after a few months or years and redesign your home again with another bright idea in your mind.
How you take care of your flooring depends on how you handle it. Most DIY projects are often easy to do, but it takes a lot of effort to perfect them.
A home makeover is a little taxing and exhausting especially when you do it alone or with only a few members of your family.
It can add burden to you from planning, budgeting, deciding on the design, managing the time for completion, and maintaining it to still look beautiful and cozy. Floor renovation in particular is strenuous, but it will definitely intensify the comfort of your home.
(Visited 10 times, 1 visits today)