Nowadays, it would be nice to have a simple garden, somewhere that you can sit back and relax in, and take in the beautiful lush greenery. But, it's harder than you think to achieve this. But, if you are new to the life of the green-fingered existence, you may not be aware of some of the most common garden problems everyone faces. So, what are these?
[bctt tweet="As a new gardener, you may not be aware of some of the most common garden problems everybody faces. So, let's discuss some of these." username="hampsandhiccs"]
Modern Garden Problems Everyone Faces
Issues With The Plants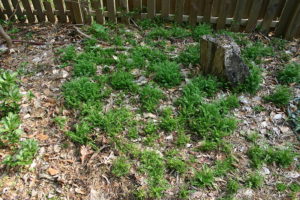 Naturally, as plants will take up the majority of any garden, there can be a lot of potential sticking points. But, while there are a lot of issues that relate to not [amazon_textlink asin='B01M0EU32V' text='watering the plants' template='ProductLink' store='neededintheho-20′ marketplace='US' link_id='e609c4b5-a177-11e8-81c5-6d4a4f09e51c'] enough, surprisingly, a lot of people tend to water the plants too much. And this is because most of us want to do our best when we are trying to look after our prize possessions. If you see limp leaves or the soil is developing mold, these could be signs you are watering the plants too much. You need to read the instructions according to each plant, and that way you will ensure they get the right amount necessary for them to grow.
Bugs, Bugs Everywhere
It's more common in the summer, but there are various bugs that like nothing better than to eat away at your plants. Greenfly is one of the most common, and very easily chip away at any plants leaves, and you will see if they've been struck, as there will be little holes through every leaf. Not only these, there are critters like slugs as well as gypsy moths, but for the more uncommon bugs, it's far better to call the professionals in. Those that specialize in gypsy moth control will have their own unique and specialized methods to deal with it properly. While you can get rid of many of these bugs with water and a little resilience, sometimes you have to go to Defcon 5 to make sure they won't attack you ever again!
The "Friendly" Pet
Your pets always mean well of course, but they can very easily turn a picturesque garden into a pile of potholes. Dogs are one of the most well-behaved animals, but even they can't resist digging a hole in your garden from time to time. The best way to ensure you've got them where you want them is to supervise them when they are out in the garden. Also, you should make sure that your dog is getting enough exercise. They may have a lot of energy to burn off if they don't exercise enough, and so, they will attack your innocent flowers and plants.
Get it right, and your garden is a beautiful looking space that can provide a way for you to live a self-sustaining lifestyle. But, it can take some time to get right, especially if you have these common problems undermining your ability to develop. In addition to these concerns, consider how much sun your plants are getting- too much and they will break, too little and they will stop growing. There's always advice on hand, but make sure you aren't making the most basic of mistakes first.
(Visited 49 times, 1 visits today)