Hey guys!  A little something different this week.  I'm excited to announce that today's post about making your house a home on a teeny tiny budget is shared with you by Ms. SFT from Super Fund Time!
As newbie finance bloggers who purchased their first home shortly after graduating college, I figured they'd be the perfect pair to fill us in on all the ways to save money while upgrading a home.
Plus, they're self-proclaimed foodies!  So, y'know, check out some of their mouth-watering food pics. All the heart eyes.
And, without further ado, I'll let you to learning more about making your house a home on a teeny tiny budget.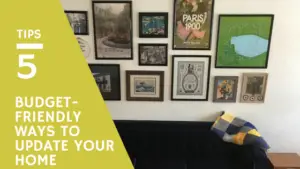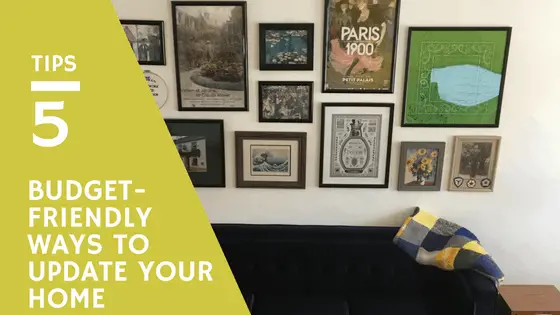 Moving is stressful! Once you're all finished emptying boxes, your new house still doesn't feel like a home. At least, that is how I felt when when Mr. SFT and I moved into our first home last year. I remember our living room was a super dark and drab color which only made our small space look smaller. The kitchen was painted a rather pleasing light blue, but looked ridiculous considering it was next to the dark and drab family room. Since we have an open floor plan, these two rooms needed to flow together.
Of course, since this was our first house, we didn't have a lot of our own furniture. We also didn't have a lot of money. Looking back, that worked in our favor because we had to be extra creative of what we used in our design. We couldn't (and if we had the money at the time, we wouldn't have spent it on decor items) go to the store and pick out fancy items for to decorate with.
Honestly, I don't love DIYing, but I do love when a project is finished. I want the projects to be as easy as possible, but look nice and add a homey feel to the house. Although our space is still a work in progress, it has come a long way since the day we moved in. We definitely feel at home here.
*Editor's Note: Making your house a home on a teeny tiny budget can be frustrating, time-consuming and endless.  Be sure to take breaks and work on projects when you're in the right mood to do so!
Decide on a theme.
Since our house is small and open, a theme helps the first floor feel cohesive. We both appreciate the mid-century modern design aesthetic, and wanted to decorate a bit differently than the norm. Choosing items for our home is easy because we only need to ask ourselves if the item is retro or not.
The theme doesn't need to be specific. It can be simple like contemporary or victorian. This theme can also be subtle. I have found that having a theme easily brings cohesion to the first floor, especially if you have an open floor plan.
Throughout this post, I refer to making the first floor feel homey. Since the upstairs of a home is often separated by bedrooms, I feel it is easier to decorate because each room can have its own design without impacting the rest of the house.
Don't be afraid of color!  It will help in making your house a home on a teeny tiny budget
I love color, especially yellow. We painted a large pattern on our stair wall, and spray painted the base of our kitchen table yellow.
We are in the process of painting our cabinets Kelly green.
All of these bursts of color work together because we painted our walls white. The pops of of color also act as statement pieces.
We put a lot of effort into a few designs in our home (Kelly green cabinets, our statement wall and gallery wall), and then the rest of the first floor requires a lot less effort. I find paint to be an inexpensive way to make a big change to your home. Paint color is one of the first things you (or guests) notice, so I suggest prioritizing the paint color when designing your home.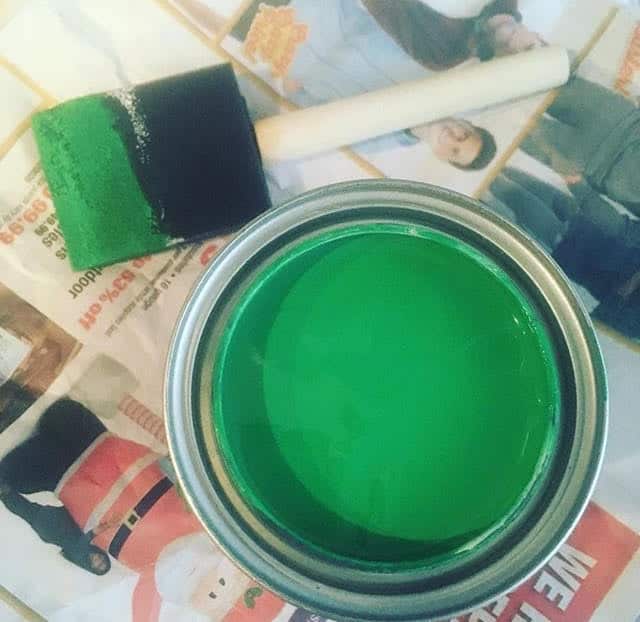 Add unexpected touches
We also added color to our light switch plates by covering each one with a page from the very colorful Paris metro map. We both love Paris, so this is a small reminder of our travels there! We bought the metro map booklet for $25 on Amazon and used an exacto knife and Mod Podge to stick the map to the light switch plate. Designed light switch plates can be expensive, so this was a great way to give our light switch plates a new life!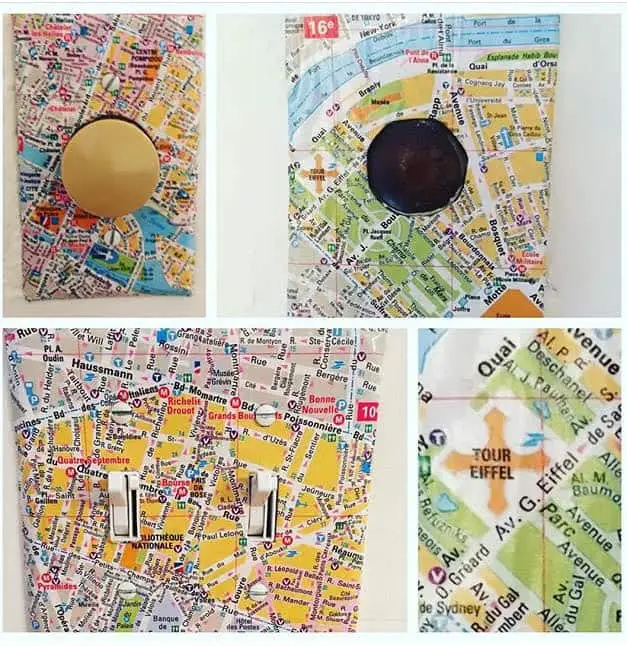 You don't need fancy paintings to make your house a home on a teeny tiny budget!
Once you have the foundation of your design (your theme and your paint colors), it is time to add the personal touches that will make your house feel homey. Being a financial independence blogger at heart, I have to say that you do not need to decorate your house with expensive paintings and knick knacks to make it feel homey. I find that many people buy a house just to fill it up with new stuff. That doesn't need to be the case!
It can definitely be tough to move into a new house or redo your old decor and not buy a new knick knack for the bookshelf or a new paperweight for the desk. To resist the temptation to fill our house with stuff, we are intentional about what we add to our design.
For example, since we are self-proclaimed foodies and love going to restaurants, we framed the restaurant menu of the best food we ever had. This restaurant was absolutely amazing and we had a fantastic time, and the framed menu brings back those memories. In line with the foodie touches, we framed a small print of Julia Child in our kitchen. I could go on and on about why she is my idol, but I will refrain.
You could consider framing your wedding invitation or any keepsakes that bring back fond memories.
Create an inexpensive focal point
In the family room above our couch, we hung a gallery wall. I thought it would be super easy to hang, but lining up and spacing out a gallery wall turned out to be tricky. After ours was all finished, I came across this life hack that makes it super easy to hang gallery walls correctly the first time. I will definitely put into action next time!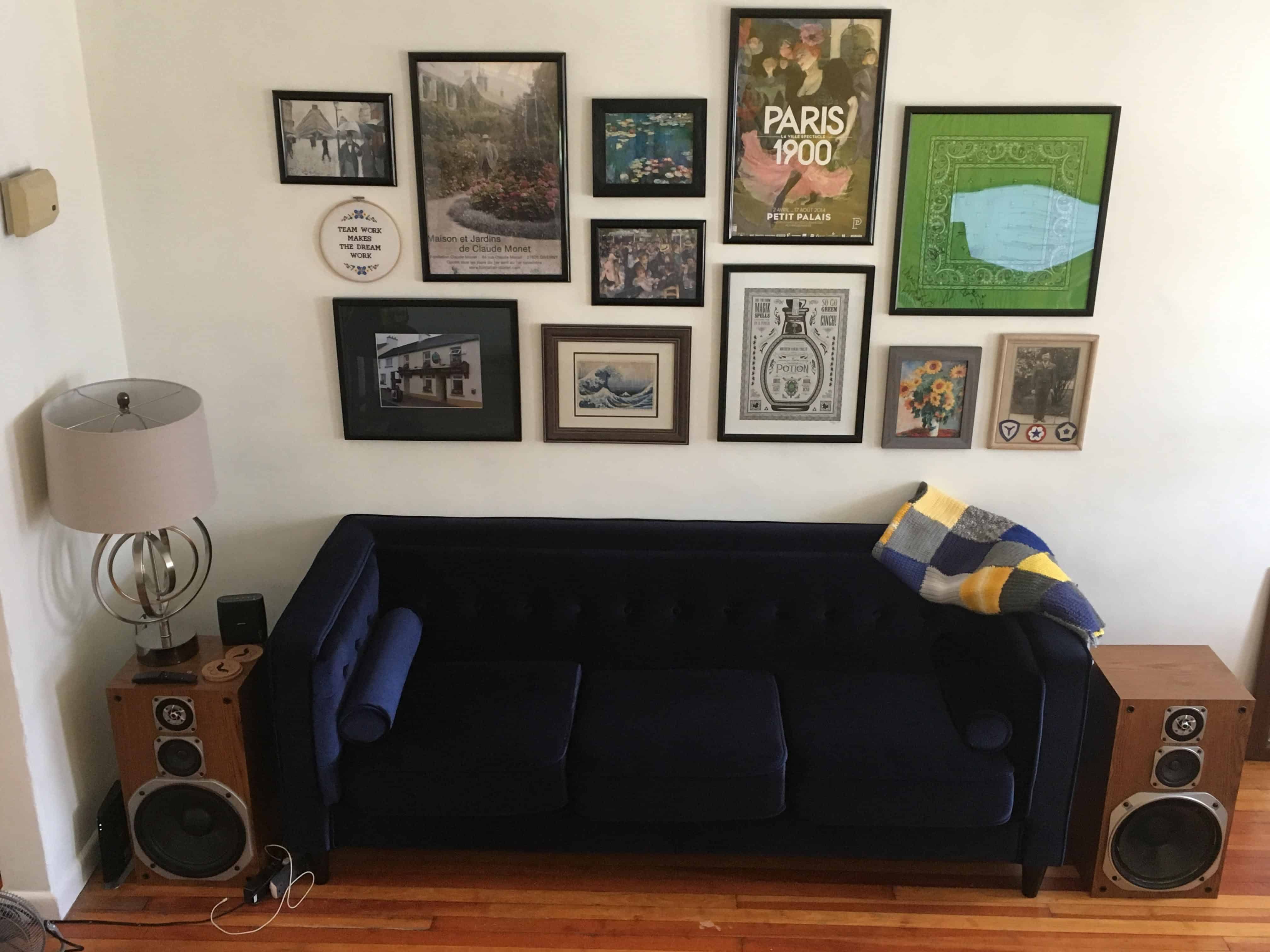 For our gallery wall, we used a mix of each of our own art and some that we had gotten together. The price of frames can add up quickly. I have shopped around and been able to find some good deals. Since a frame is something you should only have to buy once for each poster and piece of art, I tend not to stress about the price too much.
Seek out free or low-cost furniture to create a home on a low budget.
There is less pressure for furniture to stay perfect when it is used. Let's be real, furniture that experiences daily wear won't stay perfect no matter how expensive it is. I recently got a nice and sturdy glider for free. See how here: Have you joined the gift economy? If not, you're missing out. I am going to purchase a new cushion so it fits in with the design of the room.
My absolute favorite piece of furniture is an old Philco TV which we purchased on the Facebook Marketplace for $31. It grounds our retro theme and is a great conversation piece. We use it in our kitchen as a bar and buffet table.
Most important tip for making your house a home on a teeny tiny budget – keep it functional.
You want your home to work, so organize it in a way that is convenient for you and your family. Although we don't have a foyer (the front door opens right to our family room), we hung a coat rack near the entryway. This prevents coats from being hung on the kitchen chairs!
Instead of a boring coat rack, we chose one where each hook is a dinosaur. It might have been originally designed for a baby's room, but the yellow and green colors fit in with our design. The dinosaurs add a bit of funkiness to the space.
*Editor's note: don't be afraid to repurpose old items, or items that aren't traditionally intended for what you have in mind.  Getting creative is a lot of fun when making your house a home on a teeny tiny budget!
In our kitchen, because of our limited cabinet space, we are planning to hang a strip of peg board on the wall to keep our pots and pans. Think Julia Child's kitchen.
For us, keeping it functional also means warding off clutter. I recently read Marie Kondo's The Life-changing Magic of Tidying Up. It was a game-changer! Her method of decluttering ensures that you don't spend every day of the rest of your life tidying up.
*Related post: New Homemaker's Guide to a Cleaning Routine (free printable)
One last thing
Making your house homey is a special process that often comes with a lot of pressure. You will want each item to perfectly represent you and your family. Don't let that pressure overwhelm you! You are more than all the items in your house. Focus on items that make you and your family feel comfortable and inspire joy.
(Visited 272 times, 1 visits today)