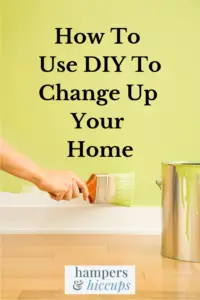 DIY is one of those things that you either love, or hate. Some people just can't get the hang of it, and always end up making their problems a little bit worse than they were before, which can make you want to put the tools away forever. However, all you need to do is take a deep breath, cut out your DIY-phobia, and follow these simple tips to use DIY to change up your home. It won't be too stressful, and you definitely won't regret it when you see the amazing results!
In paint we trust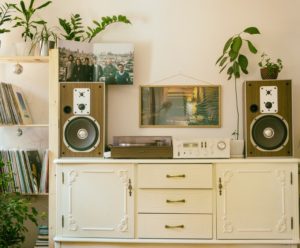 Having kids is one of the most rewarding, and enjoyable (albeit sometimes stressful) things in the world. We love them so much, but when they put those chocolate covered hands on our beautiful white walls, we do feel like they were sent to test us. If your walls are looking a bit mucky and out of shape (and perhaps covered in crayon drawings) then investing in a tin of paint and spending a day fixing them up will really change the feel of your home. You don't need to change the colors dramatically if you're already pretty happy with them, but painting just gives this feeling of newness, which makes it worthwhile!
Upcycle, don't throw things out
If you have something in your home like a chest of drawers – and you're pretty sick of seeing it now – don't just throw it out before you've thought about all of the possible ideas for your own wood cabinet, personalized to the new look in some of your spaces. Dark wood is going out of fashion lately (although it still looks great in some circumstances) so why not paint it a lighter color? Not only will it bring a feeling of lightness to your rooms, but it will also enable you to make it exactly how you want it. Change up the handles on your cabinet, too, and you'll have a (sort of) brand new piece of furniture.
Declutter
Sometimes, you can make it appear as though you've done some DIY, just because you've got a good eye for arranging your furniture and you know when it's time to get rid of some stuff. Your main problem may be that you're guilty of hoarding, and you don't like saying goodbye to things that you don't even use anymore. If your kids have no interest in an item, and you don't particularly attach any sentimental value to it either, then get rid of it. You can utilize some good storage solutions to a certain extent, but don't take up valuable space with the stuff that you don't really need, as it just isn't worth it!
So, if you want to change up your home, why not use a little bit of DIY (or just fool people into thinking that you have)? From using some paint to give your rooms a lease of life, to upcycling your old furniture, there are many things that you can do, and if you don't fancy it, getting rid of some old stuff is a good idea, too. Good luck!