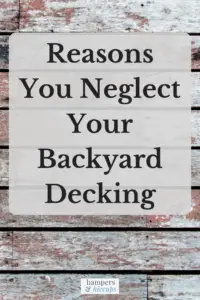 Patio decking can be a fantastic backyard addition. Could anything for be better for creating an outside area with practical purposes? When you installed that backyard decking, you probably imagined eating outside every day and hosting regular parties. Since then, however, your patio has slipped into disrepair and disuse, and you don't know why.
It can be frustrating when something like this remains unused from one month to the next. You spent a great deal of time and money to incorporate it, after all. Still, you've only used it a few times. That went well, but it hasn't even crossed your mind to get out there again, especially now that the weather's changing. Let's be frank; it's easier to shut those blinds and pretend your outside area doesn't exist. It's better than feeling guilty about not using it, right?

But, we're here to put a stop to this type of patio abuse. Don't you think it's past time you looked at Deck Restoration options and gave this section of your backyard the use it deserves? Before you can do that, of course, you need to work out why that hasn't happened thus far. To help, we're going to consider the primary reasons we neglect our patios.
It's unsafe for regular use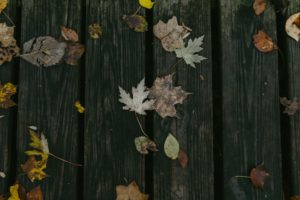 It's possible that your reluctance to use this area comes down to nothing more than worries about safety. Are you concerned that someone could put their foot right through rotten decking? Are there significant gaps between those boards which could prove a tripping hazard for your little ones? If you answered yes to any of these, it's no wonder you avoid using the area. The good news is, this doesn't have to be the case. There are plenty of repair services out there which could see many of these issues becoming a thing of your past.
Once your patio is back up and running, you'd merely need to keep on top of maintenance to avoid the same thing again. This is often as simple as removing weeds as they appear or washing the area regularly. You should also look out for signs of issues such as dry rot, which could lead to collapse if you aren't careful. Of course, jumping and running around isn't advisable even on a brand new decked area. To some extent, then, you do always need to be careful when using this space. But, if you maintain it and stay sensible, there's no reason fears here should stop you from making the most of this.
It's a one-season pony (or patio)
It doesn't take a genius to work out that decking like this gets its best use during the summer months. What could be better, after all, then sunning it up on your patio with a lemonade in hand? Still, only being able to use your decking when the sun is shining would be a colossal waste. That's hardly the way to make the most of your backyard, is it? It certainly doesn't seem worthwhile when you consider the cost of installation.
But, we're here to tell you that decking doesn't have to be a summer affair. In reality, there are plenty of ways to make this work for you during even the coldest times of the year. All you need to do is consider which additions could make this possible. A fantastic bet here would be something like a patio heater. This can keep this area warm even when it's snowing outside. Imagine sitting all snuggled up as you watch those flakes fall. Think, too, about lighting options. The right lights could see you using this area even during these dark nights. Fairy lights are also a fantastic option here, as are solar lamps, or even candles.

You have no incentive to get out there

While not everyone will need an incentive to use their decking, others take a little more persuading. Given that you're reading this post, we're going to assume you're in the latter group. If there's no pressing reason to get out and use that patio area, after all, it's easy to let it slip into disrepair. Hence why you need to give yourself a real reason to get out there.
For some, an addition like a Barbecue or outdoor pizza oven could work wonders for increasing your use here. Or, you may find that something like an incorporated hot tub keeps you heading here time and again. If your decking is covered and has an electric outlet nearby, you could even incorporate something like exercise equipment into the area (be sure to unplug when not in use). Or, why not use your decking railing to plant flowers which need your regular attention? These are all small things which could boost the use your patio gets no end.

It doesn't look the part

If a room in your house didn't look right, you would shut the door and not use it until you could decorate, right? Well, it's possible the same thing is happening with your decking. If you haven't taken the time to make this look the part, it's possible you're avoiding it for that reason. You certainly won't feel inclined to spend large amounts of time here. Lucky for you, this is one of the most straightforward issues to sort.
All you need to do is turn on your decor prowess here like you would a room inside your home. For one, take your time choosing outdoor furniture which looks good, rather than pieces which serve to fill a hole. Then, you can work on the accessories which ensure everything comes together. We've already mentioned fairy lights, and they can work wonders here. A well positioned set over your decking rails would make this an irresistible place to spend time. Equally, including bright plant pots and ornaments is sure to add a touch of homeliness. Before you know, you'll find yourself gravitating here without even thinking about it.
It's easy to slip into the habit of not using an area like this. Still, as you can see, a little thought ensures your decking needn't go to waste any longer.
(Visited 24 times, 1 visits today)