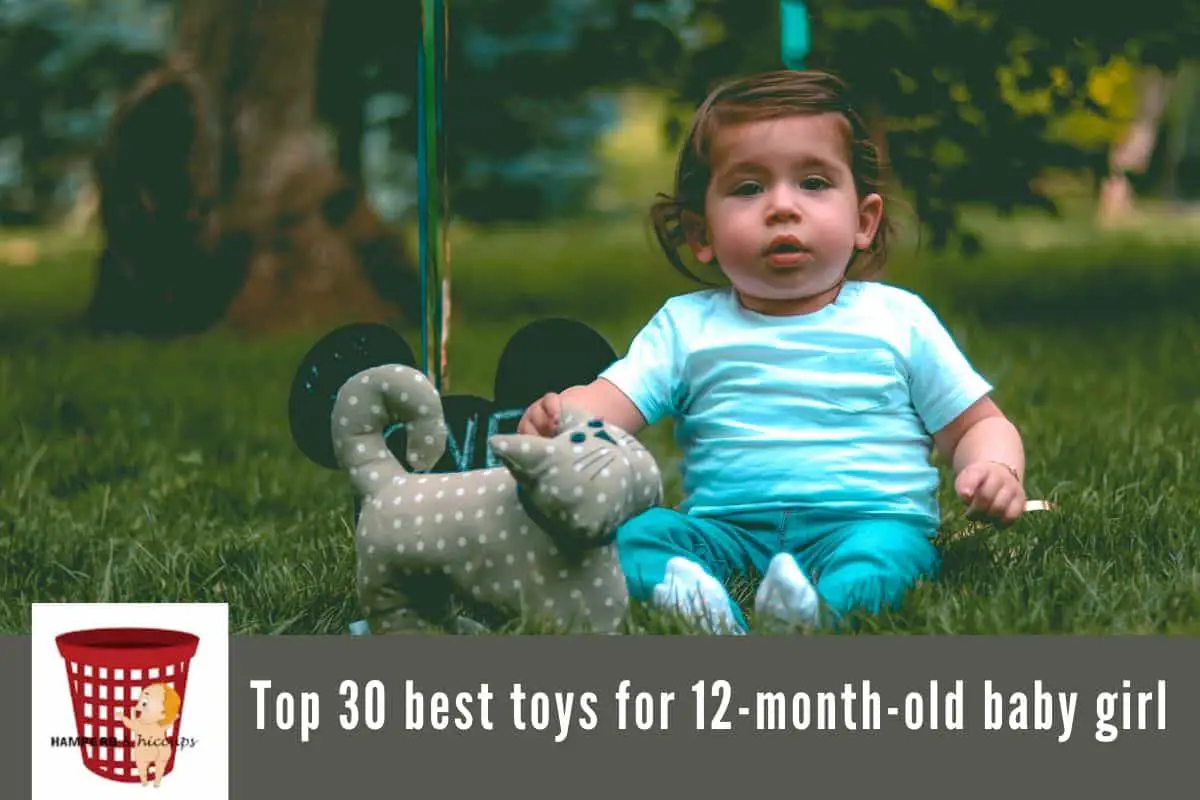 Congratulations! Your baby girl is almost a year old now. Picking a toy for your baby usually isn't as straightforward as it sounds, especially when the specificity of a 12-month-old girl is included. Every new day after welcoming a new baby, parents learn to understand behavioral patterns of their infant; although this is not without close attention been given to the child as well as emotional intelligence being exhibited by both parents.
At 12 months old, your baby starts to show signs of communication and expression of emotions. These signs will most likely come in the form of squeals, chuckles, babbles and other mumbled sounds.
It portrays the development of the child and shows a readiness to speak and more effective forms of communication. It is the responsibility of the parent to understand these mixed signs and to provide an environment that makes further development possible. Toys form an essential part of childhood as they play a vital role in developing early skills of communication, psychomotor, emotional intelligence, social habits and much more.
When buying a new toy for your 12-month-old girl, it is important to pick toys not just as tools for entertainment, but for early learning and development. If you're having a mild dilemma on what toys to get for your child, here is some help for you.
---
Best Toys for 12 Month Old Girl: Top Picks

Have a cute, soft and cuddly lamb doll lull your infant to bed. With its collection of nature and womb sounds, you can now be confident of your baby girl getting good sleep while you're not close by.
 Pros:
Easy to travel with, as hook strap design makes it easy to hook on strollers, car backseats, etc.
Comes with six pleasant lullabies
 Cons:
Cry-Activation feature always comes on with first sound selection rather than the last played

The Fisher-Price Brilliant Basics Rock-a-Stack offers some wonderful ways of learning numbers and colors for your kid. The simple design of the cups makes it easy to put them together.
Pros:
Helps teach basic ideas of size and shape, in addition to learning numbers and colors
Easy to familiarize with for baby
Contains a jingle ball which fits at the top of the cup stack – a good addition
Cons:
Not suitable for outdoor playing

With this smart chair, parents only have to input the child's age and the chair plays some sounds and phrases suitable for that age.
Pros:
Smart Stages technology helps review and change content for learning as a child gets older
Convenient for baby to sit
Cons:
Feels slightly bulky to be carried around the house

Shaped exactly like an avocado pear, this toy has a smooth and gentle outer surface feel to keep your little girl occupied most of the time. It is divided into two halves, easy for an infant's little fingers to open and close.
Pros:
Inbuilt loop and ring make it easily attachable to strollers
The texture of the material is soft and fun for babies
Comes in warm, friendly colors
Cons:
Prone to getting outgrown by the child quick
The inner shape of the halves makes it sometimes difficult to close them

As opposed to the prehistoric giant T-rex, this stuffed animal toy from Zooawa looks very cute and lovable to make it a cuddly companion for your 12-month-old.
Pros:
Made from high-quality materials that soft to touch and easy to wash
Adorable to look at
Perfect size for infant to play with
Cons:
Materials are easily flammable. Hence avoid leaving your kid playing with this toy close to an exposed fire

A lot of girls grow to be wonderful singers. But that's difficult to find out at 12 months right? Well, it doesn't matter. With a selection of samples from classics for your baby, groom her knowledge in music with this wonderful product.
Pros:
A great and enjoyable music selection
Ideal for nurturing music talent
Easy to hold and operate for baby
Cons:
Paint on handle loses color easily

The LeapFrog Shapes and Sharing Picnic Basket will help your baby build several social and motor skills, including making her familiar with colors, shapes and more.
Pros:
Perfect for sharing as it provides ample room for two kids
Exciting sounds and songs encourage learning
Offers good value
Cons:
Items in the basket tend to easily get lost

Keep your baby inquisitively busy with the adorable VTech Spin & Learn Color Flashlight. Its beautiful combination of colors in addition to the flashlight is sure to bring happiness and pleasure to your little one.
Pros:
Lovely and attractive to infants
Great value for your money
Multiple play modes to enhance learning
Cons:

When shopping for a 12-month-old baby, you definitely can't go wrong buying a teether. The Itzy Ritzy Silicone Pineapple Teether has a certified safe design and helps provide some soothing for sore gums and newly emerging teeth.
Pros:
The texture of one side is specifically designed to relieve sore and swollen gum
Made from 100% safe and non-toxic materials
The product comes in great alternative shapes
Cons:
Could easily pick up dirt when playing outdoors

The PlanToys Owl sorter is an effective option to consider for the learning of shapes and recognition of colors. Its friendly and colorful design will put a smile on the face of your baby.
Pros:
Made with durable, non-toxic materials
Helpful in improving a baby's ability to identify colors
Cons:
The small size of blocks is easily outgrown by infant

The amount of time spent on our devices is simply a testament to how interesting and engaging smartphones have become. Predictably, one wouldn't expect the Fisher-Price Laugh & Learn Smart Phone to come with internet connectivity. However, pressing any of its 12 buttons instantly rewards your baby with good entertainment.
Pros:
Great collection of fun sounds and educative phrases
Sleek design, convenient for tiny fingers
Cons:
No products found.
No products found.
No products found.
This adorable toy keeps your baby amused by producing enjoyable sounds and instrumentals when she presses the hands of the bear.
Pros:
Encourages inquisitiveness
Highly enjoyable compilation of sounds
Cons:
Limited range of songs resulting in frequent repetition

A colorful and friendly toy for babies, the Skip Hop Bandana toy will most often keep your baby busy. It is equipped with a soft-textured teether that is easy to have within for mothers.
Pros:
Easy to handle for little hands
Multiple interesting sounds keep baby pleasantly entertained
Cons:
Average quality materials
Not easy to wash

It's never too early for books! The Jellycat Farm Tails Book is a colorful delight, soft and lush with features for your baby to play with.
Pros:
It contains a loop design that makes it easily attachable to the car seat or a stroller.
Fascinating for infants
Cons:
No products found.
No products found.
No products found.
Get this product and watch how the 12-inch-tall and sweet scenting doll instantly wins the heart of your baby. The doll's beautiful, friendly facial expression endears it to your baby and helps groom her emotions.
Pros:
Very pretty to look at
Genuine looking
Ideal size to manage for baby
Easy to wash and clean
Cons:

Help your child build her vocabulary early with this children's book. With interesting sound effects and various categories of words from topics such as food, colors, clothes, etc., the
LeapFrog Learning Friends 100 Words Book will surely become one of your baby's favorite playthings in a short while.
Pros:
Bilingual function with English and Spanish word inclusions
Interesting sound effects, stimulating baby's curiosity from touch
Very educative
Durable
Cons:
Takes a while for the kid to get used to

Disney continued the trend of winning the heart of infants with the most recent installment of the Toy Story series. The slinky plush dog is lovely and fun to play with for kids.
Pros:
Extremely soft and cuddly
The elastic design prevents it from getting overstretched
Cons:
considered more often for older kids

Allow your baby to mimic you while making imaginary phone calls with this baby phone. Not only for the fun, but it also packs along with interesting sounds and instrumentals that teach your child letters, numbers and a few basic words.
Pros:
Educative sound feature
Dummy apps open up the child's imagination
Cons:

The Mary Meyer LilyLlama Crinkle Teether gives a tender feel for your baby to chew and bite on. Featuring an adorable design, this quality product from Mary Meyer makes for a great addition to your child's toy collection.
Pros:
Can be washed and air-dried with a washing machine
Comes with a flexible loop to make it easily attachable to strollers
Cons:
You may need to be around your 12-month-old when playing with this product, as the small size means a possibility of being swallowed

Another wonderful product from VTech, the sit-to-stand learning walker helps simultaneously develop various abilities of your child including motor skills, musical curiosity, and familiarity with shapes, colors, and numbers.
Pros:
Activity board is made detachable, creating more avenue for fun and entertainment
Perfect for stimulating walking ability
Ships with a frustration-free packaging
Cons:
Activity panel takes some getting used to for baby

With an all-round child-friendly design, the One Two Squeeze baby block is fit for almost anything activity your baby might take them on with. The squeezable blocks come in a nice variety of colors, each with additional numbers and figures of animals.
Pros:
Packaged in a recyclable storage bag
Squeezable and safe to play with, in any case of chomping
Commendable customer service from manufacturers
Cons:
Relatively not as easy to clean as other toys

This timeless classic remains a kids' favorite for a good number of reasons. It is safe to nibble at, easy to hold for the infants and consistently amusing with its rattling sound.
Pros:
Capable of being refrigerated
Easy to grasp design enhances a child's motor skills
Cons:
You might want to clean this teether often as it has been found to grow molds after some weeks of use
No products found.
No products found.
No products found.
If you were thinking now is too early to get your little girl a name puzzle, you might be wrong. This decent offering from Kidzco is made from quality real wood and non-toxic paint, making it a good option to consider for your baby.
Pros:
An educative fun tool for learning
Durable
Cons:
Requires presence of parents because of the likelihood of choking

Here is more to feed the musical creativity of your 12-year-old baby girl. It is also a perfect tool to initiate learning of letters, numbers, and shapes. It is also very colorful, making it a sure delight for most infants.
$Pros:
Easily adaptable with music and learning modes
Bilingual language feature
Ideal for long-term use
Cons:
Lightweight and prone to being pushed around or knocked down by infants

Another effective product to help your child learn colors and shapes. The multiple ways in which this can be set up makes it a wonderful fun source for both indoor and outdoor play.
Pros:
Easily convertible design
Additional spinning ball toy and piano
Helpful in grooming motor skills
Easy to carry about
Cons:
Requires close supervision by parents when being played with, as a safety precaution

It is a great product from a well-known manufacturer. Adorned with beautiful colors, the moose toy is also adequately made with soft materials, making it a pleasure for kids to touch and play with.
Pros:
The texture of antlers are decent for teething
Tail rings make interesting sounds to stimulate baby's interest
Ideal to carry around, and possesses clips for easy attachments to strollers and carriers
Cons:
The fur of the moose can be pulled off by kids
Requires delicate washing

Get your child a pretend remote that feels and looks just like the real thing to them, while teaching them numbers, colors, and shapes. Interestingly, the volume and channel buttons on this product give your 12-month-old an early understanding of reverse functions.
Pros:
Offers a close real-life experience for kids
Contains 9 engaging fun channels
Effective volume control
Cons:
Encourages early TV watching

Game controllers take a while to get familiar with, even for adults. However, this colorful and exciting product from Fisher-Price will catch the fancy of your baby almost immediately. It also aids development, with a compilation of delightful songs, phrases, and sounds that teach numbers, letters, colors, etc.
Pros:
Educative and encourages creativity
Promotes good motor skills
Good money value
Cons:
Children might experience difficulty in holding the controller at first but will eventually get used to it.

The 36-piece set of letters and numbers provides an all-round enjoyable experience for you and your kid while bathing. They are made from durable materials and are capable of lasting for a long duration in childhood.
Pros:
Suitable for long term use
Made from certified non-toxic materials
Cons:
Case of missing number(s)

Give your infant a handy experience with this soft baby book, specially crafted to satisfy your kid's learning needs, as well as to keep her feeling happy.
Pros:
High quality, non-toxic materials
Soft and satisfying to touch
Easily washable
Cons:
Slightly more expensive than other cloth books
---
Brief Shopping Guide for a 12-month-old Girl
Either shopping for your daughter or buying a gift for a friend or family with a 12-month-old girl, you'll need to look out specifically for a few things to ensure you're getting the right item.
This age is delicate and introduces some of the first opportunities for learning. When getting a toy, it is important to consider the educational benefits it comes with.
A toy that enhances learning is most helpful for the child's development. Also, it is common knowledge that babies try to put a lot of things in their mouths. Guess what they fiddle with the most? Their playthings! You must ensure that your new purchase is 100% safe to play with and devoid of non-toxic materials that could pose a threat to the health of your baby.
Also, take note of the materials used in making the toy and try to estimate its durability. Finally, paying close attention to the behavior and needs of the child should be your foremost guide on what toys to get for them.
---
FAQs on Toys for 12-Month-Old girls
What toys are a must-have for my 12-month-old baby girl?
All of the above-listed products are great to have for your kid. However, if you have limited selection; ensure to get your baby at least one each of a musical toy, a night time companion, an activity table and walking toy. Nevertheless, be sure to purchase as much of the other mentioned products as you can.
What skills do I need to look out for in my kid?
At 12 months, development is steady and noticeable under normal conditions. Motor skills should be observed to improve, usually including graduation from crawling to walking. Also, speech abilities might begin to surface through blab sounds and mumbling.
---
Verdict
Despite all of these products being great offerings from various manufacturers, choices will vary. You can guide your kid through familiarization with new toys. Also, you don't have to shell out a lot of money to get a good toy. Going with these best product suggestions, good decision making will get you the right choice for your kid.
(Visited 144 times, 1 visits today)