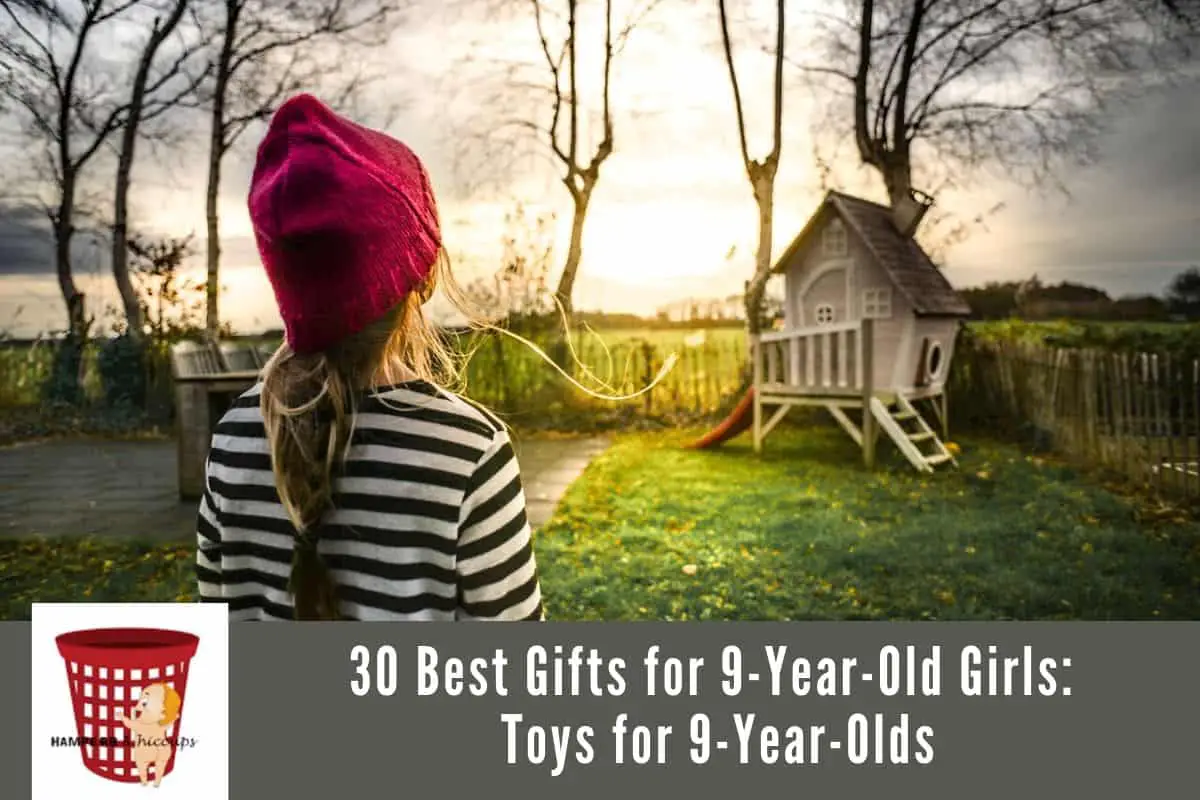 All parents understand that it's not how much gifts we give kids that matters, but how much love we put into giving. Gift-giving is an important aspect of parenting, finding the perfect gift for a child can brighten their mood and light up their day. Getting gifts for 9-year-old girls can be very easy if you know what you're looking for, holidays and birthdays are the perfect time to get your wonderful child a gift she will cherish for a long time.
Most parents have a lot on their plates, this means they have less time to go online or to stores to select toys that their baby girls would love and that's where we come in. We have reviewed a broad list of toys and here are our top 30 gifts for 9-year-old girls.
Best Gifts for 9 Year Olds: Top Picks

If you're looking to light that creative spark in your kid then this toy will help do just that. It is a unique tracing pad for girls, it comes with inspirational sketches to keep kids going for hours.
Pros
It helps develop kids creativity and imagination
Extra images can be gotten online to keep girls tracing for hours
Cons
It is quite expensive compared to others on this list
Batteries must be changed regularly

This is another gift that brings out the artist in your child. Girls can create colorful, fun magnetic tiles that can be placed on doors, freezers and any magnetic surface
Pros
A fun way for friends to make adorable tile gifts
It is easy to craft adorable tiles
The paint is clear and washes off easily
Cons

If your girls love mermaids then this drawstring backpack was made just for them. It is made from pink and blue sequin discs that glitter in sunlight adding to its allure.
Pros
The drawstring bag is made from premium materials that last
It comes with bangles and a mermaid key holder
Cons
The bag can't carry much load

This crochet kit is the perfect beginner set to introduce your girls to crocheting. Included in the kit are hooks, different colors of yarn and a plastic needle to ensure your kids get all they need to begin this artistic journey.
Pros
It develops kids creative ability
It is easy to use set
Cons
It includes small parts which may constitute a choking hazard for children under 3 years.

This drawing pencil set from creativeELF lets your child's imagination run wild. There is no limit to what your kids can come up with. It is made from non-toxic, BPA-free plastic that meets safety standards for kids.
Pros
It has a large range of colors to choose from
It is a great way to introduce your kids to arts and craft
Cons
Pencils are small for adult use

Four books perfectly tailored to young girls who love Disney and all things fairy. This collection is perfect for developing good reading habits from an early age with engaging books.
Pros
It is filled with fun stories that improve reading habit
Stories are easy to read and long enough
Cons
It contains a few words that kids find hard to read

This beautiful pink water bottle comes with 7 sheets of adorable stickers for decoration and the creation of cute art. It is an easy and fun way to encourage a kid's creative side.
Pros
It comes with 300 individual stickers
A stylish water bottle that complements any dress.
Cons
Water bottle included is smaller than regular ones

Your girls will fall in love with these cute, fortune cookie-shaped bracelets from WowWee. They can be worn with most clothes and are a nice fashion statement.
Pros
Bracelets can be tightened to fit kids
The bracelets come with nice fortunes
Cons
Bracelets are not so durable

The OMWay walkie talkies are fun toys that enhance playtime for kids, it is portable and lightweight and gets them talking.
Pros
Audio quality is clear and it works for 2 miles
It is a cute toy for girls
Cons
It needs 4 AAA batteries which are not rechargeable

This is the perfect gift for girls that love discovering new things. This hair chalk set allows them to explore various hair colors and is a fun way to bond with kids.
Pros
It is a fun way for girls to experiment with their hair color
It is easy to wash off
It is easy to use with 10 different colors
Cons

Does your child love the stars? You can bring the stars closer to them with this Star Light Projector that brings the stunning constellation to the roof of their rooms
Pros
It is easy to install and use
It has 8 different color modes and also a timer to conserve energy
Cons
It is prone to breakage if not properly used

Show me a 9-year-old girl that doesn't love unicorns and I'll show you a fairy that can't fly. This kit includes everything girls need to create beautiful artworks from yarns, paper, and glitter.
Pros
It is easy to create beautiful art with this kit
It helps develop creative ability in children
Cons
It includes sharp pins that may not be suitable for some children

Transform your child into a star with this Bluetooth karaoke toy. Give your girls the chance to sing to their heart's content with this cute toy.
Pros
Clear audio sound quality
It is made from premium material that is safe for kids
Cons
It required long hours of changing to get a full battery

Keep your kids entertained for hours on end with this temporary glitter tattoo. It is a fun experience for kids with friends and it allows them to experiment with different designs
Pros
It is super cute and easy to use and clean up
It isn't messy and kids can play without supervision
Cons
No products found.
No products found.
No products found.
The Dreaming Box is the best binoculars for young explorers, it does the job, unlike other binoculars which are just toys that don't work. It is shockproof and is great for kids that love the outdoors
Pros
It is shock-resistant and durable
It is made from premium material that provides crystal clear view
Cons
It can't focus on objects that are too far off

This is the toy you buy when you want to teach your kids the importance of saving with a cute piggy bank that is battery powered and pin protected.
Pros
It saves both cash and coins
It is easy to use and teaches kids how to save
Cons
It comes with a voice mode which can be very annoying

3D Night lights are good toys that give your kids room a glowing ambiance. When it's a unicorn night light you have found yourself a hit with girls.
Pros
It can be plugged in directly or batteries can be used for its power source
It comes with remote control and has a smart touch to switch between its colors
Cons
It might get stuck on one color after prolonged use

his Jewelry making kit gives kids the chance to express their imagination making simple but fun handcrafted pieces of jewelry.
Pros
It helps kids use their imagination and develops fine motor skills
Materials used are shiny and perfect for kid jewelry
Cons
The glass parts included broke easily

his musical storage box offers a beautiful piece that completes a girls unicorn set. It helps organize their room and plays nice music when opened.
Pros
It helps to store accessories
Its pleasant tune plays for a while when the box is opened
It has a sturdy design
Cons
The windup mechanism is delicate

Give your child the chance to feel like a real mermaid with this comfy mermaid tail blanket which comes along with a beautiful pendant.
Pros
It is made from soft wool which keeps kids comfortable and perfect for sleeping
The package includes 1 mermaid pendant necklace as a gift
Cons

Treat your girls like royalty by getting them this princess style jewelry box. It is perfect for birthdays and holidays.
Pros
It is a sturdy case to store jewelry and other accessories
It is aesthetically pleasing to look at
Cons

It might look like a child balancing game but it's much more than that. It is engaging, fun and gives children a new way to have fun by balancing.
Pros
It is lightweight and can be used on-the-go
It is stimulating and improves motor skills and hand to eye coordination
Cons
Once mastered its replay value is greatly reduced

This is the ideal camera for girls that love to take pictures of their fun-filled adventures. Parents can help save or print pictures taken with the computer.
Pros
It is durable and waterproof
It is easy for kids to use with great picture quality
Cons
Its tiny buttons can make it hard to operate
The battery does not last long

Kids will love making their own Elsa Frozen jewelry box to safely store all of their precious bits and pieces, such as their necklaces and earrings. It is a great DIY gift, giving them hours of imaginative play.
Pros
It can keep children immersed in play for hours
It comes with an Elsa mini-doll
It is fun and easy to construct
Cons
The toy parts break easily

Your kids and their friends can create cute nail designs with this beginner padi kit. They can have a glamorous girls night in, painting nails with glitter and different colors.
Pros
Polish is easy to clean
It is a great set for sleepovers and kid play dates
Cons
The polish dries up when left for unused
No products found.
No products found.
No products found.
Watches are good gifts for girls as long as they are cute like this waterproof sport watch that was built to last.
Pros
It is durable and water-resistant
It introduces them to timekeeping
Cons
It can be quite big for smaller children
Pros
No products found.
No products found.
No products found.
This stunning unicorn bracelet rests perfectly on your kid's wrist. It is versatile and can be worn to school, to the family dinner or any special occasion.
Pros
It is beautifully made and complements dressing
It has a nice weight to it, making sure they don't lose it easily
Cons
It breaks easily if not handled properly

This is the cutest backpack you will see online, it is made fantastically and your girls are sure to fall in love with its bright pinks colors and the doll attached to the back.
Pros
It is soft and lightweight
It is such a cute gift to give your child
Cons
Its plastic zipper gets spoilt easily
It is very small

Improve your child's creativity with this clay kit designed for easy use and everyday play. It is very soft to the touch, non-messy, and easy to clean up after.
Pros
It is made from Eco-friendly materials that are easy to clean
It is a great toy that keeps kids engaged for hours
Cons
The clay doesn't hold its shape for long periods
No products found.
No products found.
No products found.
Give your girls an unfathomable level of cuteness with this unicorn hooded bathrobe that your kids are sure to love
Pros
It is a really beautiful bathrobe made from soft materials
It is a great first bathrobe for kids
Cons
It becomes worn out when over-washed
---
Shopping For a 9-Year-Old Girl
Shopping for 9-year-old girls is fun because they love everything pink and beautiful. They devote lots of time to things that remind them of fairies and princesses. The right toy would be something that piques their interest and can be played with friends. Parents need to avoid selecting items that their kids would get tired of easily, gifts should always benefit your kid one way or another.
Moreover, selecting toys that improve their sensory, motor or visual skills is very important during this stage as they are receptive to objects that they can engage easily while having fun.
Top Secret Shopping Tips
When shopping there are some tips that every parent should have which would help them select the best toys for their 9-Year-olds. These tips have been tested and are sure to help parents select the best toys online and in stores.
Is it safe for everyday play?
Can it keep my child engaged for hours at a time?
Does it teach my child new skills?
Does it have beautiful colors?
When a toy ticks all the boxes then you know the toy is going to be a hit with your kids, and you can easily pick toys for all occasions.
---
Verdict
The 30 toys selected in this guide are perfect for 9-year-old girls, parents are free to pick other toys as long as they meet the 4 requirements from the secret shopping tips above. Toys should be fun and provide much-needed assistance for their development. That being said, parents should always be on the hunt for the perfect toy for their kids.
(Visited 201 times, 1 visits today)