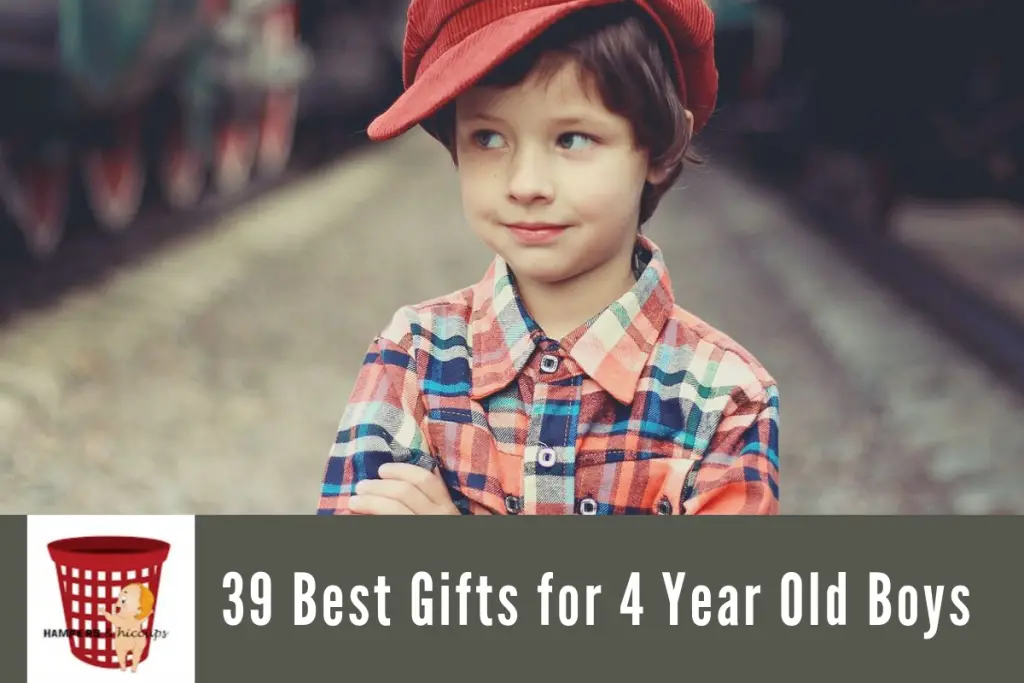 As Christmas and Birthdays draw near, the gift buying season is starting to come in full swing, and we've all started to worry a little bit about what to buy everyone. Children, though complicated to raise, tend to be great at receiving gifts of any kind. For a 4 year old boy, as long as it moves, makes noise, or has a cool texture, you've probably selected a great present!
However, if you want to really make a difference when the wrapping paper is shredded off, check out these39 best gifts for 4 year old boys. Throw one or two in your Amazon cart and prepare to receive bragging rights for the best gift giver over the holiday or birthday season!
---
Best Gifts for 4 Year Old Boys: Top 39 Picks
Amazon is jam-packed with toys, books, crafts, clothes, and projects for boys 4 year old and under to enjoy, but sorting through dozens of pages and reading reviews can be a daunting task for anyone. If you're a busy parent or aunt and just need a quick-stop guide to point you in the right direction, read on! All 39 gift ideas on this masterlist have been reviewed and approved, and they're perfect for any gift-giving situation.

As a simple memory-matching game, this deck of cards is a really fun choice thanks to the Superhero designs and interactive gameplay!
Pros:
Affordable
Bright colors and sturdy cards are ideal for toddlers
Cons:
Pretty basic
Not suited for playing alone

Why not combine two things all boys love? Dinosaurs and race car driving! This giant track has dino cars and hills, twists, and turns for them to speed around.
Pros:
Can provide hours of interactive fun
Great for playing alone
Cons:
With 723 pieces, it can be a hassle to clean up
Requires time & effort for assembly

Keeping the mess under control while encouraging artistic behavior is always a slippery slope. There are plenty of crafts out there designed to cut back on the mess, but this magic art mat eliminates it entirely and gives your 4 year old a new way to create!
Pros:
Entirely mess free
Perfect for group playing, even with older kids0
Cons:
You need a big space for the mat
Eventually the magic pens will need replaced

Playing dress up is a timeless activity for kids, and it encourages creative thinking and quick decision making! Plus, the superhero design is very trendy with the age group currently.
Pros:
Different options for the cape sets
Soft satin and felt are easy to wash and kid-friendly
Cons:
Needs a lot of self-inspiration to be fun
A little expensive for what you get

Movable toys that encourage muscle development and cognitive skills are great, but what is a better way than to introduce bike riding to your tot than with an imitation Harley Davidson? Fun, iconic, and cool!
Pros:
Encourages physical activity and gets your kid outside
Perfectly designed for toddler's safety
Cons:
Requires supervision at all times
On the higher price point than other toys on the list

Maybe it's just my son, but dinosaurs are always such a big hit. This dinosaur fun park mat comes with a storage box, pop up frees, dinosaur figurines, and more for a fully interactive playtime experience.
Pros:
Has a lot more to do than other similar playmats
Sturdy carrying case makes it easily portable
Cons:
Lots of pieces to keep track of, including 9 dinosaur figurines
Smaller mat size makes it hard to play as an adult

Instead of buying multiple small construction / work bench items, get a fully inclusive kit that has over 100 elements to it! Seriously, this toy workbench is a total steal, and has every tool and part imaginable.
Pros:
Comes in a portable suitcase for clean up made easy
High quality plastic isn't flimsy and can take some toy hammer pounding
Cons:
Definitely a bigger set up than most toys
Could be a bit loud or frustrating, depending on the child
8.
No products found.
No products found.
No products found.
A nightlight can be found in almost any kid's bedroom, so why not make it fun? This projector gently illuminates a room, but also puts on a pretty, starry night sky display.
Pros:
Comes with star or night light mode
Both USB and battery powered
Cons:
Potentially distracting for genuine rest time
Flimsy protective screen, so be careful

Kids do as they see, and if you're like me, you're always taking pictures. I liked to let mine join in the fun with their own cute little digital camera, to feel just like mommy.
Pros:
Comes with lots of room on the 32GB storage card
Protective outer shell protects it from damages
Cons:
You'll need to help your child navigate the screens a lot
Not the best picture quality, you get what you pay for

Piggybacking off of the camera concept, the Gas 'n Go mower is a great way to get your son to mimic good 'ole dad out there cutting the grass.
Pros:
Fun, mechanical noises help hold interest longer
Moving parts, like gas and key switches, encourage interaction
No batteries needed!
Cons:
Made with plastic, so may have a shorter lifetime than other toys
A bit hard to clean, especially after being outside

Paw Patrol still reigns over the toddler world! Getting your child interested in independent reading was easy with these electronic reading sets.
Pros:
Excellent for getting your child to play/read alone
8 books plus the narration pad won't get boring for ages
Cons:
Battery powered
Not suited for reading together, which is always fun

Kids love things that light up. They also like everything that moves. So, an LED truck set really has no downside, does it?
Pros:
Jumbo sized trucks are easy to play with
Super low price when compared to other truck sets of this size
Cons:
Not the best quality plastic, so not ideal for rough bumper car games

Anything that encourages the kids to get outside is golden in my book! T-Ball is a great way to start your toddler out on the joys of baseball.
Pros:
Trustworthy brand promises long lasting life and durability
Adjustable height fits your child through a few years
Cons:

Recreate the feeling of a genuine camping adventure with all the parts to this camping set. It's more than just a tent, and includes everything you need to teach your 4 year old the way of the wild and the land while you rough it in the backyard!
Pros:
Weather resistant, premium materials are made to last
Comes with walkie-talkies, canteen, shovel, and other accessories for camping
Cons:
Very small tent, suitable for only 1 person comfortably
No included storage equipment

How cute is this colorful golf caddy? With balls, flagged practice holes, and the clubs, your tot can have a full day golfing in the backyard with dad.
Pros:
It's a full kit, easy to store, and not dangerous since the clubs and materials are hard plastic only
Encourages physical activity
Cons:
More of an outdoor, supervised activity than a quiet, play alone one

If you enjoyed those whack 'a mole games at the arcade as a kid, this one's for you! This renovated version brings the fun right to your table with a cute, mini version of the game replacing moles with frogs.
Pros:
Dual game modes to suit level differences and speed
Interactive, family fun
Cons:
Has a bit of a violent concept

This retro trendy twist on a classic fishing game brings something new to the game table. When you're done, flip it over and play the game on the other side for some extra time spent together.
Pros:
All natural wooden toys look and feel nice
Letters included on the fish make it educational and fun!
Multiple game modes
Cons:

This is not your average drum kit. With tons of additional value, small size, and entracing LED lights and visuals, it will entertain for days, and give your child some great lessons in the process.
Pros:
9 unique sounds and melodies can be taught and practiced
4 music modes, including educational learning for alphabet and numbers
Cons:
Prepare for lots of noise!
Uses batteries

"Mom, can we get a dog?" I bet you've heard that one a few too many times. Well, Harry can be a temporary solution to the pestering. He's got lots to do, and it's close to having a real pet in their eyes!
Pros:
Touch sensor makes the robot dog very realistic with responses
Behaves similarly to a real dog as he walks, barks, and sings to your child
Cons:
Battery operated, but comes with the toy already
No volume control, so may be loud and irritating at times

Let's dial it back up a bit and take a look at a pretty basic, but very cute gift idea. This play tent is practical, aesthetic, and a great way to encourage imaginative toddlers to set their limits to the sky.
Pros:
Fairly big space inside for a couple of small bodies
Easy to clean
Cons:
It's really just a cool tent, so not a toy or interactive activity on it's own

You would be lying if you didn't admit to adoring your own Lincoln Logs toy as a kid. Bring those memories to life with this modernized, but still timeless, bundle of building logs.
Pros:
Over 100 pieces for building small and medium houses
100th Anniversary storage tote makes clean up easy
Cons:
Come on… it's Lincoln Logs!

Kids love music. As much as we may hate that as a parent, it's good to encourage this interest, and let them discover how different sounds work, and make up their own melodies. This music play mat does a great job at introducing these concepts!
Pros:
More than a piano! Your child can explore several different instruments and their sounds on the same mat
5 different modes to keep things new and interesting from session to session
Cons:
Noisy, doesn't have great volume control
Doesn't come with a carrier or storage container, just folds up

From arts and crafts, trucks and dinosaurs, every little boy has his first love with a good game of ball. What if the sport in question talked back? This plush football does just that.
Pros:
Naturally teaches your child the basics of the game with intuitive instruction cues
Over 40 funny sound effects to keep your tot giggling and tossing
Cons:
Soft plush outside needs to be removed to be washed
Battery operated

Who said every gift at Christmas had to be purely fun? Bring in some joy and some learning as you prepare your 4 year old for Preschool with this workbook designed to cover the basics in the most fun way.
Pros:
Over 300 pages of activities, both self-guided and designed for assistance
Notes section allows you to keep track of your child's progress
Cons:
A lot of coloring pages and easy mazes, with harder puzzles only scattered in, so may get repetitive

Every kid likes bowling, but not every bowling alley is equipped with the lowkey fun that a 4 year old needs. They'll struggle with the heavy balls, weird shoes, and slippery lanes… so just play at home!
Pros:
Soft foam and portable carrying case make it safe, fun, and easy to clean up and store
Bright, vivid bowling pins and balls are impossible to lose
Cons:
You need a good, solid, clean surface for the pins to stand on
Requires enough room to roll the bowling ball without hitting anything but the pins

Despite Toy Story being popular when we were kids, it's made a big comeback with Toy Story 4, and it's back on the hearts of children everywhere. Get building together and bring the magic to life with this fun, but easy to do, train set!
Pros:
Lego branded, so you know they're hold up for years to come
Cons:
Lego branded, so you know you'll be stepping on them at least once, usually in the middle of the night barefoot

Nature calls! What little boy doesn't have a strange fascination with bugs?
Pros:
4-phase bug catching process is educational, and lasts for days of entertainment
All 10 items easily fit into included backpack
It's cruelty free!
Cons:
Not designed with the highest quality plastic, so not ideal for rough playtime

Most of the time, boys just like to make messes. Give them an incentive to do so while encouraging creativity, and letting them decorate their own pre-built airplane toy. You can also get kits with cars, animals, and more if they enjoy it!
Pros:
Easily assembled and includes the glue to hold it in place!
4 pretty painting colors will give your child options for design
Cons:
You'll need to play damage control when it comes to mess making
Only comes with 1 brush, so mixed colors are inevitable

In the age of video games and YouTube, I will always advocate the importance of arts and crafts at home with your kids. Sometimes, even the most simple activity like creating funny paper bag puppets can bring hours of good old fashioned fun!
Pros:
Everything you need in one handy kit: glue, paper, and all!
Encourages creativity, and can be self-guided if you have an artistic son
Cons:
You're paying for the convenience of a pre-packaged kit, but you could technically get these items for less at the store

As soon as you see your child dive into appreciation for the arts, you need to get him a full art kit. This will help you encourage creativity anywhere and everywhere!
Pros:
Continues to be a companion to your child as he grows
Easy to carry, clean up, and store
Tons of materials included for a really great price
Reliable brand
Cons:
Doesn't come with coloring pages or a book
No pencil sharpener included

Shock your little one at bedtime when you get the chance to pull out this monster sized information book!
Pros:
Tons of photographs to keep them engaged
Published by National Geographic, so no doubt about the quality
Cons:
Includes "facts" about paranormal happenings, may not be ideal for religious families

Crayola's Mess Free Coloring line is a Godsend for busy parents. My kids love to play with these in the car, and since Toy Story is a hot topic right now for kids 10 and under, why not enjoy it?
Pros:
Classic, familiar product with mess-free promise for creative encouragement
Cons:
You can find these just about anywhere

Once again, a giant book has snaked its way onto the list, and for good reason!  4 year olds are full of questions, constantly… so give them this book that can answer everything they're curious about.
Pros:
Reliable, amazing information and pictures since it's published by National Geographic
Cons:
It's a lot of information for a small child, so expect to be reading this one a lot. Animal trivia, anyone?

Simple bath toys are never overrated! Especially if they can help you teach animal sounds and names.
Pros:
Each of the 12 animal cubes squirts water for some playful teasing and splashing
Made with safe, high quality vinyl that is durable and easy to squeeze
Cons:
Won't stay entertaining forever as the child grows older

Raising a miniature engineer? You soon will be if these bathtime pipes take off! They'll learn the wonder of simple mechanics and physics just by playing in the bath.
Pros:
Opaque plastic allows for children to watch as their actions cause other effects
Teaches shapes, functions, and how things work naturally
Cons:
May lose the novelty and appeal a little quicker than more immersive toys

Bubbles are an easy way to distract and occupy a 4 year old, especially at bath time. With bubbles in the tub, you may not immediately think of what fun additional bubbles could bring, but this toy will change your mind.
Pros:
Blows bubbles to over 20 different kid's songs
Keeps kids entertained for their whole bath and excited
Cons:
Water resistant, but not waterproof
Battery operated

Instead of spending the time to purchase small sets for each individual sport, pay the little bit of extra cash and grab the hub that contains both forms of playing ball!
Pros:
Both soccer and basketball can be played, with the balls included
Saves time and space by combining the sports into one
Lots of interactions features on the kit to make it more accessible than just for playing ball
Cons:
Easily grown out of, and not adjustable for height or difficulty level

What makes a cooler home than a ball pit right in the living or backyard? Add in some challenging, fun tunnels and your toddler will be tuckered out before nap time after crawling around for hours.
Pros:
1 minute assembly time, and equally simple tear-down process
Great for group fun and parties
Cons:
One of the most expensive gift items on the list
Balls aren't included, so an extra cost for those

Take a trip to your own past and bring it back to the classics with a beginner set of Dr. Seuss books to break open the doors of reading.
Pros:
Includes 5 classic Dr. Seuss introductory books that are iconic and familiar
Easily paired with other Dr. Seuss collections for a well-rounded gift option
Cons:
Most schools, libraries, and children's programs will also have these books, so it's not totally unique
---
Shopping For a 4 Year Old Boy
When you're shopping for a toddler, girl or boy, you sort of go into it with the knowledge that whatever toy you pick will be a bit of a temporary obsession. The attention span of a 4 year old is pretty limited, and they grow up fast, so before long, they'll be onto bigger and better things. However, that doesn't mean it should discourage you from getting the best gift for them!
Choosing a present for a 4 year old boy that has the ability to age with them, or provide additional benefit, is a great way to make the most of your money and give them something that will last. You also want to take into consideration the annoyance level the toy or game may provide. As fun as a drum set is, how happy will the parents of the toddler be?
Also, being 4 years old is a very complicated time. These kids are just starting to see their world open up, and their mind is like a sponge. They are learning quickly, and loving every lesson they come across, so finding something with a bit of an educational angle will really give you brownie points while also improving the kid's ability to learn.
Finally, every growing boy needs clothing. That's a give. But it's not always easy to figure out what's best to buy when you factor in sizing, necessity and the many styles available, to name a few. Check out places like https://awarechild.com that can help find clothing that is both chic and comfortable, and your child is sure to love.
Top Secret Shopping Tip
All of these things to remember brings us directly into the top secret tip for getting the best gifts for a 4 year old boy. It's not just based on what he will enjoy in the moment, but also how it affects those around him, and his future. So, when trying to pick the best gift, keep this in mind:
Is it educational?
Will it last him a long time?
How annoying is this toy?
Is it unique?
If you get a positive answer on these 4 questions, you have mastered the secret shopping technique! Clutter can be avoided, smiles can be made, and a birthday or Christmas successful with this super simple secret tip.
---
Verdict
While all 39 gift ideas are sure to be a hit at any celebration, if you want to find one that meets all 4 requirements for the secret shopping tip… the options get a little more limited. Fortunately, the hard part is already done for you.
Out of all 39 gift ideas, the 2 best gifts that are educational, functional, long-lasting, and not annoying are the Paw Patrol Electronic Reader and First Big Book Of Whys! Each provide a very unique, interactive role in a developing child's mind, and won't get repetitive to the point it's resented by everyone else in the home.
Happy shopping!
(Visited 741 times, 1 visits today)