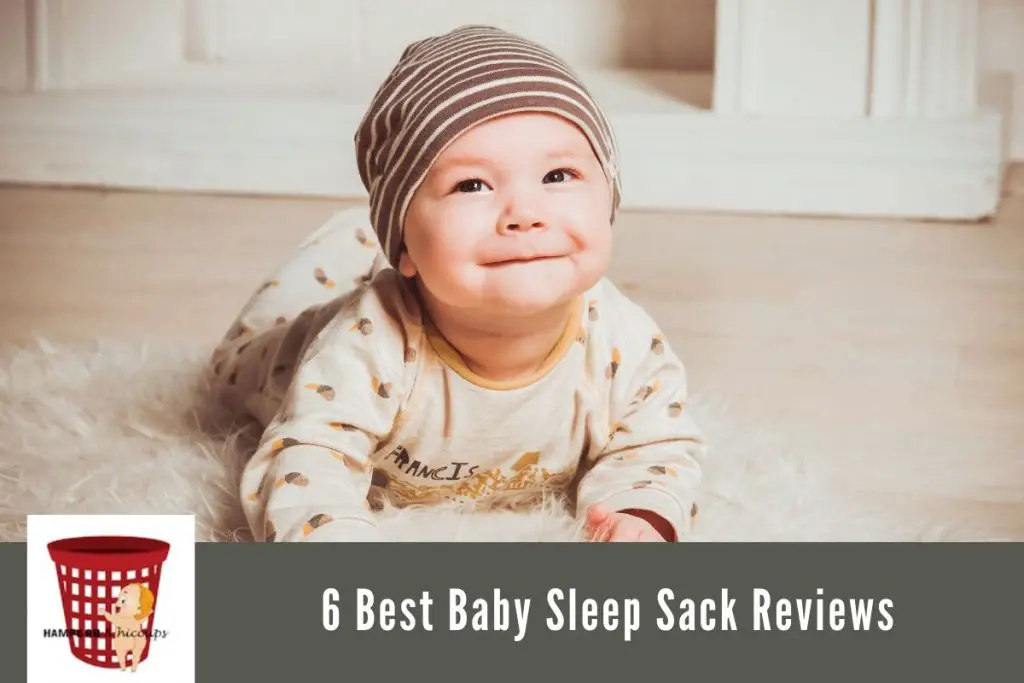 Every mother loves to see her cute baby comfortable and sleeping soundly because they know how hard it can be for them to fall asleep at times. Sleep sacks for new-borns help them feel safe and comfortable reducing the time they spend moving their legs. During the early stages of life babies get better sleep when they are straddled properly. Using sleep sacks stops them from waking up every time they get startled.
As parents, we have to do everything in our power to ensure our babies get quality sleep. Sleep is vital to their development process and they should get as much as required for proper growth. Getting your infant to form a good sleep routine is one of the most important things to note when taking care of a baby.
There are lots of sleeping sacks online and you can get lost while searching for the one that fits your baby's needs. Sometimes you may get confused while making a choice online because of other aspects of the sleeping sack which includes its ease of use, its safety features, durability and ease of cleaning.
We have done an extensive study on several baby sleep sacks and below is a list of the best baby sleeping sacks online, this should help you make the right choice for your baby.
Best Sleep Sack: Top Choice

The Burt's Baby Beekeeper Wearable Blanket is the go-to choice for mothers who value comfort and a little free leg space for their babies to move around. It is made from breathable fabric to prevent over-heating and is Global Organic Textile Standard certified (GOTS) which means it is made from 100% organic cotton. It is very comfortable for babies and you won't have to be concerned about over-restricting their movement because of leg space which is large enough for minor movements but does not allow too much movement. It is a safer alternative to loose blankets
Why we love it
This baby sleep sack is made with soft cotton which is great for all infant skin types. Its zippers open from bottom up for easy diaper change, it also has a zipper guard which adds another layer of protection. It can be paired with pajamas, and it is easily washed getting dry in no time. The sleep sack is made from premium breathable cotton. You don't have to worry about the cold during winter, the Burt's Baby Beekeeper and pajamas provides enough warmth to keep your infant comfy all through the night.
Best Summer Baby Sleep Sack

The 1st Laugh Muslin Lightweight Wearable Blanket is the answer to the hot and warm days during the summer. It is made from the softest materials available so you won't have to be worried about the heat. It's two-layered lightweight 0.5 TOG muslin cotton is breathable and perfect for the delicate skin of infants. Its double zipper design makes changing diapers a lot more easier and zippers can be found easily even in the dark. It comes in different sizes from extra-small to large so no baby is left out.
Why we love it
It is soft, comfy and affordable making it the right choice for summer. Its double zipper means you don't have to connect them to get your infant secure. The zippers stay attach throughout which makes this sleep sack great for squirmy infants who are very active. It also comes with a neat geometry design that is different from other dull patterns that come with sleep stacks. Its double muslin layer is thin and breathable, this cools your child and prolongs their sleep time.
Best Winter Baby Sleep Sack

The Simple Joy's Microfleece Sleep Bag was made for people who live in places where the temperature goes really down during winter. In chilly regions, infants need an extra-warm sleep sack to help them beat the cold and that's where this sleep sack comes in. It is made from genuine cotton with a Thermal Overall Grade (TOG) of 2.6 which ensures your baby is snuggled up warm in their cribs on those cold nights. It is soft and safe to machine wash with zips on the front of the sleep sack, making it easy to change diapers.
Why we love it
Nursing mothers living in colder regions don't have to worry about the dropping temperatures with this product. It is made from soft cotton but it is also strong and after several washes, it still looks good. It is made from materials that create just enough space trapping warm air inside keeping the infants warm for a long duration. Its design is made with safety measures that prevent the sleep sacks from obstructing airflow to your infant. It has a good design with interesting patterns that looks good on all infants when sized correctly the safety measures also prevent the sleep sack from sliding off during the night.
Best Organic Sleep Sack
4.
No products found.
No products found.
No products found.
The Moon and Back by Hannah Anderson Sleep sack is for mothers that need a sleep sack made from cotton. This means the cotton is grown from organic cotton and polyester without exposure to synthetic pesticides and fertilizer. This means that it is a very comfortable fabric that promises to get your baby to sleep in no time. This sleep sack is carefully sized to allow safe movement and is a preferred to blankets and other materials. The fabric is combed and ring-spun for added durability and softness.
Why we love it
This sleep sack is made from premium material with emphasis on using organic cotton that was grown properly. It is 100% Global Organic Textile Standard certification (GOTS) which is gentle on infant's skin. It is lightweight and breathable which keeps your baby warm and comfy. It comes in different colors making it perfect for both boys and girls. It has an easy zipper function which reduces the time spent trying to change diapers, its pre-washed fabric ensures added softness with minimal shrinkage.
No products found.
Best Sleep Sack For New-Born Babies

The HALO Sleep Sack Micro-Fleece Swaddle is a great choice for new-borns who love the tightness that comes with swaddling. It is comfortable and easy to wash, reducing the stress of 24 hours monitoring that comes with swaddling on new mothers. Depending on the mother's choice this sleep sack can be worn arms in or out, this option allows mothers to find the best sleep position for their infants. It comes without any loose part that may cover the baby's face and obstruct breathing. It is recognized by various health experts and used in hospitals all over the country
Why we love it
This product is loved by mother for various reasons which include its ease of use, it doesn't need any technical knowledge to make use of its adjustable 3-way wrap. It is recognized as hip-healthy by the international hip dysplasia institute. It has fasteners made of tough Velcro that act as zipper guards that keep infants safe when they get startled at night. The zipper makes it easy to change diapers and wear the sleep sack. This sleep sack is great for baby's who love to move in their cribs and always find their way out of traditional swaddle. It is recommended for mothers who want to get as much sleep as possible.
Best Lightweight Baby Sleep Sack

The TillYou All season Micro-Fleece Baby Sleep Bag is the definition of lightweight and comfortable. The 100% Micro-fleece fabric is soft and gentle against baby's sensitive skin. It is a breathable alternative to large blankets that cause heat and reduce airflow. It comes in various sizes for babies between the ages of 18-24 months. It is not too thick giving infants the perfect amount of warmth needed for prolonged sleep. It is easy to clean and is machine washable making it a great gift for expectant mothers.
Why we love it
This baby sleep sack is made to be lightweight for all seasons, using premium materials. It does not cause rashes and is great for babies with sensitive skin. It comes with zipper protection which covers the exposed sides of the zips and will protect the infants from scratches and irritation. It is strong enough to be machine washed and tumble-dried. It has plenty of leg room for safe movement and prevents infants feet from getting stuck between the crib.
---
Baby Sleep Sacks: Buying guide
Infants need good amounts of sleep for proper growth and sleep sacks help them achieve long bouts of safe sleep. They might get woken from sleep by their own movement if left alone to sleep and after a while, infants find ways to get out of blankets used to swaddle them. Sleep sacks are made to increase comfort while providing a level of protection blankets do not provide.
They are more than sleeping bags for infants, they help reduce the risk of hip dysplasia and sudden infant death syndrome (SIDS) which is a major advantage of using sleeping sacks. They are made from different materials like polyester, wool, cotton and fleece which are gentle to sensitive skin types. They can also be worn with pajamas and there is a sleep sack for every season. Some sleep sack types are also used to transition infants out of swaddling, they include options for restricting the arms of infants or letting them be free. They also come in different patterns and designs that are aesthetically pleasing to look at.
They are recommended for nursing mothers to reduce the time spent trying to put infants to bed. They are an overall good investment that all parents should have.
---
FAQs about Baby Sleep Sacks
Is it very warm?
There are several types of sleep sacks which regulate body temperature and most of them keep infants warm and comfortable throughout the night.
Does the zipper scratch infants?
Most sleep sacks are made with protective zippers that do not scratch babies, parents should take note before purchasing
Does it prevent infants from flipping over?
It helps infants settle into a good night-time routine and when properly sized with all safety measures in place it is good for all babies, but one children reach the age where they are always flipping it is advised to stop using the sleep sack.
What materials are sleeping sacks made of?
This depends on the manufacturer, most sleep sacks are made from wool, cotton, fleece, and polyester. They are made from materials that are gentle on the skin and are known not to cause rashes or irritation.
Can sleep sack be machine washed?
Some manufacturers indicate that their products can be machine washed while some advise that sleep sacks should be strictly hand washed.
Will sleep sack shrink or fade after wash?
Sleep sack made from quality materials take time before they show signs of shrinking or fading, parents are advised to purchase quality sleep sacks from reputable brands.
---
Verdict
All parents want their baby's to have healthy, comfortable sleep. Infants are notorious for moving in their cribs, preventing themselves from falling asleep. Sleep sacks solve this issue and also provides a safer alternative to blankets and wrappers. Unlike blankets, they are made for helping infants sleep and have measures like double safety zippers, Velcro fasteners, protective wings and other protective features that make them perfect for sleeping babies.
However, it is important to note that when children reach the age where they can flip themselves over several times, it is advised to stop swaddling to avoid obstructing airflow or putting them in a very uncomfortable position.
The ultimate aim of a sleep sack is to improve sleep patterns in infants, parents should choose the type of sleep sack that fits their children thereby helping them sleep longer and better.
Check out our other articles on the best baby rock and play sleepers.
(Visited 368 times, 1 visits today)