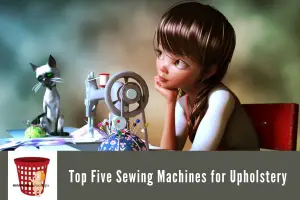 When it comes to upholstery, you can get away with using leather sewing machines, too. Still, if you don't want to settle for less, getting one specifically for upholstery is your best bet. Besides, in most cases, you won't need such a heavy-duty machine as the leather one.
So, today, we bring you our five best sewing machines for upholstery, as well as a lot of useful information on the matter.
---
Best Sewing Machine for Upholstery: Top 5 Picks
Many big names in the sewing machine industry put out various models of the product. However, to avoid prioritizing one brand over others, we chose a favorite per brand. Let's dive right in and share with you our top five picks.
Last update on 2022-08-31 / Affiliate links / Images from Amazon Product Advertising API

Singer is a famous brand which has consistently put out affordable, high-quality sewing machines on the market. This machine too is a workhorse – it will serve you for various purposes in many years to come.
Features
The 411 model comes with a metal frame on the inside, a bedplate of stainless steel and a powerful motor. You will also find eleven built-in stitches to cater to various types of projects. The needle position is adjustable, and it has three available spots.
The design of the machine is strong and stable. It's heavy, so it won't move while you work, and the speed goes up to 1100 stitches per minute.
To add to the versatility, the presser foot is also adjustable – you may sew both lightweight and weighty fabrics by changing the foot pressure.
Pros
Sturdy, long-lasting design
Strong motor
Speed of up to 1100 stitches a minute
Affordable in comparison to competitors
Operates quietly
Cons
No automatic needle thread
May skip stitches at times
Customer Sentiments
Those who used this machine love its sturdiness and durability. It's also excellent for beginners who don't want to break the bank while getting into the upholstery. Still, those with some projects behind them would prefer a computerized model to this mechanical one.

Juki is famous for providing innovative products with several extra features to differentiate them from the competition. They claim to be customer-oriented, always looking to cater to the needs.
This machine is one such example, with its LED lights and single-pedal operation.
Features
The TL 2000Qi model
is updated to allow for quilting and home decoration besides sewing. It consists of a metal body, an aluminum frame, an automatic needle threader, and extended bed table, and one pedal control.
There's also a knee lifter that allows you to adjust the speed using your knee instead of your foot.
As we mentioned, there are also LED lights for smoother operation. Besides, you will find an automatic trimming system to make your life a bit easier. However, it comes with a single stitch, not offering plenty of variety.
Pros
Knee lifter is very convenient
The metal body is highly durable
Sharp – cuts through layers with ease
A lot of flexibility and free movement
LED lights
The frame lessens the vibrations
Cons
Not very beginner-friendly
Needs oiling after each use
Customer Sentiments
The customers who have been sewing for a while love this machine as an upgrade for quilting. It's of super high quality, sturdy, and functional. However, newbies may find it too complicated.

The Janome 3000 is one of the best models out there for beginner sewers. It comes with all the essentials you will need for your project, although not a lot of extras. Still, it gets the job done and features extreme quality.
Features
This model will be excellent for newbies and pros alike. It will stitch through the thickest of materials while staying steady due to its aluminum body and durable cover material. This manual machine comes with 18 basic stitches, including decorative, utility, and buttonholes.
The foot pressure is fully adjustable, and the speed goes up to 900 stitches a minute. There's a seven-piece feed dog to help with that, too. It also comes with a reverse stitch bar for extra convenience and leaves one of your arms free for more flexibility.
Pros
Sturdy and powerful
Seven-piece feed dog
Free arm
A wide selection of available stitches
Features a reverse stitch bar
Cons
A bit more expensive than other such models
Mechanical machine not as easy to operate
Doesn't feature special stitches
Customer Sentiments
People find this machine of excellent quality, beginner-friendly, and highly functional. It's great for upholstery, although it's light enough to move around. However, people say they needed to purchase an additional walking foot to make the most of it.
4. Sailrite Ultrafeed Walking Machine
The Sailrite Ultrafeed Walking machine is the most versatile we mentioned so far. It's the only one on the list featuring zigzag stitches and is also heavy-duty yet portable. Besides, Sailrite boasts its customer support and even includes an instructional DVD in the package.
Features
This heavy-duty model includes various useful features and accessories you'll enjoy. It's built tough to carry wherever you go.
There's also a high foot lift and an excellent needle which can stitch both straight and zigzag. In essence, it allows you to stitch whatever fits under the foot.
Extras include a carrying case for professionals, an integrated thread stand, and a LED light. If you are looking for a machine for both upholstery and thinner assemblies, you can adjust it for lighter weight fabric. Its motor allows for a wide range of powers.
Pros
Straight and zigzag stitches
You may vary the stitch length and width
Comes with a LED light and a carrying case
Versatile and portable
Two-year warranty
Cons
Slower than others we mentioned
The table isn't fixed
Customer Sentiments
As customers say, this machine is ideal for heavy-duty sewing, and it lasts for years of faithful service. It will sew through almost anything, just as promised. Still, it comes with drawbacks you wouldn't get from an industrial-grade machine.
5.
No products found.
No products found.
No products found.
Toyota was famous for textile-related machines even before they became a car producer. Their tools come high-quality and are built to last. No products found. has a bonus of being super affordable.
Features
This model doesn't come with the most potent motor, but that doesn't mean much, as it is still able to stitch through up to 12 layers of denim at once.
It comes with 15 stitch variations, and both straight and zigzag stitches are included in the mix. There's also an automatic needle threader to save you the time and energy.
Its extension table is excellent for upholstery. It's big enough to handle more substantial pieces of fabrics, and in turn, helps you avoid mistakes. If you're looking for a machine to meet all your needs, don't worry; you may adjust the Super J15 to sew thin fabrics, too.
Pros
Excellent value for the money
Automatic needle threader
Reliable manufacturer
Sturdy and reliable
Lightweight
Cons
Quite noisy
Difficult to find replacement parts
Customer Sentiments
The customers, in general, like this model very much. As they say, it's ideal for intermediate use – not the most beginner-friendly, not industrial-grade, but performs as advertised.
It would be better, though, if the foot were a bit higher, as this feature can pose an issue for upholstery.
No products found.
---
What to Look For In a Sewing Machine For Upholstery?
Nowadays, there's an endless list of available machine models. However, choosing the best for your needs is more than window shopping within a budget. You want to consider your needs and get the best value for the money.
Below, we go through the features that make a high-quality sewing machine.
Machine Type
There are five types of sewing machines:
Mechanical – they come with basic settings, and you use them physically.
Embroidery – this type is best for weaving.
Electronic – these machines have many functions mechanized.
Overlock – you need this type for creating unique textures.
Computerized – these are high-innovation machines which require a lot less manual work.
Read about the benefits and drawbacks of these specific types to find the best for you.
Motor
The motor is the most significant part of a sewing machine. Heavy-duty machines come with reliable engines to deal with dense upholstery textures. A stronger motor is also less likely to overheat.
Weight
Since you'll be working with dense textures, a heavy machine will be of great benefit. The reason for this is that the mass of the material won't move the device around.
Presser Foot
When looking for a sewing machine for upholstery, look for one whose presser foot comes with a high lift. Such a foot will make it easier to press through thick materials by changing the tallness of the presser.
Velocity
Many heavy sewing machines can sew at incredibly quick paces – even over 1000 stitches a minute. Think about your style and whether you need so much. In general, though, upholstery benefits from high speed.
Construction
If you want your machine to last you for years, go for metal, not plastic or wood. When it comes to its size, more massive is stronger. Consider whether your home can accommodate a big item, though.
Design
Your machine shouldn't be complex to use. The best models are straightforward and user-friendly, accommodating even beginners. Even if you're seasoned, a simple design will allow you to focus more on the sewing and less on the mechanics.
---
FAQs about Sewing Upholstery
Finally, we went ahead and answered some of the frequently asked questions related to sewing upholstery. In case you're new to the world of these projects, we got you covered.
Q: What is upholstery sewing?
A: Upholstery is a type of sewing. What makes it different from other sewing projects is that you sew thicker materials together. The plans are more extensive, too. They include, or example, creating paddings for chairs, leather covers for furniture, and similar items.
Q: Can I use my regular sewing machine for upholstery?
A: Yes. Sewing upholstery is still sewing, so conventional machines may get the job done. However, they may not have enough power to handle heavy fabrics. If you want to try upholstery on your regular device, use heavy-duty, industrial-grade needles.
Q: Why do I need a particular machine for upholstery?
A: Machines for upholstery are different from other types in their strength. They have sturdier needles and more powerful motors. You don't necessarily need a particular machine for upholstery, but a regular one may not survive such a project.
Q: How to use a sewing machine for upholstery?
A: Upholstery projects can be daunting at first, but they can be stress-free if you approach them correctly. Besides your machine, you will need sharp scissors and industrial-grade threads.
When you get your materials, check them for frayed edges and trim anything worn. After that, all you need to do is follow a manual for your project. The work itself isn't a whole lot different than with your regular sewing machine.
Q: How often to replace parts of my machine?
A: Unless they're wearing out, you shouldn't replace the parts often. If you notice issues, seek a qualified technician to replace them.
Although replacements won't be frequent, you should schedule maintenance often. Include oiling, replacing the needles, and checking the construction for any signs of damage.
---
Our Verdict
To conclude, all the models we mentioned would make upholstery projects not only possible but also simple to execute. However, the model which you ultimately choose will depend on your needs and bank account.
If you're now getting into upholstery, but have experience with other types of sewing, go for No products found.. The model is affordable, sturdy, and will get you started on your journey.
On the other hand, there are those with sewing experience looking for a machine to match all their needs. In this case, we recommend either Singer or Janome, depending on your budget.
Last update on 2022-08-31 / Affiliate links / Images from Amazon Product Advertising API
(Visited 222 times, 1 visits today)