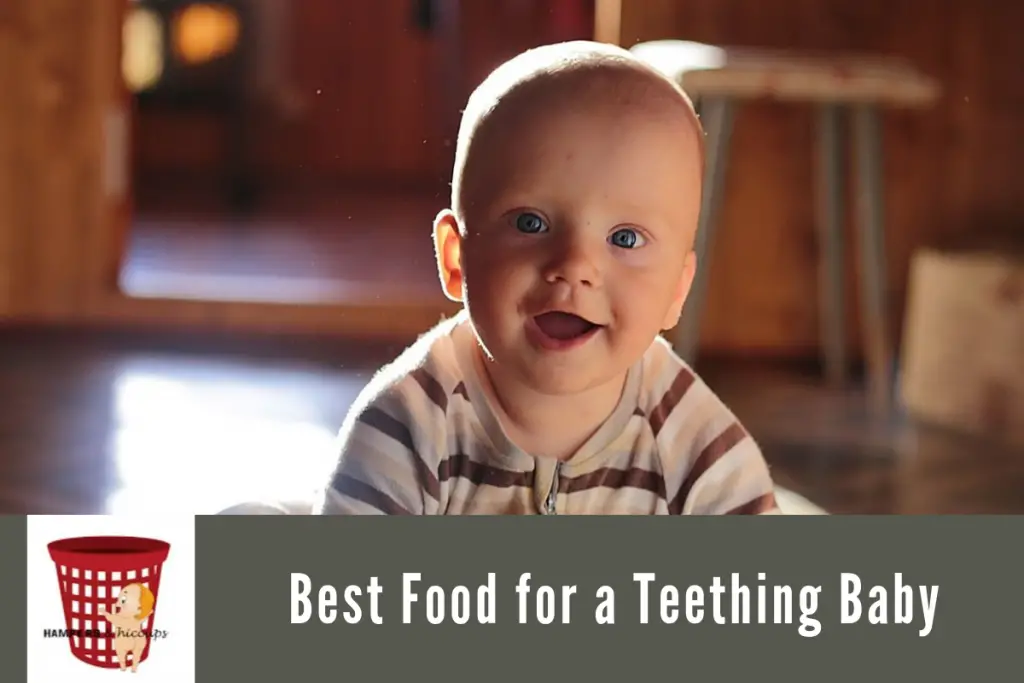 Around the ages of four to six months, babies begin to show signs of teeth coming in. Babies can teethe without actually getting any teeth for another couple of months, so they can start showing signs or symptoms as young as two months!
Just imagine you're minding your business one minute, and the next, you're greeted with this sharp, sudden pain right in your gums. If you have ever had any type of tooth pain, you know how brutal it can be for a fully grown adult, so just think of how unbearable it is for tiny babies! Not to mention, they have no idea why it's happening, so they may be a little scared, too.
Most parents think just giving a baby a pacifier or even a teething toy is enough to soothe the pain, but in reality, they are only a temporary fix for something that a baby will have to endure for the next several months, considering the fact that once one tooth has popped through, you can only assume there will be two, three, four, or more to follow!
---
Best Food for a Teething Baby
Here are the best possible foods to give your baby when he or she is dealing with some of the worst pain a baby's fragile little body has to endure.
Last update on 2022-09-19 / Affiliate links / Images from Amazon Product Advertising API
Pureed or Smooth Foods
Depending on your baby's age, you may or may not have begun introducing certain foods. When a baby teethes, they are not quite as willing as they usually are to eat. Making them a puree of their favorite dishes like meat, sweet potatoes, peas, or fruit will allow them to have their solids without having to chew.
If you feel that your baby is old enough for some dairy, or if you've already introduced your child to dairy products, plain yogurt is also a good option for a teething baby. It's smooth, cold and ready to eat when baby wants a quick snack. The yogurt will ultimately provide soothing qualities as well as sweetness, so your baby will be eating without having to worry about using their teeth!
You can order a starter pack of smooth foods for your baby here!
Sale
Gerber My 1st Fruits Starter Kit, Banana, Pear & Apple Puree, 2 Ounce Tubs, 2-Pack (Set of 6)
Single fruit starter kit: Start your baby's lifelong love of fruits with these single fruit baby foods in trial size 1-ounce tubs that are perfect for first tastes & checking for food sensitivities...
First fruit sampler pack: This special single fruit sampler pack includes tubs of banana, pear & apple plus a step-by-step feeding guide & a coupon to move on to Gerber 1st foods fruits & vegetables.
Last update on 2022-09-19 / Affiliate links / Images from Amazon Product Advertising API
Cold Foods
Any cold sensation can be soothing to your baby's sore gums, but being able to munch on something cold will alleviate some of the pain of teething. Keep some cold hummus, refrigerated fruit, cold soups and other easy things ready for baby to eat when he's teething. The temperature will provide a sort of temporary numbness in their inflamed gums, while also reducing swelling. Baby will be happier and more content for a short period of time, while also getting his nutrients for the day!
If you are wanting your baby to have some yogurt to help with teething, you can buy some here, refrigerate, and serve to your baby.
GoGo squeeZ yogurtZ, Strawberry, 3.2 Ounce (4 Pouches), Low Fat Yogurt, Gluten Free, Pantry-friendly, Recloseable, BPA Free Pouches
YogurtZ on the GoGo made from real fruit and yogurt in portable, BPA-free, squeezable pouches
Low fat yogurt pouches made from real fruit and yogurt, gluten free, certified kosher, no preservatives, no high fructose corn syrup, and contains 4 grams of protein in every pouch
Last update on 2022-09-19 / Affiliate links / Images from Amazon Product Advertising API
Mashed Fruits and Veggies
Your little one may be a teeny bit too old for a puree, so just mashing up some of their favorite fruits and vegetables will make it easier for them to eat, avoiding any added pain to their throbbing, swollen little gums. Mashed potatoes, green beans, strawberries, blueberries, bananas, and other non-citrus, low acidity options will allow your baby to enjoy his favorite yummy foods without using his soon-to-be teeth!
 Get some yummy, cheap, easy to make mashed potatoes here!
Last update on 2022-09-19 / Affiliate links / Images from Amazon Product Advertising API
Frozen Foods
A step up from refrigerated foods would be giving your baby straight up frozen foods, such as blueberries, bananas, and other frozen foods your baby already enjoys. This level of cold will help your baby's symptoms more long-term, with little to no preparation required! Try to avoid anything citrus, acidic, or highly salted, as this can cause further inflammation in your baby's gums.  
Once you've bought some fresh or already frozen fruit, you can portion each serving for your baby with some Tupperware for easy storage!
Last update on 2022-09-19 / Affiliate links / Images from Amazon Product Advertising API
Teething Biscuits
On your next trip to Walmart, be sure to pick up a box of teething biscuits or wafers! You can hand one to your baby when she's cruising in her walker around the house, or use them in a pinch when she isn't content when you're on the go, or at a friend or relative's house. 
Not only are these cheap, but they're a pretty convenient solution for teething, especially if your little one happens to experience a teething fit episode while you're out in public. Pick some up here on Amazon!
Last update on 2022-09-19 / Affiliate links / Images from Amazon Product Advertising API
Hard Foods*
Believe it or not, mothers from previous decades used to let their teething tots chew on shrimp to knock the pain out– or worse: they would put whiskey or rum on the gums to numb the pain!  
While these moms did their absolute best in the only way they knew how (basically what their moms and grandmas suggested they do), these techniques are not really practiced any longer in 2019. Moms are quite weary of their child chewing on shellfish, just to find out right then and there that they have an allergy. Plus, it's a bit frowned upon nowadays to put alcohol on your baby's gums as well.
An alternative to these methods is to get some pickles or whole carrots for your baby to chew on. Of course, you'll want to closely monitor your child, and only use this method if your child does NOT have any teeth yet*. If your baby already has a little white spot on their gums, indicating a tooth any day now, you'd better just avoid doing this altogether and get some teething toys or a mesh tether instead!
You can grab some of the best pickles for your baby to teethe on here!
Last update on 2022-09-19 / Affiliate links / Images from Amazon Product Advertising API
---
Foods to Avoid
While there aren't too many limits as to what your baby can eat while she's teething, you still need to keep these few in mind. You can't be too careful when it comes to things your baby may chew on or ingest!
Citrus Fruits and Juices
Any sort of citrus, such as lemons, limes, oranges, grapefruits, and other fruits that have a high acidity can cause your baby's gums to inflame and swell, and make any teething pain worse. Other examples of acidic fruits are pineapples, pomegranates, apples, peaches and grapes.
Foods High in Salt
Be extremely careful in feeding your baby any meats and veggies that might be high in sodium. Ramen noodles, seasoned ground beef, salted canned vegetables, and other foods high in salt should be avoided when you have a teething baby. Try and go for canned vegetables that have no salt added, and plain noodles with unsalted butter, rather than Ramen!
---
Other Things to Keep in Mind
Always keep any allergies or aversions your child has to certain foods, as you could be posing a serious risk to your baby's health. If your baby has a dairy allergy or has never tried dairy before (other than formula and/or breastmilk) then it's best to wait until you are sure your baby's sensitive tummy can tolerate lactose before giving yogurt.
Something else to remember is that sometimes, teething pain is just too intense for your baby to tolerate at certain times, so if your baby is too fussy and irritable to eat, give him some time and a toy or ice cube in a mesh feeder to relieve some of the pain so he will feel like eating again. Just be patient and feed him whenever he shows signs of being ready to eat– don't force it.
Last update on 2022-09-19 / Affiliate links / Images from Amazon Product Advertising API
---
How to Know if Your Baby is Teething
There are several tell-tale signs that your baby is growing teeth, so you need to be on the lookout for the obvious symptoms your child will display once he or she has started teething. It's usually extremely easy to tell when you have a teething baby, you just have to know what you're looking for!
Drooling
This is probably the number one sign of teething. Sure, most all babies drool, but if it's a bit more excessive than you're used to seeing, then your little one could be teething!
Fussiness
We all know that pretty much all babies cry, unless you are extremely lucky and you have the most well-behaved baby ever. However, if your child is on the verge of inconsolable and there are no obvious signs of injury, this is another common sign of teething!
Biting/Chewing Everything in Sight
If you thought you had to watch what your baby puts in their mouth now, then you'll want to keep an extra close eye once their little teeth start making their grand entrances! Desk corners, remotes, cell phones, keys, wipes containers, and pretty much any other random household objects in your baby's line of sight is a potential victim to the wrath of teething.
Trouble With Eating and Sleeping
Whether your baby is breastfed, bottle fed, or has started eating solids, teething can put any sort of routine you've been trying your hardest to perfect on hold. You could have everything planned to the minute, only for teething to come and wipe the slate clean. Sleeping patterns and eating habits will be demolished all in the span of a day or two, due to the pain of teething. It's rough on a baby, and it is almost like they have an ongoing hangover from the symptoms.
Mild Fever
Probably the most concerning symptom for a parent would be the mild fever that is often known to accompany teething. Your child will feel somewhat warm, and may act extra cranky and tired at different parts of the day. This is totally normal when it comes to teething, and most, if not all, babies going through this stage will end up with a mild fever caused by teething at least once.
The best thing you can do is give the appropriate amount of Tylenol or Motrin, make sure the fever breaks and allow your baby plenty of rest and hydration. If the temperature is greater than just 2 or 3 degrees, you may want to take your child to the doctor to make sure he doesn't have a cold or something else.
Now that you know what the signs and symptoms are, you can also try to add foods to your baby's diet that can help with soothing their gums! Keep in mind, babies' tummies are small and delicate, so introducing new foods is a process that must be done carefully. Don't introduce more than 1-2 new foods to your baby weekly, and always make sure they don't have some sort of allergy to whatever foods you may be trying out to help with teething pain.
---
Wrap Up
When dealing with a teething baby, it can be frustrating at times, but just know that it will pass and it doesn't last forever. Your baby is just hurting and isn't sure what is causing it and why, and you just have to remember that since he's so tiny, the pain is hitting him more quickly and intensely than it would a grown person.
It can be difficult to see your baby going through this, as it is very painful and downright uncomfortable, and there isn't really anything you can do to completely stop or cure the symptoms, but you can snuggle and love on your baby, and allow him to rest so that he can heal quickly.
Teeth can take anywhere from a week to a month to come in, and while the symptoms aren't totally constant, just know that the more frequently and intense his symptoms are, the closer he is to having his first (or eighth) tooth come through! Once the tooth has broken through the gums, the symptoms will practically disappear overnight, and you find yourself just waiting for the next tooth to come in!
(Visited 589 times, 1 visits today)