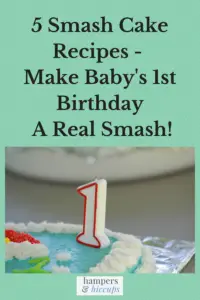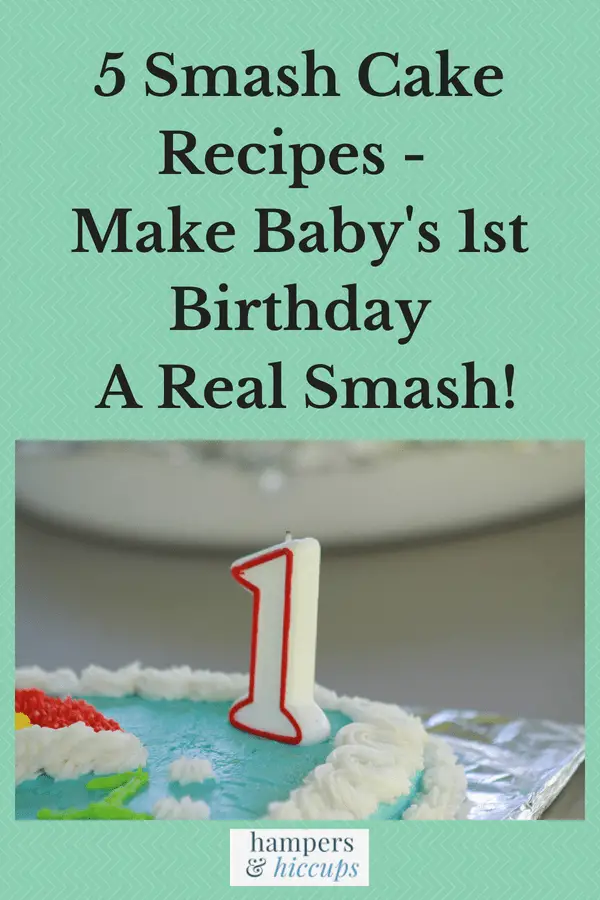 Make your baby's first birthday party a real smash with these Smash Cake Recipes you can use to make them yourself! It's really very simple with the right equipment on hand. Your little one year old baby will love to have his/her own little cake to smash! Put it on the high chair and let him or her dig in! Don't forget the camera to take lots of memorable messy photos! Have plenty of wet washcloths on hand for clean up!
5 Smash Cake Recipes To Make Your Baby's First Birthday A Real Smash!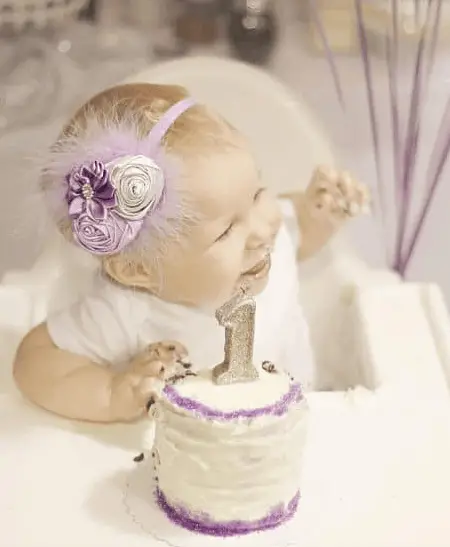 With the recipes below, you may have leftover cake mix that doesn't fit in the little container you are trying to make the baby smash cake with. I would just bake it in another pan to use it up. Check it about 5 minutes earlier than you normally would as it is smaller.
Smash Cake Equipment Needed
Ingredients from a recipe below OR
, or the size of the cake you want
A or something to show your little one is one-years-old – Here is one with glitter on it from Etsy.
for sprinkling sugar on the cake
for display until "smash time"
Ingredients
2 cups plus 1 T cake flour
1 t baking powder
3/4 t baking soda
1/2 t salt
1 stick unsalted butter, softened
1 cup sugar
1 t pure vanilla extract
2 large eggs, at room temperature
1 cup buttermilk, shaken
Instructions
Preheat oven to 350 degrees.
Spray 2 6″ baking pans with non-stick cooking spray, or use butter and flour to coat.
Sift together the cake flour, baking powder, baking soda and salt in a medium bowl.
In mixing bowl of stand mixer beat butter & sugar at medium speed until pale and fluffy.
Add eggs one at a time beating after each addition, add in vanilla.
On low-speed add buttermilk, batter will appear curdled.
Add in the flour mixture, dividing into 3 batches until thoroughly incorporated.
Spread batter evenly between pans. Bake approximately 30 minutes or until a toothpick inserted into the center of the cake comes out clean.
Cool on rack about 10 minutes before removing from pans to completely cool.
Serves 12
Ingredients
2 1/2

C

cake mix

2

C

powdered sugar

2/3

C

butter

cut into 4 pieces

1/4

C

whole milk

3/4

C

white chocolate chips

1/2

C

sprinkles

Extra Sprinkles for the top
Instructions
Mix together the cake mix and powdered sugar in a large bowl.

Add milk and butter (do not stir them in) and microwave for 2 minutes. It's cool cause the butter starts to "cook" with the batter, my kids loved looking at it.

Mixing everything together RIGHT away. The batter will be VERY thick.

Fold in white chocolate until MOSTLY melted (a few chunks left is actually really nice in the fudge.

Then add the sprinkles and stir gently. You do not want the sprinkles to BLEED.

Spoon into an 9×9 inch pan (lined with parchment paper), and cover with more sprinkles.

Cool in the refrigerator for at least 1 hour (overnight is better).

Cut into squares and enjoy.
Microwave Soup or Coffee Mug Chocolate Cake
This is my own recipe from home, my teens love to make their own little cakes but usually have to give a few bites to their younger siblings! And sometimes Mom too.
Ingredients
4 Tbsp. flour
4 Tbsp. sugar
2 Tbsp. cocoa
1 egg
3 Tbsp. milk
3 Tbsp. oil
1/4 tsp. vanilla extract
cooking spray
Instructions
Mix egg in small mixing bowl.
Add oil, milk, vanilla extract and mix with fork.
Add flour, sugar, cocoa and mix well with fork.
Spray your soup or coffee mug with cooking spray.
Put cake mix in the mug.
Place mug in microwave.
Microwave for 3 minutes on high.
Place in freezer to cool quickly then carefully tip out onto plate using a butter knife as a guide.
Ingredients
14

oz

AP flour

2 1/2

tsp

baking powder

1/2

tsp

salt

8

oz

unsalted butter

room temp

14

oz

sugar

1

tsp

almond extract

1

tsp

vanilla extract

6

egg whites

fresh not boxed at room temp

10

oz

milk

room temp

2

oz

vegetable oil
Instructions
Place butter in a stand mixer with a paddle attachment and cream until smooth. Sprinkle in your sugar and then let whip on high until light and white (about 5 minutes)

Combine your flour, baking powder and salt and set aside

Combine milk, oil and extracts and set aside

Add in egg whites one at a time (roughly) and let fully combine after each addition before adding the next. If your egg whites aren't at room temperature you can microwave them for a few seconds. Be careful not to cook them! Cold egg whites will curdle the batter.

Add in 1/3 of your dry ingredients and let combine. Add in 1/2 of your liquids, then dry, then liquids and the rest of your dry. Let mix until just combined.

Add batter into prepared cake pans and bake at 325 degrees F for 25-35 minutes or until a toothpick comes out clean when poked in the center.

Let cool ten minutes then turn out cakes onto a cooling rack. Wrap warm and place into the freezer to flash chill. This locks in the moisture. Once cool but not frozen you can then trim off the brown edges of your cakes and frost as desired. Chill cake.
Crazy Chocolate Cake
I am a large family mom of 7 children with one on the way and I don't have a lot of time so I love this recipe because I just throw it all in my
and mix it, then pour it into the pan and bake it. Easy!
Ingredients
3 c. flour
2 c. sugar
1/2 c. cocoa
2 tsp. baking soda
1 tsp. salt
3/4 c. oil
2 Tbsp. vinegar
1 tsp. vanilla extract
2 c. water
Instructions
Mix all ingredients well in mixing bowl.
Pour into cake pan.
Bake at 350 degrees for 35 minutes.
I hope you enjoyed these recipes and I hope you find one that works for you. Happy Birthday to your little one!.
This article was submitted by Amy Marohl, a large family homeschooling mom, Etsy shop owner and blogger at neededinthehome.com.
(Visited 62 times, 1 visits today)