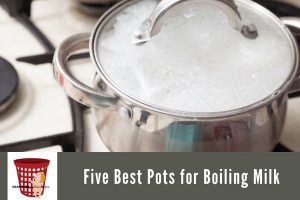 Theoretically, boiling milk should be a straightforward task, no different from boiling water. Still, when we put it into practice, we find that it's easier to burn milk than to cook it.
Unfortunately, as any foodie with a sweet tooth will tell you, many recipes call for boiling milk.
So, if you want to get this tricky task right, you should start with proper cookware. We took a look at some of the best pots for boiling milk available now and separated only the best.
Today, we are here to share our findings and help you choose the one right for your kitchen.
---
Best Pots for Boiling Milk: Top 5 Picks
We went through the best pans and pots for boiling milk by several famous names in the industry. Here's what we found as our top picks at a glance:
Last update on 2022-09-13 / Affiliate links / Images from Amazon Product Advertising API

This non-stick saucepan by Calphalon
is an ideal piece of kitchenware that goes to show that you don't always need stainless steel. It will delight busy people who need to boil a lot of milk at once, and safely, without breaking the bank.
Features
This saucepan comes with a 2,5-quart capacity. It consists of durable aluminum covered by a layer of the non-stick coating. This dish is also quite versatile – it can go from the stove to the oven and bear up to 450 degrees Fahrenheit.
You'll find another useful feature on the side. There's a measuring mark inside the cookware, saving you time and effort on measuring upfront.
It comes with a stainless steel handle for added comfort, as well as a glass lid, making it convenient for other types of cooking, too. As a bonus, there are also pour sprouts. Calphalon offers a lifetime replacement or refund warranty with the pan.
Pros
Affordable compared to competitors
High-quality and durable
Stainless steel handle and non-stick coating
Measuring marks inside the pan
Oven-safe
Cons
Stainless steel is a better choice than aluminum
The non-stick coating peels off with time
Customer Sentiments
The customers loved what they got for the price. It would be better if the pot were stainless steel, but when you're shopping kitchenware on a budget, this is an excellent choice.

This professional non-stick saucepan is massive. You may boil up to three liters at once. Thanks to the coating on its inside, don't worry about stirring it, either. Kitchen Aid delivered a great product that doesn't break the bank.
Features
The pan consists of anodized steel covered with 5,5mm of hardened aluminum. In simple words, the first material is ideal for even cooking, while the second makes it durable. The bottom of the pan is thick enough to ensure no burning happens to your milk.
The handles are of pure stainless steel, making the pan easy to handle even when it's hot. It's, of course, coated with a non-stick finish. This coating will start wearing out after a few years, though. Still, for the price they offer, it's a great option.
Kitchen Aid made this pan dishwasher-safe, allowing for cleanup even more effortless than cooking. It's safe to use on induction cooktops. Besides, this pan is lovely with its clean and simple design.
Pros
Affordable
Non-stick and durable
Great heat distribution
Beautiful design
Dishwasher- and induction cooktop-safe
Cons
Not all-stainless steel
The coating peels off with time
The bottom gathers heat stains
Customer Sentiments
Between this product and the previous, it's only a matter of preference which you choose. Both are excellent, show very little to worry about, and get the job done. Get this pan, and you will enjoy it for years.

Anolon brought us a well-constructed, lightweight, functional piece of equipment. Its cost is slightly higher than the two we mentioned earlier, but for the extra dollars, you get outstanding performance.
Features
The pan consists of hard-anodized steel, lined with a non-stick interior and copper on the outside. You will find stainless steel in the design, too – on the handle and dome lid. The handle is attached using rivets, ensuring that it doesn't get too hot to hold.
This model comes with patented induction technology, allowing for even distribution of heat. It's compatible with induction stoves, too. Due to the even distribution and the stainless steel lid, this pan is excellent for boiling milk.
You may boil up to 2 quarts of liquid at a time. Of course, as with all non-stick covers, it will wear out. However, due to the construction and choice of materials, this pan shows durability rare to see with such coatings.
Pros
Lightweight and ergonomically designed
The non-stick cover is solid
Beautiful design
Induction stove-friendly
Cons
The paint on the outside peels off quickly
Difficult to clean
The lid gets dented
Customer Sentiments
The customers seem to be in love with this piece of kitchenware; happy to have spent a little extra on higher quality. The Nouvelle Copper Pan lasts longer than most of its competitors. If there were an option of getting it with a glass lid, it would be perfect.

The Milk Pan by Carote
uses Swiss technology, boasts versatility, and promises years of usage. It also boasts being the safest piece of kitchenware you can buy.
Features
The inner tank of the pot consists of aluminum alloy – there are no rivets inside. The bottom also features a 5mm thicker surface for an even heat distribution.
The materials ensure it will be resistant to wear and tear; lasting for a long time. Still, this is only the case if you use wooden utensils, as metal scrubs will hurt the Swiss-imported coating.
The pot comes with a wooden handle. The handle will thus remain cold while you cook thanks to the material and the anti-scald device. However, this choice makes it possible only to clean the pot by hand.
The glass lid makes it possible to watch your milk as it safely brews. You may use the pot on all stoves – from gas to induction. Don't put it in an oven, though.
Pros
Sturdy aluminum alloy construction
Glass lid and wooden handles
Compatible with all types of stoves
Comes with a warranty
Easy to clean
Cons
Must use wooden utensils
Not dishwasher-friendly
Not suitable for ovens
Customer Sentiments
The rustic look of this pot, as well as its non-traditional design, makes it ideal for those tired of the classic pan. Carote brought a straightforward product that avoids the common drawbacks of the traditional model. However, it does come with some issues.

Finally, we arrive at a product made of stainless steel all round. IMEEA's Milk Warmer is a small piece of kitchenware suitable for most imaginable usages. It may be the highest-quality item on our list.
Features
The Milk Warmer has 18/10 stainless steel on the inside, and magnetic stainless steel on the outside. Between the two layers, there's a coating of aluminum for even heat distribution.
It's small, though, with only 3 inches in diameter on the bottom. The handle is also stainless steel, with a hole in the end for secure storage.
The pot is ideal for induction stoves, as long as the 3-inch bottom is compatible. However, it's not great for gas stoves. It's easy to clean it in the washing machine, and you may use it for whatever you desire – including warming milk, as the name suggests.
Pros
All-stainless steel
Sturdy, high-quality design
Dishwasher-friendly
Comes with a lifetime warranty
Cons
Expensive for the size
Too small for most
Customer Sentiments
People love this pot for small batches – those that would burn in regular-sized pots. It's fantastic for everyday use and an essential piece of equipment for new parents. Customers only regret that it doesn't come in larger sizes, too.
---
How to Pick a Pot for Boiling Milk?
While going through various models, we were focusing on three crucial aspects. Whichever pot you choose, it should tick these boxes.
Easy to wash – even if something does catch on your pot. A quick soak should make it as good as new.
Comfortable to hold – especially the handle. We were looking for handles that don't heat up too much, as well as non-slippery ones.
Balanced weight – any pot should be heavy enough to be stable on your stove. Still, it should be lightweight so you could carry and pour with ease.
---
Important Features of a Milk Boiling Pot
Keep these areas in mind to find the best piece for your kitchen.
Material
Nowadays, most pans and pots consist of either aluminum, stainless steel, or a combination. Stainless steel is famous for its durability and low maintenance, while aluminum is light and helps to create even heating.
Another popular material is cast iron. If you go for this one, remember that it's sturdy and heavy-duty. Still, it takes a lot of time to warm and cool.
Non-Stick Coating
When it comes to boiling milk, non-stick is a must. This coating is easy to clean, but it will wear over time. Alternatively, go for ceramic pans – they avoid the chemicals used in traditional Teflon.
Handle
You will find several common types of handles. There are phenolic (plastic) handles – they are cool to the touch, but not the highest quality. Metal handles tend to require oven gloves, but they are also oven-safe.
Extra Features
With more models put on the market daily, many companies are adding extra features to stand out. You will easily find pots with measuring graduations. Also, when it comes to lids, both metal and glass have their benefits.
---
Our Verdict
If you're looking for the highest capacity, go for KitchenAid – it will be a great assistant for big batches. If you need both size and durability, go for Anolon. Finally, for everyday use, IMEEA is our top recommendation. I hope this detailed guide on the best pots for boiling milk helped you make a decision!
Last update on 2022-09-13 / Affiliate links / Images from Amazon Product Advertising API
(Visited 7,351 times, 1 visits today)