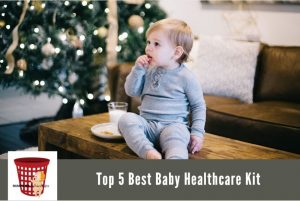 Children are bundles of joy, and there is nothing we won't do to ensure they get the best care. When it comes to securing the health of their child, loving parents will go above and beyond for their child, this includes supporting them and providing the essentials they need for proper growth. Parents understand the need to have a solution to severe or mundane problems that may cause pain for babies.
The responsibility of caring for a baby falls on its parents, and we are caregivers with the responsibility of taking proper care of our children during this crucial period of their growth. This means we should be prepared with items necessary to tackle emergencies and other situations that may cause discomfort to our baby. Healthcare kits are must-haves for every household. They come equipped with important items for grooming and health emergencies.
There are lots of healthcare kits online, and combing through several online stores to find the one that does the job can be exhaustive. That's why we have compiled a list of the five best baby healthcare kits to make your life easier. Check them out!   
Best Baby Healthcare Kit: Top Picks

This American Red Cross deluxe health and grooming kit is a must-have for every home, it is an assembly of essential nursing items equipped to maintain optimum baby health. This kit was designed to be easily used, and items can be packed efficiently when not in use. It was made for parents that want to get things done as efficiently as possible.
American Red Cross is a brand known for making great health products, and this healthcare and grooming kit is a typical example of the expertise that goes into creating premium products that improve healthcare. This healthcare grooming kit can serve as a great baby shower gift, and nursing mothers would also benefit greatly from having this in their homes.
Features
It comes with a case covered digital thermometer for easy temperature measurement, an aspirator for easy nasal care, a caped medicine spoon that can be used for syrups and liquids, a comb, a soft baby brush that is gentle on the skin, a non-toxic silicone-based fingertip toothbrush for when they start teething, baby nail clippers with safety handles that make nail trimming easier, toddler toothbrush, a very convenient baby mirror, and other items.
All items use the same white and red color scheme and are packed in a lightweight bag with a see-through part and is sealed with premium zippers.
Pros
Lightweight, convenient carry bag with a transparent side view
Includes use guide for wellness and safety
Most items can be washed and are easy to maintain
Safety guard on sharp items
Cons
Thermometer might be slightly off
Customer sentiments
This kit has been used by several customers, and most give praise to simplicity and its ability to get the job done. It is made from safe materials and can be easily packaged for when not in use. They also praised the distinct design of the items in the bag, most of them come with safety handles that reduce the occurrence of injuries from accidents.
However, there are some customers who believed it can still be improved on. They singled out the thermometer as the only blemish on this stellar product. They complained that the thermometer reading was slightly off when compared with other thermometers bought separately.

The safety 1st deluxe 25-piece baby healthcare and grooming kit is the top choice for those that want the highest number of baby items provided by a quality baby healthcare kit maker at the best price. It comes in a beautiful clutch case with compartments for sorting out items and easily fits diaper bags and strollers. This baby healthcare kit is popular among new parents because of its catalog of baby items and its convenient see-through compartments, which reduces the time used searching for a particular item. Items are made from non-toxic materials and are flexible.
Features
This 25 Piece healthcare kit comes equipped with an easy cradle cap comb, a soft, bristle baby brush that is just right for babies, an easy-grip toddler toothbrush that is safe for developing teeth, nasal aspirator that is easy to use, a medicine bottle dispenser that can be used for all liquid medicine, a 3-in-1 thermometer housed within a protective case, a beautiful clutch case with clear view compartments and other useful items.
All items have a white and light blue color scheme giving it a warm feel. Apart from the main items, attachments included in the bag bring the total number of items to 25, which is great for parents who want to a kit with everything they need on grooming and basic healthcare.
Pros
Lots of baby healthcare items
Made of non-toxic and safe materials
Clutch case can be used on the go
Compartments for differentiating items
Space to record vital information inside the clutch case
Items come with comfort grips
Cons
Stays wet for long periods of time when exposed to water
Thermometer is slow to record temperatures
Customer sentiments
Reviews on this product were mostly excellent, with a large number of customers commending the quality of the individual items. Customers praised the clutch case because of how nice it looks and the ease at which they could carry the clutch case without substantially reducing space in baby strollers or diaper bags.
The only problems encountered by some parents was the speed at which it records temperature. They complained that it was relatively slow compared to the ones they had at home.

The Glee Baby Grooming kit is a nice collection of grooming and healthcare items that make parent's job a lot less tasking. This product contains quality items that are packed in a compact case that can be easily carried around. The case is made from non-toxic plastic and is closed using safety zippers. On inspection of the bag and its content, it is clear that it was made with conserving space in mind, a criteria most parents love about this product. Unlike most baby healthcare grooming kits that offer lots of items with different quality ranges, this kit provides  14 exceptional items that are made to last.
Features
This compact grooming kit is nicely packed and contains a cute baby rattle that is made from non-toxic materials, a battery-powered thermometer that is easy to use, a very efficient nasal aspirator, a gum massaging brush for teething babies, a transparent finger gum brush, an easy-grip nail clippers, a bunch of cotton swabs, a medicine dispenser, safety nail file, and a non-toxic pacifier.
All the items fit the case perfectly, meaning parents don't have to struggle to return the items when done with it. All items have a blue and white color scheme except the baby rattle which has red and yellow parts.
Pros
It comes in a compact case which fits all its items perfectly
Items in the product are made from good non-toxic materials
The case is designed to be easily carried from place to place
Includes a rattle which is a nice toy for entertaining babies
Cons
The thermometer battery dies quickly if left unused for a long period of time
Nasal aspirator suction is very weak
Customer sentiments
The Glee Baby Grooming Kit was well-liked by several customers. They all talked about the case, it's small size and how the items fit perfectly. They also liked the baby rattle, which differentiates it from other healthcare and grooming kids.
The problem few customers encountered with this product is the at which the thermometer battery dies if left unused for a long while, and there are no replacement batteries including in the pack. Some customers also complained that the nasal aspirator opening made suction weak.
4.
No products found.
No products found.
No products found.
The Alpacasso 20 Piece Grooming kit was made for parents with infants between the ages of 0-3. A lot of time went into ensuring the items in the kit were safe for babies within that age range. The items of this grooming kit are made from silicone, and its housing bag is made from really soft plastic. This kit is a hit among parents that clean their babies immediately they soil their clothes. The kit offers parents the choice to get baby washcloths along with grooming items that were excluded by other kids.
Features
The Alpacasso 20 Piece Grooming Kit comes with an easy-grip safety nail clippers, a nail file for regular grooming, safety scissors, baby tweezers for cleaning the belly button and other hard to reach places, nasal cavity aspirator for those bad colds, drop feeder that can be used for all liquid-based medicine, a non-mercury thermometer that works perfectly, soft, bristle hairbrush for all types of baby hair, an easy-grip baby comb, a transparent finger toothbrush, nine pieces of soft baby washcloth and a small emergency note for taking down things.
All items are made from non-toxic materials, which means babies are free to play with items without sharp edges.
Pros
It includes extra batteries for thermometer
Case is lightweight and made of soft plastic
Case comes with clasp type closure
Includes a non-mercury thermometer with extra batteries
Cons
The case can't be used on the go
Washcloths are very thing and tear easily
Customers sentiment
The overall sentiment on this product by several customers was good, most of them praised the items included in the healthcare and grooming kit. They especially liked the tweezers and the soft, bristle brush.
The only complaint some of the customers made was that the washcloths included were very thin, are easily torn, and are not suitable for use as washcloths.
No products found.

The Safety 1st Grape Juice Pyramid Healthcare and Grooming kit is another popular entry from the company Safety 1st. Unlike its deluxe 25 piece grooming kit this variation comes with fewer items focusing on the individual components of the kit. All items in this kit have easy-grip handles making them easy to use. Just like other entries from this brand, it comes with a beautiful clutch case with easy view compartments, which reduces the time used in searching for specific items. It easily fits most strollers and diaper bags for outdoor and indoor use.
All items are made from non-toxic materials and are flexible.
Features
The grape Juice Pyramid Healthcare and Grooming Kit from safety first includes flexible tip nasal aspirator that is comfortable for baby nostrils, easy-grip brush with soft bristle that is great fro developing teeth, medicine bottle dispenser for all types of liquid drugs, a nail clipper with safety grip for easy trimming, a sensitive thermometer with five disposable probe covers and an easy-grip hairbrush for toddlers.
A beautiful clutch case with clear view compartments that reduced time used in searching for items. All items have a white and light purple color scheme.
Pros
Items are made from flexible, non-toxic materials
Clutch case can be used on the go
Compartments for differentiating items
Space to write vital information inside the clutch case
Items come with cloth grip
Includes a non-mercury thermometer with extra batteries
Cons
Suction of nasal aspirator not very strong
Some parents have a hard time using the nail clippers
Customers sentiment
This product has a lot of good reviews from a large number of customers, and they liked the easy-grip feature that came with most items because it made using them more comfortable. They also praised the individual items in the healthcare grooming kit, especially the clutch case, because it made carrying all items from place to place very easy.
The complaints customers had for this product was the nasal aspirator opening being large ,which reduced the suction power, and some had a hard time using the nail clippers.
---
Baby Healthcare Kit Buying Guide
The reason parents buy healthcare and grooming kits is to keep their baby healthy and adequately groomed. Other items like thermometers, tweezers, and medicine droppers are also great to have at home.
The items in these kits will help parents cater to their babies comfortably and safely. Items in most grooming kits are non-toxic and come with safety handle measures that avoid harm to babies. When choosing a healthcare grooming kit, lots of attention should be paid to the quality of materials used in making items for the set. Parents should also go for kits that are made from non-toxic materials that would not cause harm to their child.
---
FAQ about Baby Healthcare Kits
Can nasal aspirators be taken apart for cleaning?
Most nasal aspirators included in healthcare and grooming kits do not come apart and are made of plastic. They can be cleaned using warm soapy water or in a dishwasher.
Are the thermometers strictly for oral use, or can the other in the pack be used for rectal?
Grooming kits come with more than one thermometer, and they can be marked for specific use either oral or rectal.
Does the thermometer read in Celsius?
The thermometer can be switched between Celsius and Fahrenheit by pressing a button On the side for five seconds.
Can items in the Grooming kit be steam-sterilized?
Most items in all grooming kits can be stream-sterilized with the exception of the nail clippers and thermometers, which should be cleaned separately.
---
Verdict
Grooming kits contain essential items that can come in handy in different situations. Investing in a suitable healthcare grooming kit is a decision that only has benefits. Getting caught unawares can be frustrating, especially when the right tools are not available.
However, proper care should be taken when using the items so as not to cause harm to the baby, and they should be cleaned after use and washed regularly. Hamper and Hiccups offer great tips and buying guides for parents who need insight on other products
We have brought you some of the best baby healthcare kits online. You can now go ahead to select the choice that fits your taste. We have done the hard work so you don't have to, all you need to do is buy and enjoy its benefits
It is important to note that healthcare kits are not a substitute for proper pediatric care. If parents notice any strange signs from their child they should contact their doctor immediately.
(Visited 382 times, 1 visits today)