Your mornings mostly begin with a visit to the bathroom. Obviously, it needs to be in good shape if you want a good start to your day.
An old broken seat, a dull mirror, or faded tiles can put you off.
If your bathroom reminds you of the good old grandma days, your bathroom painfully needs an uplift. You don't need to go overboard with the budget.
A few changes here and there and your bathroom will be as good as new.
Do Up the Wallpaper
If the paint or the wallpaper in your bathroom has started peeling off or has become dull and faded, replace it with a new one.
In case the wallpaper is stuck to the wall and cannot be removed at places, it is advisable to paint over it.
Painting over the stuck wallpaper in soft blues or grays or matte white will give your bathroom a totally new look.
In places where you can remove the wallpaper, go in for colorful, attractive wallpapers to give your bathroom a modern and bright look.
Step Out of the Pastels
If you are still living in the era of pastels, it is time you step out of it. Liven up your bathroom with bright colors. Use bronze fixtures to give it a luxurious look.
Even if you do have pastels that are still new and fresh and don't need a change, you can still brighten up your bathroom by using contrasting colors in the wallpaper, tiles, and fixtures.
Mirror Mirror on the Wall
The mirror on your bathroom wall need not always be plain and functional. The right mirror can add a lot of depth and character to your bathroom.
You could replace your plain, functional mirror either with an ornately-framed mirror or a Venetian mirror.
If you don't feel the need to replace your existing mirror, make it more aesthetically appealing by simply adding a beautiful, decorative frame to it.
Get Rid of the Marbles
The marble countertops that were so in vogue in the earlier days are honestly passe. What you need to give your bathroom a modern, sleek look is a concrete DIY countertop. This material is easy to use and can be customized to fit any size.
Revive your Claw-Foot Tub
Many bathrooms still boast of an old claw-foot tub made of cast iron. These will need revival if you want to give your bathroom a new, modern look.
Rather than spending a lot on a new bathtub, the old one can be reglazed with a much lesser budget.
The outside of the tub can be painted in vibrant colors. You can also opt for a contrast between a soft white interior and a muted exterior color.
Paneling the exterior of your tub is another option.
To prevent the wood from rotting, the deck can be made of plywood and waterproof laminate sheets can be used to top it.
Replace the Toilet Seats
Replace the old, round, padded toilet seats with smart, modern oblong ones. The old round seats might nostalgically remind you of your grandma but that's just what they are; a reminder of your grandma.
They have no place in your modern bathroom. The catalog at American Standard toilets has a wide range of stylish toilets to pick from.
These are sure to add to the glamour quotient in your bathroom and make it a cynosure to the eyes.
Tile it Up
If your bathroom tiles are old, they might need to be replaced. This will put the bathroom out of functionality for a few days. It might work fine if you have two or more bathrooms in your house.
In case you have only one bathroom, you can't afford to have it unfunctional for several days. In such cases, it is advisable that you paint over the tiles.
But this is possible only if the tiles have not been exposed to a lot of water.
Refurbish the Doors
You will need a heavy budget in order to replace the glass shower doors. Instead of doors, opt for shower curtains in beautiful, bold colors and patterns.
These will not only add brightness and cheer to the bathroom but also space.
When the curtains are kept open, it gives an impression of widened space.
Exhaust fans
Almost all the bathrooms have exhaust fans to get rid of the offending odors. The clinical, industrial exhaust fans will get rid of the odors, no doubt, but they will also hurt your aesthetic sense.
Instead, they can be replaced by beautiful, decorative fans available in the market today. There is a wide range of them available from delicate glass to rubbed bronze.
Some of them are also disguised as lights and are not noticeable at all.
There are attractive vent covers also available which can be used to cover the common exhaust fans.
New Towel Racks
A brand new towel rack can do wonders for your kitchen. If you want a more decorative look, go in for stylish pegs instead of a towel rack.
Design a Beadboard Canopy
When renovating the entire bathroom, why leave out the ceiling? The ceiling, too, can be given a new, modern look by covering it with a beadboard.
This can be extended several inches down the walls to give it a beautiful canopy effect.
A calming shade of sky blue is just the right color for this.
Light It Up
A well lit, beautiful chandelier hung over the tub can add a touch of sophistication to the otherwise mundane bathroom. It will also give a romantic ambiance to it.
Many ready-to-install chandeliers are available at a very low budget.
Wall Mounted Cabinets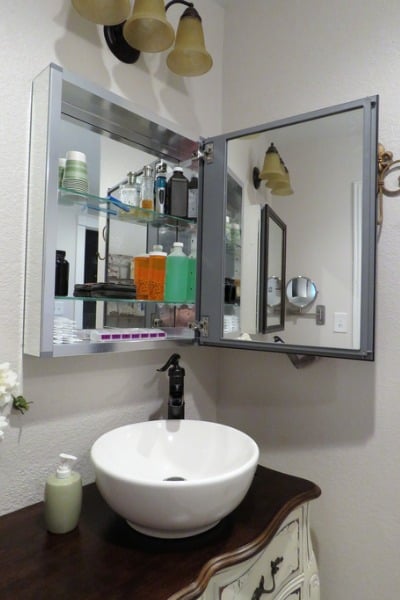 You don't need to have your toiletries on display in the bathrooms. A smart cabinet mounted on the wall can be used to store your toiletries neatly.
Shelves can also be used to store things neatly and avoid unnecessary cluttering.
A well designed, comfortable bathroom is a must in every home.
You might not spend as much time in the bathroom as you do in the other rooms, but the amount you do spend should be in comfort.
An old bathroom is unpleasant and will make you feel uncomfortable.
The few changes mentioned above can give a new and modern look to your bathroom keeping it functional at the same time. So go ahead and treat yourself to a brand new bathroom.
(Visited 32 times, 1 visits today)