When it comes to house repairs and renovation, hiring a professional can be costly. Luckily, there are many things you can fix yourself.
If you have at least some basic skills, you can make your life a lot easier with the help of YouTube videos and internet advice.
So, take the number of the maintenance professional off your speed dial.
Of course, it doesn't mean you can do everything by yourself. Sometimes, when it comes to time, materials, tools and quality of work, it can be less expensive to hire a professional.
For example, if you're thinking about installing a sewage pump, it would be better to leave it to the experts of Perfect Home Services.
But sometimes it's enough to do some research, watch a tutorial in order to save money and fix the problem yourself.
If you want to go easy on your wallet and tackle some problems yourself – here, we list several skills that you'll surely need for home repairs and maintenance.
It's better to prepare yourself beforehand.
Fixing a Leaky Pipe
It's pretty easy to stop common water leaks before any potentially expensive damage occurs. Sometimes, you may simply need to tighten a slip-nut near the P-Trap.
If it doesn't help, there are two ways to fix it: either disassemble the joint, coat it with the joint compound and reassemble, or, for a hole in the drainpipe, you can install a flexible coupling with hose clamps.
However, be careful and don't do anything you're not prepared for – for example, if the leak comes from a drain pipe from inside the wall, it would be better to call an expert.
Replacing a Sink or a Toilet
Once you've gone through the farmhouse sink brands and got your dream one, it doesn't mean you have to pay for a pricey installation. If you're sure of your abilities, simply follow the instructions.
However, look out for possible plumbing and installation problems – do your research and prepare.
And if you're getting a new toilet, it doesn't always have to be challenging and problematic.
Search for the installation tips to avoid the most common issues, follow the instructions and don't hesitate to seek help if something doesn't work out.
Fixing a Garbage Disposal
Everyone can get scared when the garbage disposal blades start noisily chopping kitchen waste. However, fixing it is not scary at all.
When your garbage disposal gets stinky, you can easily clean out the gunk and get rid of the smell in a few minutes. Just make sure you turn it off!
First of all, you may want to use a small specialty wrench to put it in the hexagonal opening at the side of the disposal and unclog it.
If it's not clogged but stinky, you can use an old toothbrush dipped in an antibacterial kitchen cleaner to clean under the splash guard.
And if the splash guard or even entire disposal needs replacing, you can easily do it by yourself – just make sure to follow the instructions attentively.
Dealing with the Doors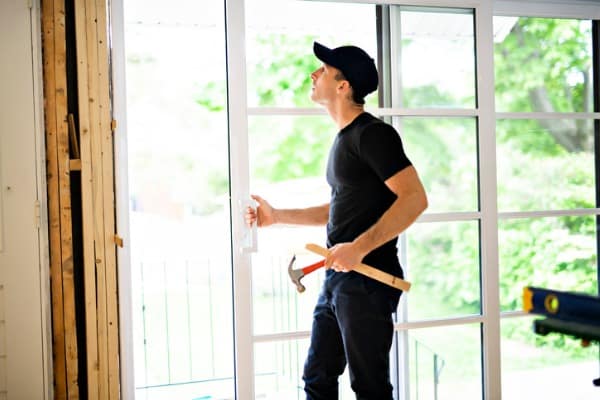 Doors may look pretty straightforward and unproblematic, but occasionally, they also need maintenance. Even if you haven't done it before, don't worry.
From installing a new lock and dealing with squeaking to replacing an entire door – you can easily handle it, either by yourself or with some help from a partner.
When installing a new lock, follow the instructions and, if something goes wrong, look for the helpful tips on the internet or ask friends for advice.
If the door is squeaky, you may need to add some penetrating oil to the hinges. And when replacing a door, make sure to do the research, find simple instructions and a partner (an experienced one, if possible).
Don't hesitate to seek help or call the professionals if you're not 100% sure what to do.
Patching a Hole in the Wall
Nearly everyone can do it. If it's a nail hole, you can either fill it with spackling paste or, if you don't have it, only some toothpaste.
Scrape the excess of the wall, wait until it's dry, then sand and paint the spot. Voilà! The wall looks as good as new.
If there are bigger holes and cracks, use a self-sticking wall patch as a fast fix. Simply prepare the surface, apply the patch and cover it with spackling paste and finish.
This way, you won't have to deal with cutting, replacing, mudding and taping.
DIY it!
These are not the only house issues you can deal with by yourself.
What we want to highlight is that you don't always have to call a professional to fix something – maybe you only need to believe in yourself.
With careful preparation and getting familiar enough with the task, you can take care of your house repairs and maintenance. Save some time and money and DIY it whenever possible.
Just make sure that you know what to do, and don't forget about everyone's safety.
(Visited 3 times, 1 visits today)