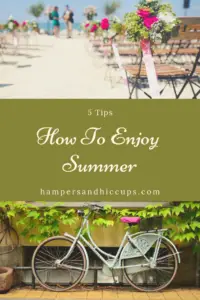 If your family is anything like mine, all activities, events, chores, projects and obligations ramp up in the summer months. Beginning as early as May, the weekends of our calendar start to look like a high school notebook.  I'm talking eager-10th-grader-in-the-first-month level of notes.  Not June of senior year. Yet we need to know how to enjoy summer, even in the chaos!
Between weddings, birthdays, anniversaries, BBQs, fairs and local events, there's also yard work and extra projects around the house to tackle that have been saved for these few short months of summer's nicer weather.
This is, of course, on top of all the regular day-to-day activities and chores that come with being a home-maker and mother!
*Related: New Homemaker's Cleaning Routine and how to start one
So, if you're feeling overwhelmed with how to figure it out and get it all done, look no further.  I've put together a list to help you make the most of your summer.  Some of the points will even save you a little money to put towards a weekend away or that event you really want to go to , but is a little over budget!
5 Tips to Better Enjoy Your Summer
1.  Keep an Eye to the Sky
Most of us have a favorite weather channel.  Whether it be online, radio, almanac, TV or pig spleen.  Keep tuned in for summer and plan your chores and events accordingly.
If the forecast is calling for rain, plan that day to do your inside chores.  Sunny & hot?  Be prepared to hit the beach or pool. Cool and overcast?  Get caught up on baking or labor-intense outdoor projects.
Money-saving tips: Do your laundry when it's nice enough to hang-dry outside.  Open windows on a cool day to cut down on air conditioning.
2.  Enjoy the Weather
Um, that's what I'm trying to do!  What I'm saying is – enjoy the weather to enjoy the weather!  Spend as much time outside as possible.  Do some chores out there, too!
Now, obviously you can't wash your floors, scrub the bathroom, or vacuum the carpets outside, but get creative here.  There are probably lots of tasks you do throughout your day that can be done out of doors.  So take advantage of the summer and get out there!
Some options for summer enjoyment at chore-time might be to hand wash, hang dry and fold your laundry, wash dishes in a tub outside, prepare supper & cook on the barbecue or fire.
I don't know about you, but to me, everything is better when I'm outside.  Supper tastes better and feels more relaxed on the patio. I get a smile on my face when I see clothes hanging on the line. Not to mention the kids live for the outdoors!
Money-saving tips: Cook over the fire.  Use less water & energy by doing laundry the old fashioned way.
3.  Take Advantage of Errands
Who wants to be out and about, driving around, and lugging kids from store to store in the heat of summer.  Certainly not me.  Too bad it's a reality unless you have a personal assistant.
Why not make the most of these days.  Plan your trip to town around a local event. Get groceries on the way home from the beach (don't forget a cooler).
Since you're out of the house anyway, you might as well let yourself and your kids enjoy the nice day and take advantage of some summer fun.
Money-saving tips: Pack a lunch and blanket, find a nice shady park and have a picnic instead of buying a lunch in a noisy restaurant.  There's a lot of free options for entertainment too – farmers' markets, walking trails, beaches.  Some museums and galleries will offer specials throughout the year, as well.  Do some planning to save some money!
4.  Let it Slide
Don't deprive yourself and your family of the joys of summer just because the floors didn't get washed this week!
A little planning goes a long way to making the most of your days and weekends.  If you know you want to head out, be sure to have your regular chores done ahead of time and the packing done early for a stress-free time.
However, through the summer there always seems to be those impromptu invitations and ideas that make you want to just up and leave.  Not always an option, but it will be a lot easier and enjoyable if you can let go of the worry of having everything done that needs to be.
While certain things can't be ignored, and you can't always say yes to everything, it is important to enjoy the summer as well.  It would be a terrible shame if September rolled around and you couldn't name one fun thing you did this year!  Even if you did get all your projects finished and your house was spotless every week.
Let a lot of the deep cleaning go by the wayside or try squeeze a couple in when you can (rainy days).  Don't keep your house a pigsty, but forgo some of the things that won't show as much (washing walls, anyone?).
Spring & fall are wonderful times to do deep cleans of those bigger tasks, and they'll save you time in the summer to do more fun and exciting things.
If you're looking for a way to keep on top of chores around the house you can check out my post about a cleaning schedule here.
It's also easy to get caught up in having the kids stuck to a regular routine.  While it is important to keep some sort of normal, the odd nap in the car seat or late supper or bedtime isn't going to kill them.  Little secret- if you let it slide it will go a long way to helping you all enjoy more of your summer!
Money-saving tip: Instead of hitting the grocery store or restaurant every time you get a sudden invite, keep some non-perishable picnic ideas or freezer meals on hand.  Ditto for making your own burgers, lasagnas, etc.
5.  Get Ahead When You Can
I mentioned above about spring cleaning and freezer meals.  If you can get ahead a little bit, you'll save yourself a lot of stress and be better able to enjoy your summer.
This might mean you do all your deep cleaning in April & May. Maybe you do a double batch when you cook certain suppers to have one on hand in the freezer.  Or it can be as simple as doing your indoor/extra chores or baking when the weather is not as favorable.
Planning as much as possible is another way to know what you're in for each week.
Whatever it means to you, try to get ahead a little bit to be able to optimize summer fun time!
Money-saving tip: Buying larger quantities of meat will save you money in the long run.  Portion it up when you get home, or make some awesome freezer meals.  This will also allow you to not have to spend as much time in the grocery store through the summer!
Results
In the end, you'll find yourself more enjoyable and light-hearted. You'll be able to see things in a better light and not stress so much about the process.  Bonus, you'll probably save money due to planning and preparedness!
If you're still finding summer to be too overwhelming to enjoy, maybe it's time to reevaluate your obligations.  At first it's hard to say no to something you really want to do, but as time goes on you'll realize what your priorities are and how to keep them.  Start by nixing things that put a stress on your budget or that your whole family won't enjoy.
(Visited 18 times, 1 visits today)