At the risk of having my woman card stripped, I'm being completely honest when I say that I never have been a fan of Valentine's Day.  Yes, it's nice to get flowers + chocolate, etc., but I really believe that every day should be used to show those around us that we love them.  Right?
That being said, V-Day grew in meaning for me in 2017.  My daughter's first Valentine's Day.
Growing up, my mom would always have a little something for us, and there would be cards and goodies to pass out at our school party.  We even had a coinciding week dedicated to a "secret friend" exchange.  It was exciting and all, but, was it really necessary?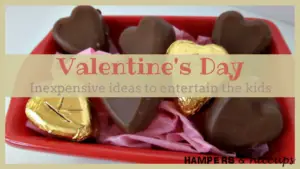 Now that I'm a mama, I appreciate all the effort my own mother, the teachers, and my classmates' mothers put in to making our Valentine's Days memorable and fun, even if I didn't back then.
So, in the spirit of the season, I've been thinking of ways to make Sweet Girl's second and Pip's first Valentine's Day a good one.  While Pip will be a bit small (4 months) to really enjoy anything, I still feel the desire to make an effort for him.
Since it isn't really a true holiday, and since my husband is in school (final term, yay!), I'm brainstorming for inexpensive or free ways to celebrate the day of love.  Who knows, maybe you'll create a lasting tradition.