At the risk of having my woman card stripped, I'm being completely honest when I say that I never have been a fan of Valentine's Day.  Yes, it's nice to get flowers + chocolate, etc., but I really believe that every day should be used to show those around us that we love them.  Right?
That being said, V-Day grew in meaning for me in 2017.  My daughter's first Valentine's Day.
Growing up, my mom would always have a little something for us, and there would be cards and goodies to pass out at our school party.  We even had a coinciding week dedicated to a "secret friend" exchange.  It was exciting and all, but, was it really necessary?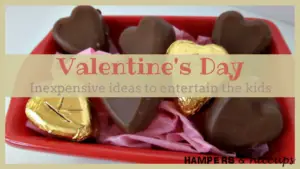 Now that I'm a mama, I appreciate all the effort my own mother, the teachers, and my classmates' mothers put in to making our Valentine's Days memorable and fun, even if I didn't back then.
So, in the spirit of the season, I've been thinking of ways to make Sweet Girl's second and Pip's first Valentine's Day a good one.  While Pip will be a bit small (4 months) to really enjoy anything, I still feel the desire to make an effort for him.
Since it isn't really a true holiday, and since my husband is in school (final term, yay!), I'm brainstorming for inexpensive or free ways to celebrate the day of love.  Who knows, maybe you'll create a lasting tradition.
Tweak Your Routine
One of the easiest, simplest, and most inexpensive ways to make any day a little different and exciting is to change up the way you normally do things.  This is especially fun for kids, since they'll notice the differences immediately.
Add hearts/flowers to different items throughout Valentine's Day
Grab some heart-shaped balloons for when the kids get up in the morning
Leave a nice home-made card at their breakfast spots
Draw a heart + flowers on the bathroom mirrors with lipstick or window writers
Choose red/pink clothes for the day
Make heart-shaped pancakes + strawberries
Have strawberry-flavoured milk for breakfast
Grab your free templates + card elements (quotes + pictures) by dropping your email here

Decorate with homemade crafts
Heart strings
Stained glass hearts
Painted pictures
Do some Valentine's Day cooking + baking
Make heart-shaped cupcakes by plopping a marble between the baking tin + liner
Use a heart-shaped cookie cutter for sugar or chocolate cookies
Find fun ideas for the heart-shaped cutter: bread, meat, cheese, fruit
Heart-shaped suckers
Invest in a heart-shaped silicon mold (I have one similar to this one) and get creative

Chocolates (melt down those bunnies in your freezer)
Jello
Gummy candies
Make up silly Valentine's Day games
If you have a bowling set, modify it to fit the theme, if not, grab some empty beverage bottles and tape paper flowers to them.  Use those as bowling pins, selecting a stuffed animal as the "ball"
Make a scavenger hunt
Find some heart stickers and hide them around.  When someone finds one he/she must do/say something nice for another person in the home
Invent an interview sheet all about love.  Ask your kids to fill them out (or dictate to you) and keep them for years to come
Grandparents and other loved ones will be ecstatic to receive some of the kids' artwork or handiwork.  Anything made with love is always a great gift.
Cookies
Necklaces/bracelets
Cards
Pictures
Crafts
Make or purchase some small gifts for the kids
Head to the dollar store or keep your eye out on clearance racks for some cute little gifts to have at the kids' "spot" at the table or on their bed in the morning.
Pencils, erasers, note pads
Homemade memory game
Games
Jewelry
Stuffy toys
Just remember, Valentine's Day doesn't have to break the bank.
The important thing is to spend the day showing love, affection + care to those we love.  As mamas, we do this everyday, even if it doesn't always get noticed.  Make Valentine's Day that special day for your kids to be aware of the love you show for them, and for them to learn the importance of showing love to others.
This content was created by original creator of this website, Katelynn Hegedus.
Grab your free templates + card elements (quotes + pictures) by dropping your email here

Got any other ideas or traditions for Valentine's Day in your home?  I'd love to hear.  Leave a comment or send me an email.
(Visited 134 times, 1 visits today)