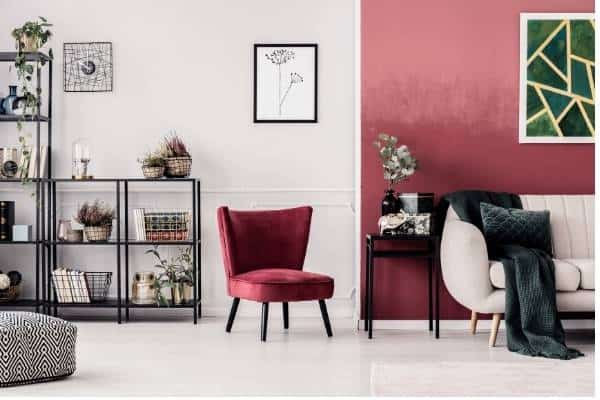 Whether it comes down to repurposing your dining room or simply conducting a facelift, colors matter. Multiple factors must be taken into consideration when choosing a suitable shade to accompany the space.
When your dining room is painted in the right color, it will appear livelier and more vibrant. Plus, a fresh coat of paint can hide any superficial flaws too.
The best paint colours stimulate the physical space and boost the furnishing placed within the room. Get creative, and your dining room's color is sure to be a point of discussion when inviting some guests over for a meal.
In addition, remember to apply the paint carefully and thoughtfully, not rushing or making any rookie mistakes. Consider hiring painters like Court-Hampton Painting to help with renovating the dining room professionally.
Need some inspiration before you paint? Consider these stylish colors for your living room:
1. True Blue
Blue for anything save for your bedroom may seem like an odd choice, especially for your dining room. Upon closer inspection, you may find that it is an oddly fantastic pick.
True Blue accentuates the natural lighting in your room, giving it a Renaissance-inspired look while appearing both blooming and exciting.
Add in some miscellaneous furniture like a buffet hutch containing blue china dishware and your dinner guests are sure to come prepared with the inevitable compliments.
2. Neutral Brown
For those who are not too keen on tapping into their inner interior designer, a solid brown color will suffice. Hinging more towards a neutral saturation, this shade of brown is reflective of a more peaceful atmosphere.
This is perfect for those who want their dining to be as pleasant and meditative as possible.
Look for specific colours such as Sisal or Barley Harvest to paint your dining room with. Adding in a wood dining table can also recreate a classic dining room finish if need be.
3. Red Apple
If you want to get a hold of people's attention when they enter your home, make your dining room stand out with this shade of red.
Vibrant and juicy, a color of Red Apple is more than just a pun on its name. It is sure to spark conversation with dinner guests, and will stand out more if your other room spaces are painted a different color.
Red Apple is also a fantastic choice if you are keeping lighting in mind. A natural light source bounces off the bright redness of the walls, ensuring you feel at your most energetic no matter the time of the day.
4. Red and Tan
If highly energetic and lively isn't your thing, you may opt to go to the opposite end of the color's spectrum. A combination of red and tan provides a neutral finish working in tandem with a shade of red.
This inevitably gives off a royal-like feel to your dining quarters. Not unlike True Blue, the dining room is sure to be the centerpiece of your home if painted with this color.
Certain pieces of furniture will also help heighten the elegance of the space, such as a chandelier above a dining table that is made out of a furnished wood.
Keeping the dining room space with minimal items inside as possible only emphasizes the color as well.
5. Pearl White
Sometimes, the most obvious choice is often the correct one. This applies to your dining room color as well. Painting the space a white shade with a semi-gleam finish can highlight the entire ground floor of your home.
If you're one to stick with one color for the entire property, then choosing Pearl White can really heighten the home's overall interior.
As it pertains to the dining room, however, ensure that a natural light source is nearby so it can fully enter the space. This allows the light to reflect off the white shade, effectively boosting the appeal of the dining room.
If you want less lustre, a white matte shade will work just as fine. Pearl White is sure to leave you satisfied in the long run, however!
6. Charcoal and Purple
If you really want your dining room space to stand out in conjunction with your furniture, choose the opposite of Pearl White.
Mixing shades of charcoal with some dark purple results in a sleek aesthetic that is instantly noticeable upon entering the space. To fully augment the finish that the color gives off, ensure that your dining table and chairs are white.
The contrasting colors are sure to give off a unique vibrancy in your dining room. Your dining room will become a fully-fledged and modernized space that immediately prompts discussion when put into focus.
7. Grassy Green
Finally, for those who just want a color that is equal parts neutral and relaxing, a soft, tonal green does the best job.
Inspired by the looks of dining rooms reminiscent of the mid-twentieth century, grassy green is unique for its capacity to enable feelings of comfort.
Which is what a dining room should inspire when you just want to break bread with family and engage in small conversation!
(Visited 72 times, 1 visits today)