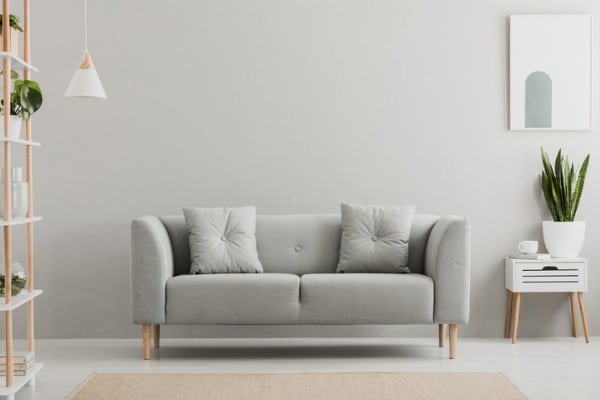 Looking for a new sofa easily becomes overwhelming. There are so many options available, it can seem impossible to find the best value.
However, if you follow a few simple guidelines, you'll be able to narrow down your options to the sofa that makes the most sense for you and your family.
You must consider the size of your space, key features to include, the sofa's material and style, as well as your budget to make a well-informed decision.
By putting in this effort in advance, however, you'll be much more likely to end up with a comfortable sofa that you enjoy, and which will last well into the future.
First, measure your space. In fact, measure twice. Specifically, determine the maximum dimensions of a new sofa that still allows you to navigate around your living room comfortably.
This will likely require planning out several options for arranging your furniture in various ways. Most importantly, pay attention to window placement, outlets, and air vents, as well as any other features that should not be obstructed.
When measuring for your sofa's dimensions, remember to include height, as well. It's actually a good idea to have a family member help you by using some masking tape and marking off potential arrangements.
This technique helps you visualize what your sofa will look like in a certain orientation and begin to get a feel for how it would alter the shape and feel of the room in that position.
It's also a good way to catch any potential issues you might have overlooked, like interfering with floor-length curtains.
Next, think about the features you and your family require in a sofa, and those you don't. For instance, a reclining feature might add significant value if it keeps your family from putting their feet up on the coffee table during movie nights.
On the other hand, you might not have the space to accommodate a reclining couch. If the couch can't fully extend, this feature is not only a waste to include, but it might result in damaging the sofa if it ends up being used improperly.
A significant factor in increasing the longevity of any piece of furniture is ensuring it will be used as intended. Depending on the type of flooring, certain feet will also make more sense than others.
Narrower legs with visible floor space beneath tend to make more sense on the carpet, allowing plenty of clearance to fit a vacuum or cleaning robot underneath.
Another key consideration for any sofa is the material used to cover the cushions. Depending on your situation and lifestyle, this might even be one of the most important elements.
For a family with young children or several pets, for example, durability is everything, and a sofa that cannot stand up to hard wear simply won't last long enough to be worth the investments.
When thinking about durability, keep in mind that leather and tightly woven fabrics tend to resist tears and are much easier to clean than many other fabrics. Additionally, the content of the cushions contributes to how long your sofa will last.
Heavy foam seat cushions tend to hold up to significant use and weight without losing shape, while down-back cushions provide comfort and can be easily fluffed back into their original shapes.
In terms of style, you must consider the entire room. If you are remodeling or starting from scratch, you can easily build an entire living room around a sofa. However, if you must fit your sofa into existing furnishings, this complicates the matter considerably.
Either way, you want to be certain that you like the style of your sofa. It isn't worth choosing a style you dislike simply because it matches the rest of the furnishings.
When a room is intended to deliver comfort, you should feel comfortable in it, and this includes both physical comfort and emotional ease. A room where you feel unsettled will never feel truly relaxing.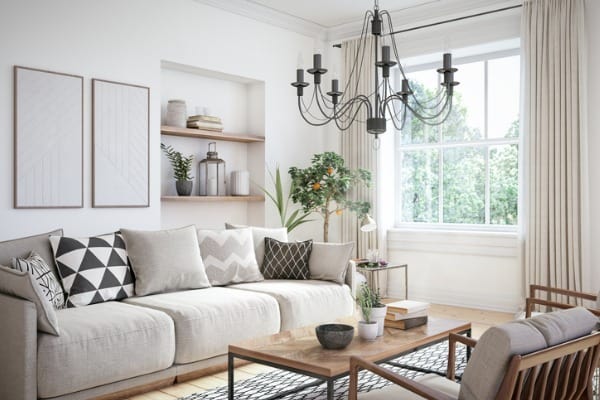 It's much simpler to replace smaller furnishings or introduce accessories to help tie different elements of a room together than to try to force yourself into enjoying a style you simply dislike, for whatever reason.
Do yourself a favor and start by finding a few couches that meet your specifications and which you simply like. From there, determine whether any of your existing furnishings match these options.
More than likely, you will discover that at least one of your preferred sofas will fit with the design of your living room. If the only obstacle is clashing colors, keep in mind that repainting is an option, too.
Finally, do not forget your budget in the excitement. After all, you set a budget for a reason and it's important to stick to it. That said, when planning your budget, keep in mind that quality furniture is a long-term investment.
If you choose well, you may never need to replace your sofa, so it may be worth spending a little more to increase your sofa's durability.
Relying on these key elements will help direct your choice as you look for affordable sofas https://www.1stopbedrooms.com/living/living-room-furniture/sofas. Try not to rush yourself, either.
Keep in mind that the more time you put in now to making a well-informed decision, the less you will need to stress in the future. Ideally, you should be able to simply wait for your free delivery, arrange your sofa as planned, kick up your feet, and truly relax.
(Visited 26 times, 1 visits today)