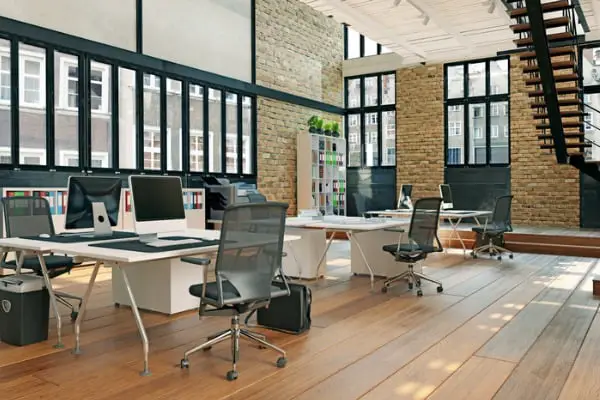 There are quite a few parameters that make an office interior a pleasant one. If you're designing your office space yourself, you must've observed that already.
Navigating through resources and end goals regarding designing can get tricky at times. There are shortcuts for you to ease the process of making your office interior design look professional.
All of them are based on understanding how to deliver a few important aspects of office design. To help you understand and apply them, we're going to talk about those aspects in this article.
The first thing that you must do is to step out of the box that is a traditional design. Nothing screams that the design is outdated like rigid, bland, gray cubicles.
Nowadays, workplaces are increasingly getting more open and fun. This doesn't mean that professionalism must be sacrificed.
Quite the opposite, such environments are catalysts for productivity and workflow efficiency. Now that we have gone through the very basics and the tone is set – let's start talking about all this in more detail.
Color choices are incredibly impactful
Color is without a doubt one of the most powerful tools in interior design. Hilary Winder, an interior designer from vestraworkspace.com.au/expertise/fitout/ explains that a good choice of color can transform how the entire space feels and looks. This is why it is important to think about color arrangement during an office fit-out.
Don't stray away from colors when you're designing your office space. Dull, mainstream office spaces tend to look bland and gray. Introducing colors makes the place feel more alive, so, go for it! You should only be careful not to overdo it, which tends to happen from time to time. Keep some surfaces clean and neutral. More colorful elements are there to provide the contrast, and not to be the baseline!
Always include plants
A common mistake when designing an office is when people don't include any plants. Indoor plants can transform a dull office space into a modern and fresh one exponentially. The first thing that comes to mind is that they look nice.
They work well with everything and are a great addition to the already existing color palette. But that, of course, isn't the only reason why plants are important. Studies have shown that indoor plants provide a pleasant, soothing environment and can even decrease stress levels. They also improve air quality, which is always a bonus!
Don't stray away from natural materials
Plants are a great way to start, but you can increase their effectiveness by introducing natural materials. Wood is always a good choice, especially light-toned variants. You can use such woods in furniture, but also decoration. In general, if you're working with a certain material, incorporating it into different aspects of your design is the key to making it as effective as possible.
If you're wondering what goes well with such materials, wood and metal combinations are quite popular in office design. Metal boosts the natural aspect of wood by contrast.
It also offers a sleek, modern look that wood just can't provide as metal can.
Don't forget about natural light!
Because most of the work in the office includes looking at a screen, natural light is vital. It is easy on the eyes, and it also boosts how pleasing the place looks and feels. It makes space feel more open as well!
Procuring a versatile environment
While the working aspects of office space are incredibly important, there are some things that your office space needs as well. For your workforce to be able to focus on their tasks, they need some downtime as well.
Downtime areas can be further separated into different categories. So, you need some type of dining area, but you need some fun leisure spaces as well. If you want to, you can even combine these areas.
We will talk about the importance of separating these spaces a bit later. For now, let's focus on the importance of such spaces and how to design them.
Seating options
It's important to design a space where people can rest and have fun during downtime. Such spaces will boost your employee's morale, but you need to design them properly.
The most important aspect of such areas is the seating options. You want to be versatile with the options. Include different chairs and sofas, accompanied by various tables.
Coffee tables are a good option for when people are just sitting down and having a conversation. On the other hand, larger tables are way better for eating lunch comfortably.
Ultimately, you want to give people options. Whatever they do, they should be able to do it comfortably.
Include some fun activities
Nothing can help employees relax and reboot as much as a game of table tennis or playing Uno for a bit. This is why you should include the possibility of such activities for your employees.
Other good options are darts, art supplies, and similar.
Other things to consider
Some details can't be overlooked. Investing in a coffee machine and a kettle goes a long way. Why not even include a fridge so that people can store their drinks and lunch items?
In the end, it is also important to remember for whom you are designing this place. Even after your break area is done, ask your staff about the things that they'd like to have.
Separating break and work areas properly
Now that you know how to design a break area, let's talk about how to separate it from the work areas. The goal here is to ensure that the fun doesn't interfere with productivity.
That is exactly why you need to make sure that there is a clear separation between such spaces. The easiest way to do this is by implementing certain design elements like color and style. Just painting the walls of these areas in a different color is a good start.
Remember, clear separation doesn't need to mean a real-life barrier. You can still achieve a clear message even when you're subtle about it.
Low-profile physical barriers can be achieved with furniture and plants. Placing sofas or bookshelves strategically is a great way to do so.
Quiet spaces are important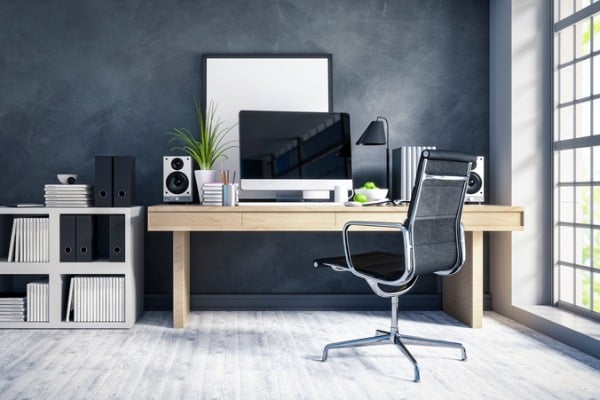 Things can get quite noisy in a working environment. This is why, when designing, you need to include some quiet spaces. The best way to do so is to have separated office booths.
A modern office layout is a way to go when it comes to such rooms. The key is to ensure that there are places where people can go when some quiet time is required without any distractions. In the end, it all boils down to understanding the dynamics of the workplace that you want to procure. When you design your office space, it's not only about how you want to make the place look.
It's important to think about how the place in question feels. Incorporating looks with functionality and the atmosphere is the key to making a place look professionally designed.
(Visited 24 times, 1 visits today)