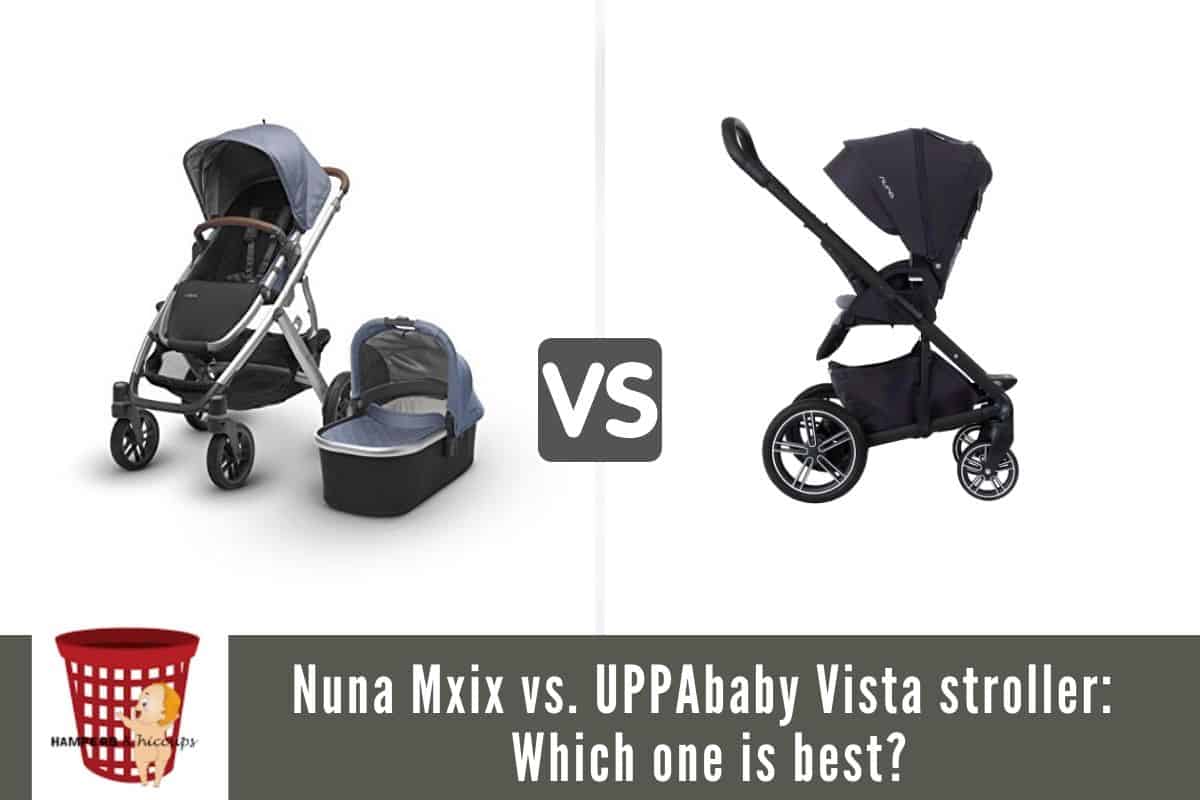 As a mother who is newly delivered, one item which could relive the seemingly overwhelming stress of nurturing a newborn baby is a baby stroller.
It allows you to carry out your normal daily activities without having to bother about the stress of carrying your baby along. Selecting a stroller can be a very exciting experience, but one also has to be cautious to ensure that you select one that suits the need of you and your baby(s).
Two of the best strollers of worthy note that are currently available in the market are the Nuna Mixx vs UPPAbaby Vista strollers. Both strollers are top-of-the-range, sturdy, and of high quality, but they have various peculiarities which could make one preferable to the other for different people. This article places side-by-side, these two strollers, siting those peculiarities, features, and differences between them to enable you to make the best choice for you and your baby(s).
Differences between the Nuna Mixx vs UPPAbaby vista
The differences between these two strollers are as follows
Versatility: The UPPAbaby Vista is very versatile as it adaptable to the growth of your baby and can be used to carry up to three babies, while the Nuna mixx can be used to carry just one baby.
Travel system: The UPPAbaby vista can be used with the UPPAbaby MESA car seats without adapters, and various other car seats with adapters, thereby making it a better travel system, while the Nuna mixx can be used with only the Nuna infant car seats with adapters.
Use from birth: The Nuna mixx comes with seats that can recline completely flat, thus it can be used for newborns without a bassinet, while the UPPAbaby vista has to be used with a bassinet for use from birth.  
Price: The UPPAbaby Vista is more expensive when compared with the Nuna mix
Accessories: The UPPAbaby Vista comes with several accessories, many of which are not present in the Nuna mixx.
---

The UPPAbaby Vista is a full-sized baby stroller. It is one of the most versatile strollers available in the market in that it has multiple configurations to transport up to three children. Though it's quite expensive, it is worth the price. The inclusion of a bassinet makes it perfect for newborns.
Also, it works seamlessly without adapters with the UPPA MESA car seats, as well as various other top car seat brands making it a fairly universal travel system. It also has a ventilation window under the mattress for increased comfort, adjustable canopy and extendable UPF 50+ sunshade to shield and protect your baby, one-step fold feature that is very intuitive and easy to use for mothers who are on the go, four-wheel suspension and sealed wheel bearings with shock absorbers that ensure a smooth and comfortable ride on any terrain, and a rear suspension storage basket that can hold up to 30 pounds to take along all necessities for your ride.
The frame is also quite strong and can hold up to fifty pounds, and the possibility of adding an extra seat called the rumble seat means it can easily hold two babies without expanding its width, which is one advantage it has over most double strollers.
Pros
It can accommodate up to three children of different ages
It can be used with UPPA MESSA car seats without attachments and various other car seats with attachment.
It can be adapted to accommodate the growth of your baby
It comes with a large storage space and a host of accessories.
Cons
It is bulky, even when collapsed, making it hard to handle in small places
It is quite expensive
Customer sentiments
Most customers applauded it for its versatility, and a few parents with twins emphasized on it being a life-saver, but there were a few reports about the high cost of purchase and its silver handles getting scratched too easily.
Nuna Mixx Review
The Nuna Mixx is a full-sized stroller with all-terrain wheels that allow it to navigate almost anywhere with ease. One notable feature of this stroller is that its seat can be completely reclined making it suitable for use from birth without a bassinet. Other features include all-wheel suspension and foam-filled tires for a smooth ride even on bumpy terrains, all-season seat to keep your baby warm in the winter, and cool during the summer, no-rethread harness that makes it adjustable as your child grows, UV 50 extendable canopy with mesh peek-a-boo window to enable you check on your baby with ease as the canopy protects them, and a ring car seat adapter that makes it usable with the Nuna infant car seats.
Pros
The seat can recline flat completely, making it suitable from birth without a bassinet
It is suitable for any terrain
It is comparatively cheap
Cons
Even when collapsed it can be a little bulky
Seat is quite narrow and may become tight as your child grows
Customer sentiments
Most customers were very satisfied with the performance of this stroller, but there were a few complaints about its lack of accessories and the problem of having to buy some available ones separately.
---
Comparison of Nuna Mixx vs UPPAbaby Vista
| | | |
| --- | --- | --- |
| Feature | UPPAbaby vista Review | Nuna Mixx |
| Child weight limit | 50 pounds | 50 pounds |
| Colors | Charcoal mélange/silver/leather | Caviar/granite/birch/oxford |
| Stroller weight | 28.1 pounds | 26.8 pounds |
| Dimensions open | 44.3"H×23.4" W×33.5" L | 39.5"H×26.5" W×36" L |
| Dimensions folded | 18"H×23.5" W×34" L | 33"H×26.5" W×16.8" L |
---
FAQs on Baby Strollers
For how long do I use a bassinet with my baby stroller?
Generally, the bassinet is used for babies who do not have neck control and cannot sit by themselves. Once a baby can do these, it is time for a seat to be used in place of a bassinet. The period in which this occurs is usually 4-6 months for most babies. It is also around this period that children grow restless, and want to interact more with their environment. Ultimately, there is no age limit, and parents just need to be observant to try and understand the demands and developmental milestones reached by their babies and adjust accordingly.
Can babies sleep in strollers safely?
Most strollers come with seats that can recline in multiple positions to enable you to find that optimum position that is most comfortable for your baby. It is therefore inherent that your baby will fall asleep regularly in the stroller. While this is not entirely bad, experts suggest that it is not very advisable to leave your baby sleeping in a stroller for prolonged periods, and it is safer to transfer them to a crib once they fall asleep.
Are 3-wheel strollers better?
3-wheel strollers are easier to push with one hand as the lone front wheel makes them easier to maneuver, thus if one is out for a stroller that is easy to maneuver and can navigate tight spaces and any terrain easily, a three-wheel stroller is advised. Four-wheel strollers, on the other hand, are more stable, and they have a lower probability of tipping over.
---
Verdict: Nuna Mixx vs UPPAbaby Vista?
Several things should be put into consideration when buying a stroller, some of which include the size, price, safety, style and so on. The two strollers that are discussed in this article are similar when considering several of the aforementioned factors, thus it is a close call, but the UPPAbaby vista comes out top for us. This is owing to its versatility as it is adaptable to accommodate the growth of your baby and can take up to three children. It also comes in an all-inclusive style with several necessary inclusions in the box. The Nuna Mixx, on the other hand, is slightly more compact compared to the UPPAbaby Vista and costs significantly less.
(Visited 559 times, 1 visits today)