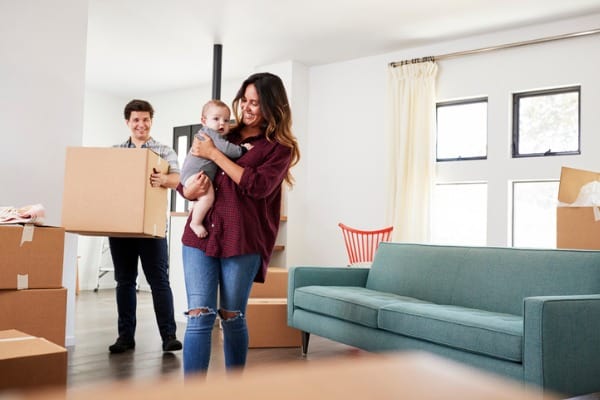 Buying a home is a very important milestone in life that many people wish to make. If you have already made this big move, congratulations!
However, your new house might not come with all the things that you require and you will have to buy more things for the house before or after moving in.
To make it easier to get everything that you need for your new house, you can come up with a shopping list of these things and keep updating this list when you remember another thing.
If you have a child, you may require additional things on top of the regular things that everyone else uses in the house.
This will help to improve the safety of your child while they are playing in the house or when you are not with them.
You can also invest in items that can keep your child happy while they are in your new home.
This article will take you through some of the things that you need to get when moving to a new house with your child.
A Baby Crib
If you have a young child, a baby crib is a necessity for your house. When buying a baby crib for your child, there are some things that you need to pay attention to.
A good baby cot is one that does not have footholds. This is because your child can step on them as they try to move out of the crib and sometimes they may fall and get hurt.
It is also important to ensure that the baby crib does not have protruding parts that can injure your child.
Some of the protruding parts may snag the baby's clothes and put them at risk of strangulation.
To avoid inconvenience, especially when you are trying to get your baby out of the baby crib when you are sleep-deprived, you need to get a crib that is easy to use.
A Baby Changing Table
If you have a toddler who is still using diapers, you may need to invest in a dressing table.
Young babies may need more than seven diaper changes in a day and therefore it is important to buy a changing table that is of good quality since the child will spend a lot of time here.
Another thing to consider when getting a changing table for your child is its size.
Get a changing table whose size can easily fit in your nursery and still leave space for other things like a baby crib, rocking chair, and dresser.
A good changing table comes with a strap that keeps the baby intact when you are changing them and to prevent the baby from falling.
It is also important to consider your height when you are buying a changing table so that you do not strain your back when you are changing the baby.
A Baby Pram
To carry your child around comfortably, you can make use of a high-quality pram.
There are different types of Cybex prams that you may buy like walking your child in your backyard or a type for jogging or strolling.
Depending on the number of babies that you have, you can get a single or a double pram. Choose a high-quality pram that keeps your child comfortable at all times.
Baby Swings and Bouncers
To keep your baby calm as you do chores in your house, you can invest in a baby swing or bouncer.
The good thing about baby bouncers is that they are portable and you can carry them to the room where you are working from whenever you need them.
They are also very helpful in calming babies who are very irritable or fussy and they help the baby to wiggle easily as they fall asleep.
Baby Gates
Some of the preventable accidents that your child may run into while in the house include falls on the stairs. If you want to prevent your child from getting close to the stairs at all, you can childproof the stairs using gates.
A good baby gate is one that completely closes the stairs, especially at the top of the stairs.
Ensure that these gates are fitted properly because if they are unstable, they may injure the baby.
These types of accidents can be prevented by putting rails on the stairs in your house to prevent your child from falling over.
When you install these rails, it is important to ensure that they do not have wide gaps because your child may try squeezing through these rails and get stuck.
You can also use a carpet on the stairs to prevent your baby from sliding and falling.
Smoke and Carbon Dioxide Detectors
Another way to keep your children safe when they are in your new home is to install detectors for smoke and carbon dioxide, which can warn you in case there is a fire.
You can also install a carbon dioxide detector that warns you when the amount of carbon dioxide is too much in your house thus preventing harm to your family.
It is also important to have a well-maintained fire extinguisher that you can use to put out a fire in case of an accident.
First Aid Kit
Children are generally prone to accidents that can harm them when they are playing.
To take care of this, you will need a first aid kit that has supplies like bandages, painkillers, and other emergency supplies.
It is also good to be aware of common childhood emergencies and their first aid protocols.
However, you also need to be cautious about where you store this kit and ensure that children cannot access it because they can injure themselves with things like scissors or medications.
In conclusion, buying a new house is a major milestone in life. However, after buying a house you will need to buy household items because new houses do not come with every item that you require.
Some of the items that you require especially when you have a child in your house include a baby cot, a baby bouncer, pram, and many other items that are discussed in this article.
This will make your stay easy and stress-free.
(Visited 46 times, 1 visits today)