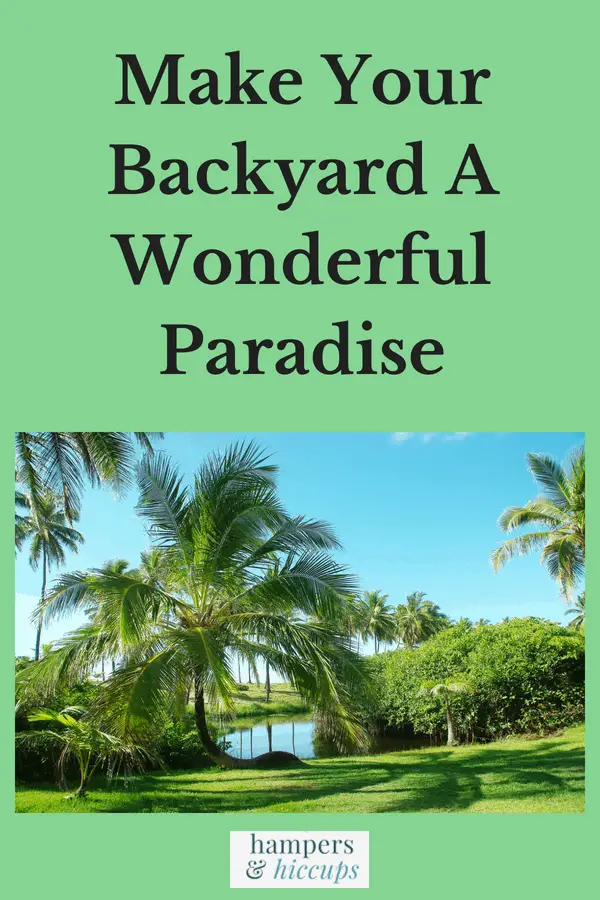 Some people view their backyard as a place for their kids to play. But it should be something that the whole family can enjoy, and this is why we think you should make your backyard a wonderful paradise. There are a few ways to do this, and it will depend on your individual taste as to what you want to include. Here are a few of our ideas on what you can include to make your big garden a wonderful paradise
---
Make Your Backyard A Wonderful Paradise
Add A Fountain
A fountain is something that you don't really see very often in someone's garden. However, they are also a great feature to have in your garden to make it stand out. You can buy a fountain and install it in your garden yourself. Or, if this is something that you don't have time for, you can pay someone else to do this for you. In fact, you don't have to buy a fountain at all. There are guides online that will show you how you can create your own fountain without buying a ready-made one. This may be slightly more challenging, but at the end of it, not only can you say you have a fountain, you can say you made it. To add an outdoor fountain to your yard will be a brilliant idea, and they do not cost a fortune to run.

---
A Pool Is Cool
If you have kids, they may have been asking for a pool since they were little. People make the mistake of thinking that a pool has to be massive when it really doesn't. You can get a pool to fit into your garden if you want to. Although there are a few things you have to be aware of with a pool and one of them is that it is going to need to be cleaned regularly. While you can hire someone to do this, you may find that it becomes quite expensive to keep the pool clean.
Another thing to consider is the water temperature. You and your kids are not going to want to swim in freezing water, so you should look at investing in a pool heater to go with your pool. Some of our favorite pool heaters include the SmartPool S120U Universal sun heater and the GAME 4721 SolarPRO curve solar pool heater. Keeping your pool at the right temperature is going to be crucial for you to enjoy your swim at any time of day.
---
Customize Your Hedges
You see it on TV all the time. People have their hedges trimmed into certain shapes or sometimes to look like someone else. These look gorgeous and is something to consider if you have hedges that are in need of a trim. You can hire a professional to make sure that you get exactly what you want. It may seem like this is a little extreme, but you are going to want to look at beautiful, trimmed hedges and not ones that look like no one has touched them in years.
---
Add A Patio
This is wonderful for the summer time. A patio provides a place for you to put your outside furniture without it having to go on the grass. Also, it means that you can spend time in your garden all year round. In the winter months, you may not want to go outside because it will mean you have to step in wet mud and grass. If you add a patio to your garden, then you won't have to do this. It would also make a great entertainment area for when you have company over. You can have a BBQ or just have some friends over for a drink to relax. Either way, a patio provides the perfect area for you to do this.
A patio will also add value to your home as it is something that a lot of houses on the market at the moment don't have. This means that if you are ever going to sell your home, it will have an edge over the other houses that will be on offer.
---
A Serenity Garden
You can make your very own backyard a wonderful paradise. This is a place that you can go to relax and get away from anything that is making you stressed. You can add calming flowers with subtle colors, and this can be anywhere in your backyard that there is seating and space. You can add anything to this that will make you feel calm and this could be something like little figurines of things you love. You can also have a shade over the area in case it rains or gets too hot, depending on the season.
(Visited 43 times, 1 visits today)