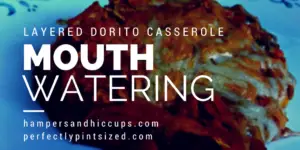 This post is brought to you by Melissa from Perfectly Pintsized.  She's a 30 year old who drinks too much coffee. Loves to read, write, and cook. You can regularly find her crocheting while binging on netflix or hulu.
I've been a picky eater for as long as I could remember. Thanks to a narrowed esophagus, I spent most of my life staying away from tough foods like chicken and beef, and lived off of pasta, rice, potatoes…basically a white diet. And back then, I was okay with that. I didn't like chicken or beef, so it seemed like eating a white, bland diet was the perfect thing.
It only became a problem when I got older and my iron started to drop. I became anemic and the only way to fix that was to eat chicken, beef, and things of that nature. So, to introduce these new foods into my diet, I started poring over recipes to make, that I would actually like.
 And I stumbled across the Layered Doritos Casserole on Spend With Pennies.
I didn't think I would try it at first…I mean I've never liked tacos, which this casserole was, or salsa. And Doritos weren't even my favorite chip. It was like three strikes and the meal was out…but there was something that lured me in. Being a new wife in my own house, I like to make food that my husband would like too, and he's bananas for tacos. It was a win-win situation.
---
Ingredients:
1 family size bag Doritos, any flavor (I used Nacho Cheese)

1 onion diced

1 pound lean ground beef

1 clove garlic minced

1 cup salsa

1 package low sodium taco seasoning or homemade taco seasoning

1 cup sour cream

1 can cream of chicken or mushroom soup

2 cups shredded cheese (I used tex mex blend or cheddar)
Optional Toppings:
Lettuce

Tomato

Olives

Sour Cream
---
Directions
Preheat oven to 350 degrees F.

Cook ground beef with onion and garlic until no pink remains. Drain any fat.

Add taco seasoning, salsa and 1/3 cup of water. Cook until thickened, about 5 minutes and remove from heat.

In a large bowl, combine beef mixture, sour cream, soup and 1 cup of cheese.

Slightly crush Doritos (not completely, you don't want crumbs). Layer 1 1/2 cups Doritos in the bottom of a 2 qt casserole dish . Top with 1/2 of the beef mixture. Repeat layers. Finally top with an additional 1 to 1 1/2 cups Doritos and remaining cheese.

Spray a piece of foil with cooking spray and cover casserole.

Bake 30 minutes covered, remove foil and bake uncovered for an additional 20 minutes or until hot and bubbly. Top with lettuce, tomatoes and olives if desired.
---
Review
The recipe was fairly easy to follow. Each step is clear and precise, so I was able to understand them with no difficulty. The only two issues I had was what size can of cream of chicken soup (I chose the regular size) to pick up and how the taste of the salsa was watered down thanks to the sour cream and cream of chicken soup. Next time, I would definitely get the larger jar of salsa to balance out the creaminess.

---
Pros
Only takes and hour to make. You can buy the stuff coming home one day after work and still have it on the table by

six o'clock

.
An older child (one you're not afraid to let use the stove) can even make it themselves to cook for the family.
The cost of the meal is low, so even as a last minute meal, it wouldn't break the bank, yet it will fill you up.
It also works in a wrap with a tortilla, with his second serving, my husband tried it that way and he loved it!
---
Cons

Only made for a family of three or four. This isn't really a con, per say, but I didn't realize how little it would make. Granted, it was great for the husband and me, if I had made it for my large family, I would've been disappointed that it didn't make that much. I might even be aggravated that I would have to go out and buy more ingredients for another batch just so everyone could eat. It says it makes six servings, but I'm pretty sure the servings are small, so if you have a larger family, or want a larger serving, I would definitely double the batch.
All in all, I would definitely recommend this meal. It's tasty, full of all the different food groups, and even has a fun twist of the doritos in it. It's definitely a meal kids, or any other picky eater, would like.
I already have plans to make this again for my mother and the rest of my family when I visit for our weekly dinners.
Blog:                www.perfectlypintsized.com/
Twitter:          www.twitter.com/pintsizdperfect
Instagram:     www.instagram.com/pintsizdperfection/
Be sure to share this with other casserole loving, taco devouring friends and family
(Visited 390 times, 1 visits today)