When deciding on how to create your bathroom space, do you find it a difficult concept to visualize? You know that it has to be an area that is functional, but really, what else is needed beyond a mirror, bath, shower and sink?
The fixtures create the bones of the space, but there is more than white tiles and a single vanity out there. Just like any other room in your house, you should create a place in which, you actually wouldn't hate spending some quality time.
So, let me show you some ways as to how you can achieve a bathroom design that can set your mind at peace.
Family and routine: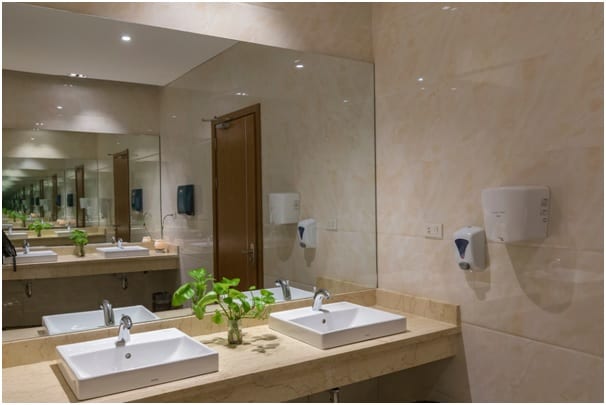 It is a common belief that kitchens and bathrooms sell houses, as they are the most common spaces of activity in a family household. This is shown often in many kitchen and bathroom showrooms.
In these days of mindfulness, self-care and looking after not only our physical but mental health, your bathroom can, and should, be a place where you not only have functionality but a place to relax and unwind.
It is not only a place where we often start our day but one of the spaces where we wind down, whether it's with a shower or soaking in the bathtub.
Therefore, it can be best to choose fixtures and fittings that will work for all the members of your family.
Work with a calming color scheme:
When deciding on how to make your bathroom a more peaceful space, you don't have to go with stark white tile paint in the room.
It is better to consider working with a range of colors that will make you feel calmer and more relaxed.
Those that you could use include light pinks, blues and neutral colors. Light shades of grey can also help you to feel more serene and make your bathroom warmer and more inviting.
Include texture and natural elements.
Another technique to creating a more tranquil and composed space is to add sections of elements of the outdoors into the room, as these can help to create depth and include perspective.
Those such as marble for the vanity and an ounce of wood paneling can create a tactile feel, while good lighting around a mirror can bring a brand new look to your walls.
Bringing in a houseplant can accent your bathroom with a touch of life as well.
Storage and means of tidiness:
When it comes to setting the tone, of your bathroom, one of the main ways to accomplish a more relaxed bathroom design is to actually realize the area with which you are working.
Having ample and deep storage space in your bathroom can help you to de-clutter not only your bathroom but your mind.
By having your bathroom tidy and well managed, you can feel calmer and it will also create a sense of place and use for those certain items that you use most frequently.
Understand the space:
While it may sound like I'm coming full circle, one of the main means of attaining a mindful bathroom is to understand the space with which you are working.
This is why you should ask yourself how you use the space. Which do you find more relaxing? A bath or shower? Do you use them both regularly?
It can also be wise to understand the size of the space. Small doesn't always mean crowded and large doesn't always mean luxurious.
---
Conclusion:
Therefore, when it comes to creating the perfect means of mindfulness in your bathroom, I hope I may have helped you on the way to harmony with the elements, particularly water.
(Visited 45 times, 1 visits today)