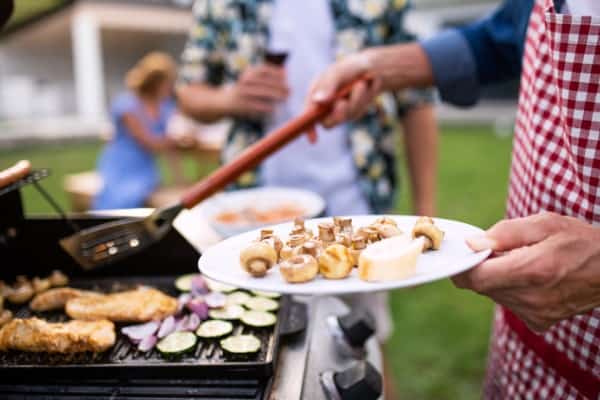 A barbecue is one of the best ways to spend a warm, sunny afternoon with your friends and family.
Besides the fact that you don't even need to leave your backyard to organize one, it's an excellent opportunity to impress your loved ones with your cooking skills!
Let's not get ahead of ourselves though. Getting a brand new grill can be the most important decision you make.
There's some thinking and research involved if you don't want every outdoor cooking session to include a "should have could have" discussion.
First, you need to decide what kind of grill will best fit your needs.
To do that, you have to ask yourself a few preliminary questions. How much outdoor space do you have for a grill?
How often are you going to be using it, and how many people do you plan on cooking for? And last but not least, how much money are you willing to spend on a grill?
Once you answer these questions, you will get a relatively clear picture of your barbecue-related needs.
Now, you can get around to making a purchase! You can actually buy grills online, where you can mix, match and compare – with a much better pool of possibilities than in a hardware store.
You can shop by price, function and size – but still, making a choice might feel overwhelming, so we came up with three simple tips to help you out!
How Much Should You Spend on a Grill?
When trying to determine your budget, think about how often you will be using the grill. If you barbecue regularly, consider investing in the more expensive models.
They come with a lengthy warranty and will last you longer. On the other hand, if you are planning on occasional barbecuing, consider a cheaper, portable grill.
Next, all grills differ when it comes to their cooking area. To determine what size will fit your needs, consider how many people you will be cooking for. A smaller cooking area will be enough for up to four people, but it's not the best option if you are a fan of huge barbecue parties.
In that case, the largest gas barbecues should meet your expectations just fine.
Of course, there are those custom-made barbecues that come in all shapes and sizes, have pinstripe flames and go above and beyond what you can actually find at any old store. If you're looking for one of those, prepare to spend big.
Gas or Charcoal – Which One Should You Choose?
Both of these kinds of grills allow you to cook a delicious meal, but they are vastly different when it comes to the cooking experience itself.
If you were to ask which kind of barbecue is the better one, you wouldn't get a definitive answer. It's all up to your personal preference!
When it comes to gas grills, they are very user-friendly and quick to light. They can take as little as 10 minutes to reach the cooking temperature!
Additionally, they are low-maintenance and easy to clean. After all, there is no charcoal ash that you have to get rid of once you're done cooking.
Getting your gas (not just for your grill but all your household gas needs) from places like Discount-Propane.com can make refilling your fuel source easier and cheaper as well.
However, gas grills do have a few downsides. Most importantly, they can't give your meal that characteristic chargrilled BBQ flavor that comes with an open flame.
They are also much more expensive than charcoal grills and require you to use gas canisters, which can get quite heavy.
Charcoal grills are the more traditional and cheaper option out of the two. They are relatively easy to light, and you can adjust the heat by merely lowering or raising the grill.
Additionally, they are less bulky than gas grills, which makes them easier to store.
Nevertheless, that kind of grill isn't perfect. Charcoal grills are much harder to clean because of the charcoal ash.
On top of that, they take a long while to reach the cooking temperature.
What Features Are Worth Looking For?
You can build a grill out of a wide selection of materials. It can be chrome-plated or coated in porcelain, made out of stainless steel or cast iron.
Each of these substances has different qualities, but their surprising variety allows manufacturers to fit even the most demanding customers' needs.
For example, the porcelain coating makes the barbecue easy to clean and stops rust. As a result, it makes for a great top-quality grill.
On the other hand, chrome plating gives a grill a smart appearance, but since it requires thorough cleaning after each use, you can find it on cheaper grills.
Either way, you should choose the option that best suits your needs and your wallet.
Conclusion
All in all, buying a barbecue is a long term investment. So, before making a purchase, you should think it through very carefully and consider all of your options.
For example, prices of the very same grill can vary drastically between different stores.
On top of that, some stores might offer attractive discounts to new customers or hold seasonal sales.
Hunting for such great deals may turn out to be extremely beneficial to your bank balance. If you don't do it, you're probably missing out on a lot of potential savings!
In conclusion, choosing the best grill for your backyard or patio can be quite challenging.
However, once you determine your barbecue-related needs and educate yourself on the matter, it should become as easy as pie!
(Visited 80 times, 1 visits today)