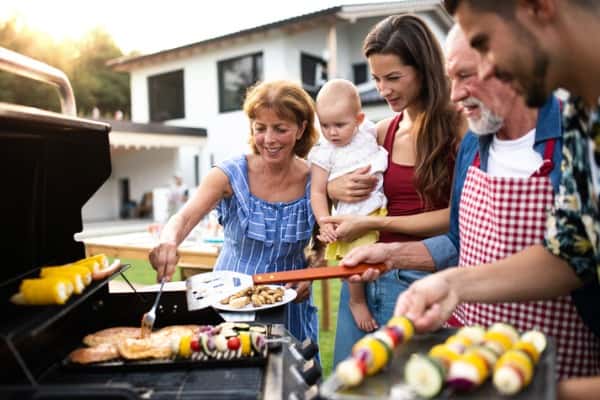 A family BBQ party is what you need to organize to reconnect with your family members. Summer is the best time for this kind of an event but you can make arrangements to hold it any time of the year. The party needs to be well planned for to be successful.
In this article we will look at what you need to hold a family BBQ party. We will also give you several tips on how to impress your guests without putting too much pressure on yourself.
Family BBQ Shopping List
If you are not sure what you want to prepare, here is a shopping list to point you in the right direction.
Burgers – Instead of beef, try something new such as lamb, chicken or veggie
Sausages
Chicken thighs and wings
Burger buns and hot dog rolls –Make it memorable by trying brioche buns
Cheese slices
Burger garnish
Mixed salad
Portobello mushrooms
Baking potatoes
Corn on the cob
Ketchup, BBQ sauce, Mayo, Mustard
Red pepper, onion, courgette, halloumi (veggie skewers)
This is not the most comprehensive list, but it will give you an idea on what you need to buy. If some of your family members are vegetarian, you can have a separate vegan grill so that they don't feel left out.
BBQ Food Preparation
BBQ masters recommended preparing the BBQ food in the morning to retain their freshness and taste. Here are some ideas on how to prepare the ingredients.
Chop the peppers, fruits, onions, and meat and put them in separate bowls
Marinate and glaze the joints, fillets, and other meats the night before the big day
Burgers and hot dogs should be pre-cut
Prepare the skewers for the grill
Create and toss the salads – note you should only add dressing before serving
What Should you Wear?
Head over to one of the local stores or online stores and shop for a BBQ apparel. Ideal, you should wear clothing that is comfortable and suitable for grilling. Steer clear of any clothing with long sleeves to eliminate the risk of fire as you grill.
If you are going to be handling raw meat, purchase gloves as they are easier to work with instead of regularly having to wash your hands. You also need to have mitts for handling hot sausages and meats as you turn them over.
Utensils and Cooking Equipment
Safety is of paramount importance when grilling meats. Some of the cooking equipment that you need are spatulas, knives, tongs, and meat thermometer to help you know if the meat is well cooked. Use different utensils for non-meat food, cooked meat, and raw meat.
Food Storage
Meat should be stored in cool bags otherwise it will go bad. Keep it chilled by placing ice packs instead or around the cool bags. A quality kitchen foil will come in handy to preserve the foods taste and prevent contamination.
Cleaning Materials
Refuse sacks are needed if you intend to use disposable utensils. Maintain a high level of hygiene by purchasing enough hand sanitizers and paper towels. Remember to wash your hands after handling different foods such as raw meat.
Other cleaning materials that you should consider purchasing include:
Washing up bowl
Large bottles of water
Pan and gas stove for boiling water
Anti-bacterial wipes
Drying towels
Picnic blankets
Washing up cloths and sponges
Washing liquid detergent
BBQ Entertainment Activities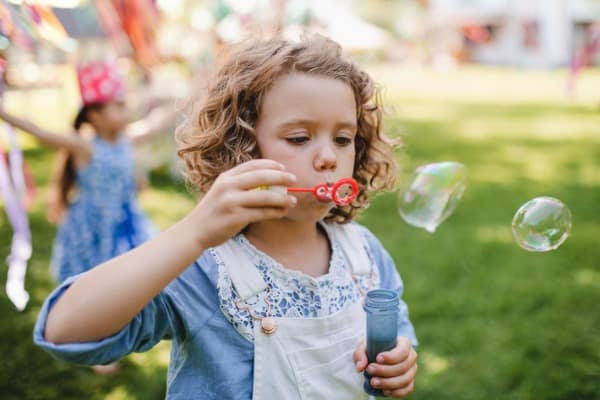 Look for exciting and fun activities that your family loves to take part in. For example, you can play quiz games and sports for the kids. Make sure that there is enough space for the activity to avoid any accidents.
Type of BBQ Grill
There are different types of grills that you can use to hold a family BBQ party. The five most popular grills are: Charcoal Grill, Charcoal Kettle Grills, Kamado Grills, Pellet Grills, and Gas and Propane Grills. The market has different types/kinds/shapes/brands of grills that you can purchase but the many options make it difficult to choose the right one. Luckily, here is an informative article we came across that contains all the information about the top grills for family BBQ like these.
Family BBQ Food Hygiene
Hygiene is of paramount importance when prepping for a family BBQ party. Here are food hygiene tops from BBQ masters.
Meat should be cooked at a minimum temperature of 70 degrees Celsius for 2 minutes at least
If you intend to use a charcoal grill, you should wait until the coals are glowing red with a powdery grey surface to place the meat on the grill.
Frozen meat should be thawed fully before cooking to prevent dangerous cold spots
Cut the meat or use the meat thermometer to check if its properly cooked before serving
Hot food should be stored at a minimum temperature of 63 degrees Celsius until served
Prevent growth of bacterial and contamination of chilled or raw food stored outside the fridge by using a cool box with ice packs.
Food should not be left exposed to the sun or outside the fridge for more than 1 hour
Cooked meats, raw, and read to eat food such as bread and salads should be put in separate utensils.
Avoid food poisoning by only eating fish or meat when its safe. One sure way of checking if the two are OK to feast on is by stabbing the meat, if clear juices flow out, it's safe to serve
Conclusion
If you plan to hold the family BBQ party at night, remember to provide enough tiki torches and other decorative backyard lights such as outdoor solar powered string lights – learn more about this innovative lighting. Thanks to advancement in technology, there are outdoor solar powered string lights that have an automatic timer that turn them on when the sun sets.
The success of your BBQ part is dependent on how well to prep for it. Take the time to do shopping and prepare the venue to avoid any shortcomings. We wish you a happy BBQ party and please feel to share the photos and experience in the comments section.
(Visited 377 times, 1 visits today)