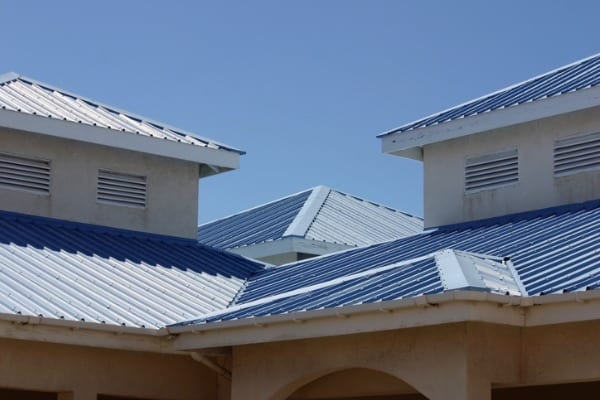 With the best roofing options for winds, your home can withstand hurricanes, tornadoes, or any other storm.
If you live in an area prone to such storms, installing wind-resistant roofing should be your primary concern. So what are the best roofing options?
You don't want a roofing material that will fly off the roof during strong winds.
Thankfully, this guide explores the best roofing materials that will stay on the rooftop during storms.
You will also learn all the tips on selecting the best roofing options for high winds.
Roof Damages Caused by High Winds
Strong winds can cause significant damages on roofs not designed to resist the effects of the winds.
If you live along the coastline or other hurricane-prone areas, you need to install a sturdy roof that can withstand strong winds.
When your roof is not strong enough to endure high winds, it will suffer damages. You'll have to spend large amounts of money on roof repairs.
Below are some of the damages high winds can cause on a roof that's not wind-resistant.
Damages the Roof Interiors
One myth that most people believe is that homeowners should leave their doors and windows open during high winds.
That is to allow air to pass through seamlessly from one side of the house to the other. Unfortunately, this can damage the roof interiors.
Widens the Roof Leaks
If your roof has a few holes, strong winds can pass through them. The constant influx of high winds to the roof interiors can widen the holes and exacerbate the problems.
If you don't repair the holes on time, water will leak into your house and destroy items.
Removes Shingles off the Roof
High winds can damage the roof by physically pulling out roofing materials, like shingles and metal panels, off the rooftop.
The winds can also blow debris, such as tree branches, onto the roof, ripping off the shingles and other roofing materials.
What is the Best Roof for High Winds?
The best roof consists of sturdy roofing materials that can withstand high winds.
That's why you should use a roofing material with the highest wind resistance. Give more priority to roofing materials with a Class 4 rating on impact resistance.
Here are some of the recommendations of the best roofing materials for high winds.
Fiberglass asphalt shingles
Metal roofing materials
Slate roofing tiles
Clay roofing tiles
To maximize the benefits of these roofing materials, hire a reliable roofing company like Roof Master to install them properly.
They offer the best roofing services in Lubbock.
Let's get started!
Fiberglass Asphalt Shingles
Asphalt shingles are the most popular roofing materials in many homes due to their affordability.
Notably, they are the cheapest roofing option on the market. Asphalt shingles cost around $90 per square.
Class 4 asphalt shingles can resist high winds and other elements, making them an excellent choice for homeowners living in coastal areas.
You may need to use more nails to firmly secure the shingles against strong winds, which may loosen them.
Fiberglass asphalt shingles are also fire-resistant. Unfortunately, they have a shorter lifespan of 20-30 years.
The shingles can also shed their protective granules over time.
Another excellent roofing material that can resist high winds is metal roofing. It is water-tight, preventing water or wind from passing through them when properly installed.
They can endure strong winds of up to 140 miles per hour, making them ideal in windy areas.
The roofing materials are also resistant to snow and ice dams. You don't have to worry about your metal roofing when living in an icy region.
Some of the popular metal roofing materials include aluminum, copper, and galvanized steel.
Another benefit of metal roofing materials is that they can last for many years. However, they are more costly than asphalt shingles.
They cost around $275-$400 per square.
Slate is one of the most beautiful roofing materials on the market. For many years, slate tiles have been a popular roofing option in many European homes and are available globally.
They're the most durable roofing materials with a lifespan of up to 100 years.
The good news is that slate tiles are highly resistant to strong winds. Their heavy weight allows them to hold down onto your house no matter how the winds are high.
Slates are also fire-resistant and come in various colors, including shades of grey and black.
Unfortunately, slate tiles are costly and hard to find. If you want to install slate tiles on your roof, you must first confirm if your local roofing contractor can find them.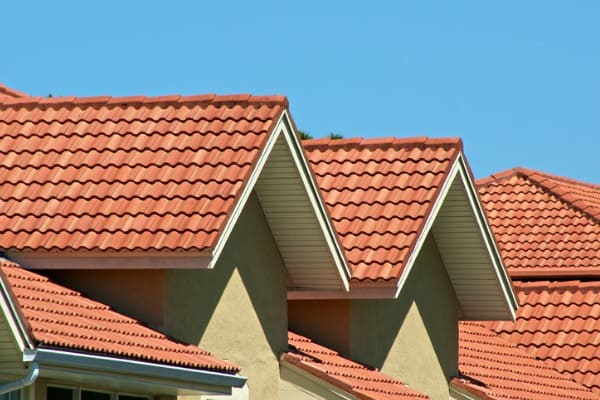 Clay roofing tiles have been popular in many homes and structures for many years due to their beauty and durability.
They can last for up to 70 years when maintained well. The tiles can withstand extreme weather, including high winds of 150 miles per hour.
Clay tiles are also a popular choice of roofing material in hot climates. They can help to keep the roof cooler by allowing air to circulate between them.
That makes the clay tiles more energy-efficient, helping you save money on cooling during summer.
Unfortunately, clay tiles are heavy and difficult to install. They can also break easily due to severe impacts, such as a fallen branch of a tree.
Tips on How to Make Your Roof More Resistant to High Winds
Besides installing the correct roofing materials for high winds, you can also make your roof more resistant to high winds by implementing the following tips.
Keep the roof overhangs small to reduce the uplift by winds
Use several fasteners like nails on the roofing materials during installation
Ensure that the underlayment is in good condition before installing roof materials
Choose a floor plan that will increase your home's wind resistance
Final Words
If you live in a region with strong winds, consider investing in a roofing material that can withstand high winds.
That way, you will increase your roofing's lifespan and maintain your home's structural integrity.
Some of the best roofing options to consider are fiberglass asphalt shingles, slate tiles, clay tiles, and metal shingles or panels.
(Visited 8 times, 2 visits today)