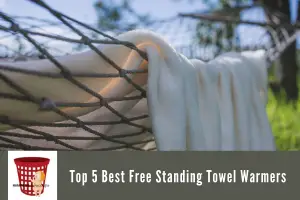 Towel warmers seem like a luxury for anyone who can enjoy them. But they do a lot more than keeping towels dry and warm. Towel warmers are low energy appliances and are excellent at fighting mildew and humidity.
Towel warmers are an excellent choice for someone whose house is located where it is damp and chilly frequently. A beautiful warm towel could be welcoming after taking a shower and entering the cold air.
Remember that towel warmers vary from simple models to more complex and stylish fixtures that will help accentuate any bathroom wall. Whether remodeling a home or wanting to buy a simple plug-in model, a towel warmer can bring extra comfort after a warm shower or bath.
---
Best Free Standing Towel Warmers: Top 5 Picks
Here are our top picks if you are in a hurry:
Last update on 2022-09-21 / Affiliate links / Images from Amazon Product Advertising API

See Today's Price The Pursonic TW300 6-Bar Towel Warmer has great quality for a great value. This towel warmer can be installed free-standing. Because it does not have to be mounted, it is possible to use it in many rooms or, even better, take it when traveling.
It heats up to the temperature of 122° F in half an hour, and generally, it will take a couple of hours for the warmer to heat your towels or blankets completely. This warmer is made from aluminum with chrome finish. It is on the large side at 35" x 2.4" x 23."
Pros:
Reasonably priced
Low energy consumption
Heats to a High Temperature
No wiring or plumbing is needed
Cons:
Unattractive design
Larger size
Customer Sentiments
Most people who purchased this model of towel warmers were pleased with it because it heats up their towels quickly and the free-standing design.
However, some customers mentioned it is a little wobbly and did not like that there was no wall mount option, but only free-standing.

See Today's Price The Amba SAFSB-33 Free Standing Plug-In Towel Warmer is available in two styles. One is chrome, and the other is bronze. These differences are dependent on the aesthetic in the bathroom. But, the bronze finish is more expensive; however; it has a higher wattage with more power.
As far as free-standing towel warmers go, this is one of the more attractive models, especially in the bronze finish. The standard chrome one has 130W of power, while the bronze one has 150W.
Measuring 24 x 37 x 12 inches, this warmer is very large and can take a considerable amount of space in the bathroom. But if space is an issue, it is perfect for a laundry room or bedroom. Because it is free-standing and plugs-in, it does not have to stay in one place for too long.
This is a great warmer which offers a fair performance and price, A bonus is that it comes with a lifetime warranty.
Pros:
Very Attractive Design
130-150 watts of power
Comes with a lifetime warranty
Cons:
Customer Sentiments
Buyers love this warmer because it has a self-timer, so someone can have it start to warm up at the same time every day with minimum work. Also, customers mentioned that it did not take too much energy to heat up as their electric bill was not noticeably lower.
One person commented that they do not know how they lived their life without this product and were genuinely pleased with the product, but it does have a heftier price tag than other towel warmers.

See Today's Price This six-bar and aluminum frame is excellent warmer for a reasonable price. This warmer is available in silver and is simply to turn on. It will reach the temperature from 110°F to 122°F in 30 to 40 minutes. It is essential to note that the actual temperature of it will directly depend on the surrounding temperature and humidity.
The best feature of this free-standing towel warmer is that is has a portable set up. This is great for bathrooms and laundry rooms. Also, you can set it up as wall-mounted to make the most out of the space it is in.
Pros:
Built-in thermostat
Low energy
Portable
Dual Function
Cons:
Not the most attractive
Takes a long time to heat up
Customer Sentiment
People like this product because it is good quality for its lower price. One customer said that it takes a long time to heat up, but their towels get warm in about 10 minutes.
Another customer was so happy with this product that they purchased another one for their living room to heat up their blankets as well. Also, customers were pleased that they could heat up more than one towel at a time, which the same heat as if they only heated one.
Some people were disappointed with the overall product and design, but they have to remember this product is one of the cheaper products for towel warmers, so only expect what you pay for and not more.

See Today's Price The Tangkula towel warmer can warm towels, bathing suits very quickly. Its two in one design will provide convenience for the whole family.
This towel warmer is powered with a regular electrical outlet and only uses 100-watts of power to heat textiles and other fabrics 24-hours a day. The Tangkula white towel warmer has five bars, so there is plenty of room to put clothes. The color is neutral so that it will look great for all decor.
The towel warmer has spray-painted premium iron, which allows for long-lasting usage, and it will heat up quickly. All necessary hardware and tools are in the package and is very easy to assemble. The towel warmer can be wall-mounted to save space or to set it up free-standing.
Pros:
Heats quickly
All setup parts included
Durable
Cons:
Customer Sentiments
Most people commented on its lightweight and low energy consumption. Also, they liked that it was effortless to assemble and use after that. One customer commented on its unique design and durability. Customers also were pleased that it could be set up as free-standing or wall-mounted.
One person had to return the product, but not because of its function, but because it was too large for their bathroom.
5.
No products found.
No products found.
No products found. No products found., and brush plated chrome finish, which is very stylish for all homes. Another great feature about this product is that it requires minimal assembly required. In the packaging, the wall mount and free-standing feet are included.
The temperature reaches 122 F at its highest heat in about 30minutes. It plugs into a standard outlet and operates with an on/off switch.
Pros:
Quick heat up
Stylish for bathrooms
Dual set up options
Easy to use
Cons:
Customer Sentiments
One customer noted that they purchased this product over a year ago and it still works just as well as it did on day one. Someone else mentioned that this is a great product to add to a bathroom that is getting redone or if a person wants to add some luxury into their life.
Also, someone noted that it heats up towels quickly and efficiently. One person commented that their warmer had overheated and ruined a towel. Another comment is that towels are hard to get on and off the rank.
No products found.
---
What to Look for in a Towel Warmer
There are many different types of towel warmers out on the market, so it is important to think about some things before diving into the market.
Price Range
Towel warmers come in a broad range of prices depending on materials, effectiveness, size, finishes, brand, and model. It is good to know that warmers can range from 50 to over 500 dollars, so get a grasp on what the budget is, and start shopping from there.
Design
Besides the main classification of electric and hydronic, towel warmers can also be divided into several types. They are available either free-standing, wall-hung, or floor-mounted.
Ones that are wall-mounted are ideal for smaller spaces because they free up floor space while also looking stylish or adding to an accent wall.
The free-standing ones offer more versatility because they can be moved from bathroom to living room to bedroom and return to the bathroom with ease.
Size
Also, it is a good idea to take the measurements of the bathroom that the towel warmer will be in because they range in size.
There are ones that are small and can be hung on the wall or free-standing. There are also ones that are only free-standing and can be too large for a small bathroom.
Also consider how many bars are wanted for the warmer because the more bars or towels that can fit, the larger the rack will be.
Materials and Finishes
Towel warmers are available in many styles and finishes.
Chrome towel warmers are the most popular designs available today. It brings out the best in fittings and fixtures such as bathroom faucets and showerheads. Chrome creates a uniform look in the bathroom and is perfect for a traditional bathroom.
White towel warmers are another type that compliments any surroundings unless the bathroom has an outlandish color scheme; white ones are a good option and keep the bathroom looking clean.
Anthracite towel warmers are a nice option to upgrade a modern home. This style provides a real eye-catching appearance to all bathrooms and acts as an ultra-stylish bathroom centerpiece.
Traditional towel warmers are an excellent option for a more classic-themed or vintage bathroom or space. A perfect model can enhance any space or add as a unique design feature in any area.
---
Faqs About Towel Warmers
What Is the Primary Purpose of a Towel Warmer?
A towel warmer, similar to a towel rack, is a place where towels are hung to dry. However, the most significant advantage is that a towel warmer uses electricity or water to warm towels, where a towel rack only dries.
A towel warmer can also be used to dry delicates and wet shoes instead of using a dryer. They can help to keep bathrooms dry and cozy, while also mildew, mold, and humidity-free.
Is the Bathroom the Only Room That a Towel Warmer Can Be Used?
Towel warmers can be used in many places other than the bathroom. You can use it as space heaters also. They can be used in a den, saunas, kitchens, or in other rooms that might need extra heat.
How Should the Towel Be Placed on a Towel Warmer?
Our advice is to fold the towel in half lengthwise and then fold it again. By following this method, There are at least four layers of towel on either side of the heated bar. The more layers, the more weight that will be on the bars which creates more contact surface area.
---
Verdict
The Amba SAFSB-33 Free Standing Plug-In Towel Warmer
is the best option for any room because of its looks, its quality, and its versatility.
It is available in two styles; chrome and bronze, so that it will look amazing in any bathroom. Having the option to choose which style will look better in the space is great, so it does not stick out; instead, it compliments the space.
It might be better for a larger bathroom because it is on the bigger side, but because it is free-standing, it can always be put in different rooms around the house or be stored away when not in use. A bonus is that it comes with a lifetime warranty, where other warmers only have a year warranty.
For the price, quality, and its looks the Amba SAFSB-33 Free Standing Plug-In Towel Warmer is our best option.
Last update on 2022-09-21 / Affiliate links / Images from Amazon Product Advertising API
(Visited 692 times, 1 visits today)