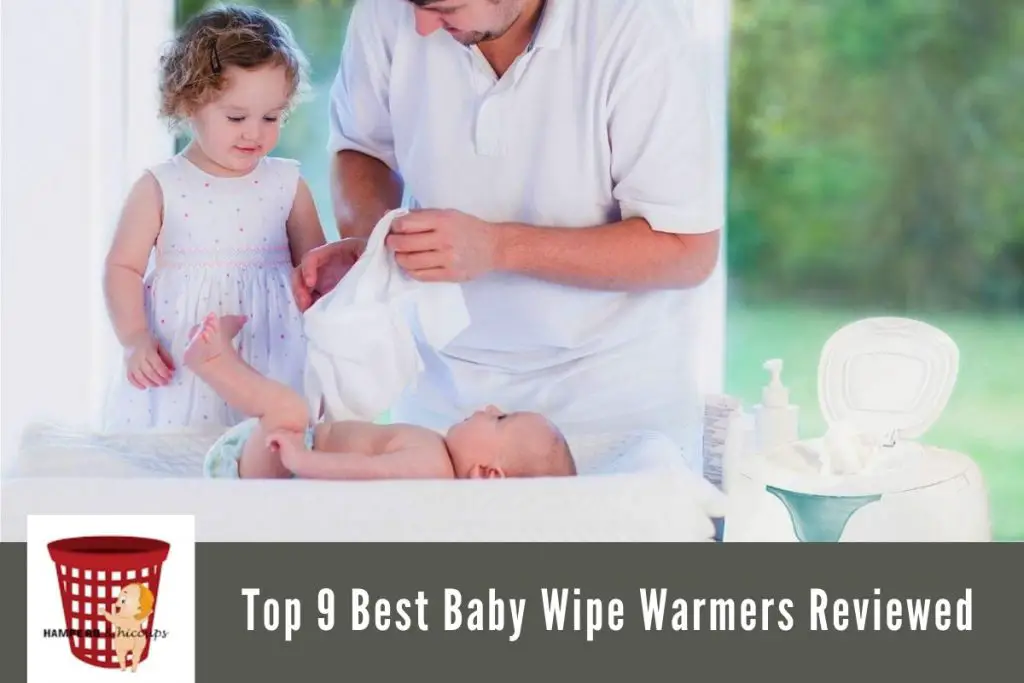 Being a mother is a beautiful feeling. The joy that your baby brings to you is immeasurable. But you would agree with us that it can be tiring sometimes. One activity you would do for most part of the first few years as a new parent is changing diapers. Babies need all the attention and care that they can get as they grow older. Part of this attention and care is evident in their need for diaper change.
A lot of babies are sensitive and when they are being cleaned, they tend to react to cold wet wipes. Warm wipes will not only help keep the kids comfortable but also help you as a parent for faster and reliable cleaning.  To these ends, wipe warmers are quite the solution, and this article highlights the best baby wipe warmers on the market.
Best Baby Wipe Warmers: Overall Top Picks

This is considered as the best baby wipes warmer because it can be plugged to warm the wipes to prevent browning, the locks are sturdier and less likely to be unlocked accidentally, it has the capacity to hold easily 50-80 wipes, feeding through a soft silicone seal in the cover and up through a hinged door. It has a front window to easily monitor how many wipes are left, which is important for maintaining a healthy stack of warm wipes. This warmer has a built-in nightlight, which makes it more effective than other wipe warmers on the market.
To activate the nightlight, press the small, red light button on the top of the warmer; this activates a small light that shines through the front window.
Pros
It is compatible with all kinds of baby wipes.
The night light makes it easy to change your baby's diaper.
The wipes come out clean and warm.
It has a large capacity
Low-voltage power adapter
Cons
The top wipes tend to dry out a bit faster than the other wipes because the heat is centralized there.
Customer's sentiments
Although the Hiccapop Baby Wipe Warmer is loved by mothers and there is a lot of positive feedback, some customers complain that it is quite expensive. Some others complain about its scarcity in the market. Apart from these, this product is arguably the most loved baby wipe warmer on the market

This is another amazing wipe warmer brand for your baby. It is soft, easy to use and easy to maintain. The Munchkin Mist Wipe Warmer uses the water mist to keep the wipes soft and mist. All you do is: close the lid of the warmer each time you want to use it and the mist will be added to the wipes. This makes this warmer one of the most reliable warmers that not only keep the wipes warm, but also keeps them moist. Also, it is good for you as a parent who wants a moist and warm wipe every single time for your baby. The wipes are heated from top to bottom and this prevents the whole stack of wipes from drying out. One feature that gives the Munchkin Mist Wipe Warmer its popularity is its wipe storage space. It can comfortably store 100 wipes, and without any preference for a particular brand of wipes.
Pros
It has enough space to contain 100 wipes.
It works well with both re useable and non-re useable wipes.
It adds extra moisture to the wipes
Cons
Wipes at the bottom are always cold.
The fastening clip at the top of the unit is often stiff.
Customer's sentiments
As expected, most of the feedbacks from customers of this product have been positive. However, some customers are not satisfied with its inability to warm many wipes at a time as they expect, especially mothers nursing twins or triplets.

The Go-Go Pure Baby Wipe Warmer comes with four ample LED lights that allow night time diaper change. It includes two heat settings so that you can find what works for your baby, either warmer wipes or a little less warm wipes. With a flip silicone seal, moisture and heat are locked in to keep the wipes moist and fresh.
In addition to these, the Go-Go Pure Baby Wipe Warmer has a large compartment that holds up to 100 wipes of any size and from any brand. The viewing window allows you to see when the wipes need a refill. You can also detach the plug from the box if you need to move the dispenser to another room. It uses 12 volts energy-efficient heat.
Pros
Spacious compartment for 100 wipes capacity
Flip lead allows quick access to the wipes
It keeps wipes warm enough.
It has two heat buttons for summer and winter.
Cons
The latch opens up on its own most times.
Lower setting at times doesn't give the desired results.
Customer sentiments
The only negative feedback on this product is that some customers complain about the warmer coming with faulty units even when new.

The Prince Lionheart Premium warmer stands out amongst others because of its sleek design and sturdy construction. This product is built with the highest quality of polypropylene material and an EPA approved microbial agents, which means that it is the only anti-microbial warmer  on the market that inhibits the growth of bacteria and mould.
Working at full capacity, this wipe warmer provides you with warm wipes from top to bottom. It comes with well-designed seal lid that keeps moisture in. The lid also has a part to refill wipes and the other to pull out individual wipes.
Pros
High class built quality.
It can retain heat for long.
It keeps wipes moist and warm.
Cons
The wipes can either get too hot in the wipe warmer or not warm at all.
It tears disposable wipes.
It is very expensive to buy.
Customer sentiments
Dissatisfaction of customers is about the inconsistency of the product with an exorbitant price to purchase. Apart from this, there are very positive feedbacks on this product.
Munchkin Glow Baby Wipe Warmer
The Munchkin Glow Baby Wipe Warmer is a reliable wipe warmer that you can have for your baby. Its simple design makes it easy to fill up and use. It has a glowing light that makes easy for you to change your wipes even at night. The Munchkin Glow Baby Warmer is quite popular on the market because of its top-shelf features, high built quality, and spacious to contain 100 standard size wipes.
The small transparent window gives you the opportunity to monitor the number of wipes remaining, and know when to refill. The top heating model allows the wipes to be kept warm from top to bottom and this helps in preventing browning of wipes, giving you a warm and moist wipe. In fact, the topmost wipe is usually the warmest.
Pros
The night light makes it easy to change diapers at night.
It is solidly built, which makes it a reliable option.
Spacious for a hundred standard size wipe.
Clear viewing window
Uses low-voltage power.
Cons
The warmer can only warm the wipes at the top, wipes at the bottom are usually cold.
The outside temperature takes long before getting warm.
Customer sentiments
There are a lot of good feedbacks on this product. However, some customers complain about the scarcity of the product. Asides from this complaint, there is nothing to worry about.

The Tuut Baby Wipe Warmer is one of the most durable wipe warmers on the market. It has a sleek design with a dim amber light that is shaped like a smile. This product heats up the wipes quickly, taking only about an hour before the warm wipes are ready to use.
Apart from these, the Tuut Baby Wipe Warmer has a compartment large enough to store 80 wipes at a time. Due to its low voltage system, it is very safe, quite efficient, and eco-friendly.
Pros
fits all sizes of baby wipes
keeps wipes warm and fresh at all times
doesn't take so long to warm
Cons
It has the tendency to slide off smooth surfaces
It can be difficult to pull continuous wipes single-handedly
Customer Sentiment
With a lot of positive feedbacks, one can say that this product is the perfect one. However, the warmer slides a bit on smooth surfaces as a result of the in-built feet on the bottom are soft with no rubber attached to make them firm.

This is another brand that helps in the holding and warming of the baby wipes. This baby wipe heater is easy to set up in minutes and fits in the whole wipe package perfectly. This product is energy saving, and as such, it takes the least power to keep the baby wipes warm.
Also, the Memi Dreamy Wipes Warmer holds the wipes within its plastic packaging that is sufficient to hold 80-100 wipes. As stated earlier, setting up this warmer is quite easy; you simply press the lid-release latch to open the top. You will see a blue cover inside, clamp the latch on this cover to release and lift.
Then, open a small pack of wipes and place the pack inside the warmer, pressing down until you hear a click. Close and latch the blue securing cover over the wipes pack; you will hear another click as the spring action system is engaged. Don't forget that it is automatic.
While it is plugged, there is a small, white light on the top cover which stays on, but it is not enough light to see for night changes. For a day, all the wipes are consistently warmed, and the outside of the machine is not too hot.
With its auto push-up design, patented top heating technique, non-slip bottom and a sleek with a compact design; the Memi Dreamy Wipes Warmer is worth its price.
Pros
It keeps wipes from drying.
It can take an entire wipe package.
Cons
The plastic at times melts on the wipes package thereby sticking to the inner lid.
Some of the wipes turn brown in the warmer.
Sometimes, the warmer doesn't last.
Customer Sentiments
Despite the benefits derived from the product, some customers are displeased because it is not durable enough.
Dexbaby Wipe Warmer Review
This is a portable warmer with little space to occupy. You can save yourself some space with the Dexbaby Wipe Warmer, as it is a compact but stylish wiper, and it is also a dispenser.
Unlike the other wipe warmers, this warmer heats from the top to keep the wipes closest to your finger ready for easy grabbing, and the box is insulated to keep the heat in for consistent heat. It can hold over 80 baby wipes and uses low voltage for safety.
It comes with a built-in light, which shuts of immediately after 10 minutes, to ensure that the baby doesn't get disturbed by the bright lights.
Pros
The vertical design makes it a small space on your dressing table.
It keeps the wipes warm.
It uses low voltage unit.
It has a bright nightlight.
Cons
The lock doesn't stay tight, this causes the front wipes to dry out.
The heat might be too much to dry the wipes.
Most times, it doesn't last long.
Customer Sentiment
Some customers complained that the wipes dry out and it is too small. Others also said that it doesn't last long. Apart from these negative remarks, this product has a lot of positive feedbacks.

The OXO Tot Pull Wipes Dispenser has a silicone gasket in the lid that helps keep wipes fresh and also prevents them from drying out. It has a capacity for up to 100 wipes, which makes it quite efficient. The lid opens up easily by just a simple push, and this allows the easy addition of wipes.
This wipes warmer comes in a polished plastic that makes it very easy to clean. In addition, it has a non-slip feet that ensures that it doesn't slide of any type of surface. The dimension of the OXO Tot Pull Wipes Dispenser is 8.75 × 6.5× 4.5 inches.
Pros
Easy to clean
Doesn't slip off surfaces
Keeps wipes fresh and moist
Cons
Customer Sentiment
While there are a lot of positive remarks on this product, it is good to note that some customers are put off by the cost, and they would have purchased it if it was a bit cheaper.
---
Wipe Warmers Buying Guide
If you intend to buy a wipe warmer, it is important that a few things are considered because there are a lot of wipe warmers in the market, and they are not all the same. Having listed some of the best wipe warmers on the market, it is appropriate that we give you an insight to the things you should consider before putting your money on any particular product.
Size and Capacity
There are small baby wipe warmers that have compartments that will take up to 30 wipes, but not more, and there are some with a large compartment that would store up to 100 wipes at a time. So before buying any wipe warmer, you should be sure you won't need a larger compartment before you opt for one with a smaller compartment.
Heating capacity and levels
Make sure the warmer you are buying has enough heating capacity and temperature range that can keep the wipes warmer for long. You can check the product description to know the temperature range for what you are buying.
Design
It is important to put the design of the wipe warmer you want to buy in consideration before putting your money on it. The top-heated design warmers are highly recommended for excellent service. You also want to consider the portability and the ease of use of the warmer.
---
FAQs on Baby Wipe Warmers
Are wipe warmers safe?
Wipe warmers are safe. Manufacturers ensure that they meet the safety standards of a baby's room. In fact most wipe warmers come with a low voltage adapter to prevent any electrical problem.
Can wipe warmers cause diaper rash?
Although it is not likely since the heat would possibly kill the bacteria, some customers claim that wipe warmers harbor bacteria and therefore causes infection.
Do I really need a wipe warmer?
Well, wipe warmers are not the first item on the baby registry, but it would not be completely out of place to get one. It mostly makes cleaning your baby a bit easy for you.
---
Verdict
Although wipe warmers are not the most important item on the baby registry, getting them won't be out of place. However, it would be important to get the best one.
The list above highlights some of the best baby wipe warmers on the market. You would agree that your babies have a hard time when you clean them with cold baby wipes, so you would be giving your kids the care they deserve by warming up their wipes, and this is the major benefit you will get from a baby wipe warmer. The list therefore guides you in choosing a personal favorite baby wipe warmer that meets your needs and suits your budget.
(Visited 512 times, 1 visits today)