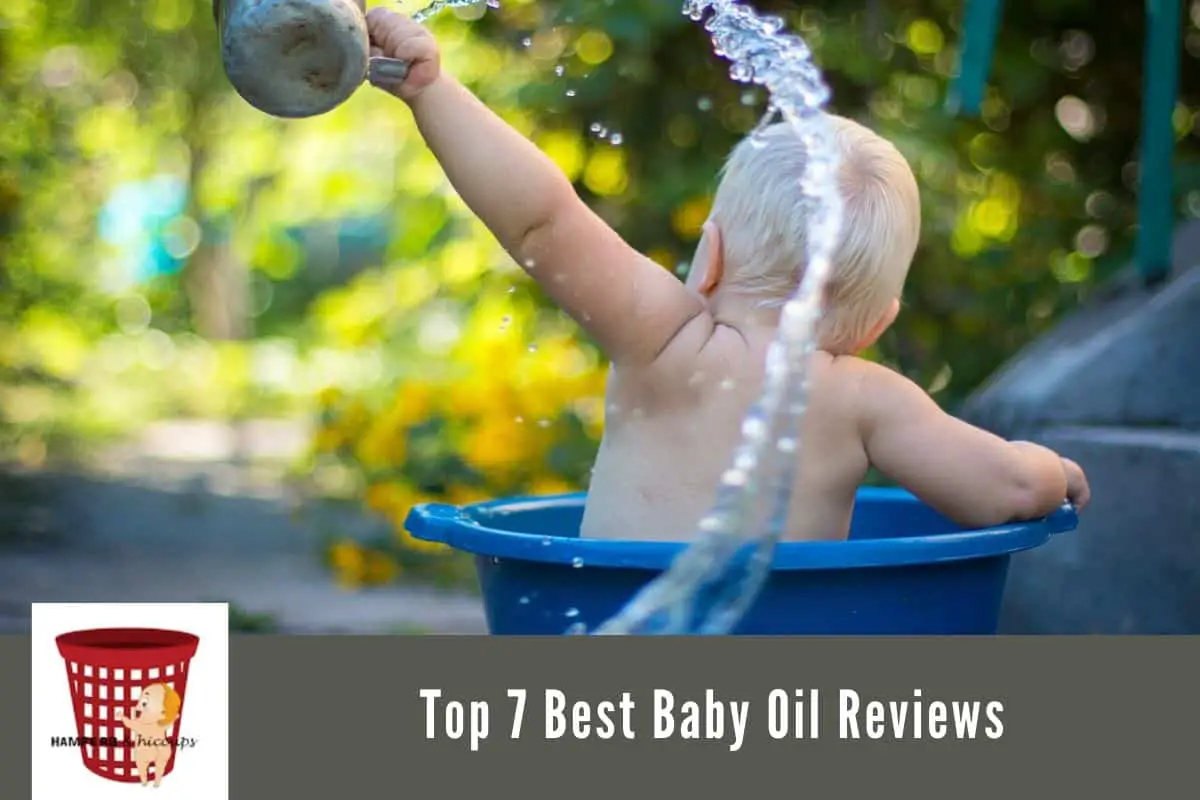 When you have a baby, there are some certain things you should know as a parent that will help you get along easier in the long run. For instance, it's pretty much common knowledge that babies have extra sensitive skin that requires lots of tender love and care. One way you can keep your baby's skin as soft and smooth as possible is by applying baby oil directly after they get out of the bath tub. If you are unsure about of the brand would work best for your baby's extra delicate skin, then refer to our list of the best baby oil products today to make your decision a bit easier!
Best Baby Oil: Our Top Picks

Features
This Amazon brand is a newer, up and coming brand that boasts some of the highest quality ingredients, including the ever so popular aloe vera and vitamin E oil. The ingredients are simple, safe, and straight to the point; your skin will feel replenished and smooth after applying this oil.
Pros
Satisfaction guaranteed
Moisturizes gently
Prevents and treats dryness
Several different scents such as shea butter, aloe, mild and gentle, and lavender
Great ingredients
Made in USA
Cons
Customers Say
Many consumers on Amazon have raved over this trusted, Amazon created brand saying that not only is the value of this product great, but the scent is not as strong as most other non organic products and it serves its purpose diligently. If you are looking to get more bang for your buck, then this product may be right for you!

Features
With some of the most soothing, well known plant based ingredients (pomegranate, avocado, sunflower) Mustela has one of the most gentle and delicate formulas of all the non organic brands. After you get your baby out of a nice warm bath, you can massage this oil into his skin so he will feel super soft and extra refreshed, without feeling oily or sticky. Plus, it's not just for babies– adults can utilize all of the positive components of this oil, too!
Pros
Comes in an easy to use squirt bottle
Dermatologist and pediatrician recommended
Moisturizes without leaving skin sticky, oily and greasy
Paraben free
Hypoallergenic/allergy tested
Can be used to help improve eczema and other skin conditions
Cons
Application may be difficult with toddlers and older babies
Some reviews state that application of this product requires a lot of oil to make a difference
Customers Say
Tons of reviews boast nothing but positive components of this product, with minimal negative reviews. Customers have stated that they love the smell of this product, and that it isn't completely overwhelming, plus it has the best moisturization out of all products available on Amazon, and it is gentle enough to use on even the tiniest, fresh-out-the-womb babies!

Features
You can't review different baby oils without including one of the longest running baby product manufacturers of all time! Johnson & Johnson has been around over a century and has one of the most trusted, well known formulas ever.  You get products for every stage of life, from infancy to elderly, with several soothing scents, all with different purposes and skin types. Your grandparents can likely tell you all about this product, since it's been around longer than they have!
Pros
Dye free, paraben free
Allergy tested
Tear free
Multi purpose (shaving, makeup removal, baby and adult moisturizer, cradle cap, etc.)
Larger and smaller size bottle options
Safe for skin and hair
Cons
None could be found, other than the fact that it isn't certified organic
Customers Say
Customers have had a lot to say about the reputable J&J brand, such as the scents are pleasant and not overwhelming, it's a great value for the money, and you can buy it pretty much anywhere! There are a variety of scents and functions for each one, so you don't have to just try one. If that one doesn't work for you, then you have several others to try!

Features
I added this one out of personal preference, because it is SO cheap and so very unique in texture! It's not a thin, sticky oil, it is creamy and solid colored formula that is somewhat of a hybrid between a lotion and an oil. It's not heavy, but not too light to where you can't feel it doing its job. The formula is free of yucky ingredients, and it's made in the USA so nothing foreign you've never heard of before!
Pros
Unique texture
Dermatologist tested
Won't leave you sticky or greasy
Dye & sulfate free
Hypoallergenic
Cons
It is NOT exclusively an oil, and some people prefer that over this texture. Nonetheless, it is a unique blend of lotion and oil and works similarly to the both of them
Customers Say
When customers tried this product, they were astonished at how well it performed and how much it derives from both a lotiony texture and oil. They've also stated that just a little of this product goes a long way, and it works wonders on sensitive skin, and it can even be used to help treat the symptoms of eczema!
*BONUS! Did you know that this brand of baby creamy oil is also used to prevent mosquitoes from landing on skin and biting? You can avoid the unpleasant smell and harsh chemicals of bug repellant and vie for this much safer, more mild option to keep the bugs away!
---
Best Organic Baby Oil: Our Top Picks

Features
You've likely seen some sort of commercial or internet ad for this popular brand that makes TONS of baby products, and that's the Honest Co. brand! All their ingredients are 100% clean, plant based, biodegradable, organic and hypoallergenic! With gorgeous components such as jojoba oil, olive oil, sunflower oil, avocado oil, and tamame oil, the Honest Co. brand surely is the cleanest of all the organic brands.
Pros
Amazon's choice
Doesn't sit heavily on skin
High quality
Certified organic
Made specifically for sensitive skin
Cons
This product can be pricey, but they have smaller options for a smaller price. A little goes a long way, so you won't run out too fast!
Customers Say
Customers say that this is one of the best choices of baby oil, especially if your baby has extremely dry and/or sensitive skin. It is also amazing for pregnant bellies to help prevent that awful itching, and it can be used for so many purposes for both babies and adults! It is also eczema safe!

Features
Earth Mama's baby oil is infused with the naturally healing herb called calendula, and if you've never heard of it or used it, then maybe today is the day to try it out! This product is also packed with other wholesome, organic ingredients that nurture and gently moisturizes even the driest, most eczema ridden skin. It is powerful enough to help ease some of the symptoms of skin conditions, but also gentle enough to not irritate or cause any sort of negative reaction.
Pros
Safe for eczema and other skin conditions
Contains calendula, which has natural healing properties
Lightweight
Squirt bottle for ease of use
For skin, scalp, hair, cradle cap, etc.
Free of petroleum, mineral oil, parabens, and artificial fragrances
Cons
Comes in very small bottle
Some stated they aren't crazy about the smell, while others loved it
Customers Say
One of the main points that the customer reviews have made is that this product leaves practically no residue behind, just smooth, soft, moisturized skin! It doesn't take a lot of this product to get the job done, so you can be comfortable with the small size of the bottle. Both baby and mom can benefit from this product, as it can be used for cradle cap, eczema, diaper rash, skin irritation, and pregnancy belly itch!

Features
This product is another unique option, presenting itself in a tub rather than a tube for even easier application and the ability to make the product go further. Made with vitamin E and soothing coconut oil, you can count on this moisturizer to knock out dry skin!
Pros
Used to treat diaper rash
Can treat symptoms of eczema
Helps reduce stretch marks, pregnancy belly itch, hair loss, slow hair growth, and so much more!
Made with coconut oil, sunflower oil, and vitamin E
Safe for ultra sensitive skin
Cons
The texture of this oil changes with temperature, like regular coconut oil does. When the temp is higher, it melts, but when it is lower, it returns to its solid state
Customers Say
Customers LOVE this uniquely designed baby oil product, mostly because it smells lovely, isn't greasy, the value for the price is great, and some have even used it to help their baby's hair grow faster and fuller! Others have also said it works wonders for baby acne, extra dry skin, and diaper rash.
---
Baby Oil Buying Guide
Regular VS. Organic
The main component that keeps these categories of baby oil separated would have to be the ingredients. Sure, you can still achieve some of the same results with non-organic oil as you would with certified organic products, but not everyone has the skin for artificial perfumes and preservatives. Some people HAVE to use organic products for their skin, especially when it comes to their babies.
There are lots of reputable brands that produce non organic products and they have wonderful reviews and feedback, but every person and baby is different, and no one's skin takes to products exactly the same. ALWAYS pay attention to ingredients, and before you try a new product on your baby, you should always do a spot skin test on one tiny area to ensure the product will not irritate or cause a rash.
Price is Not the Deciding Factor
Just because you spend more on a product doesn't mean it will be the best for YOU personally, just like spending less doesn't mean you're going to get some shotty, dollar store quality product that won't work at all. As I stated previously, everyone is completely different, and where one product won't work for one person, it may work for the next.
The main point I'm trying to make is that you shouldn't shell out unrealistic amounts of money just to get the top name brands of a certain product; there are plenty of affordable, organic baby oils you can try first to use process of elimination. You also don't have to get the cheapest option available, because chances are, it doesn't cost much less than its more effective cousin, so you can likely try a higher quality product with better ingredients for just a few dollars more!
Get Recommendations; Do Research!
You probably have friends or family members who have babies, so ask them what their favorite products are and what type of skin their baby may have! You'd be surprised to learn the variety of products that different people use, so you likely won't come to one constant consensus, but it's always good to know what is worth it and what just isn't.
Reading online reviews can be helpful as well, just make sure you are reading reviews from verified buyers so you don't find yourself taking someone's word for it. You can say anything on the internet and claim it's true, so you want to be weary of anything published online that isn't verified!
---
Verdict
In the end, it all depends on your skin texture, level of sensitivity, and tolerance of certain ingredients. If you know you are allergic to lavender, then I wouldn't recommend trying a lavender scented baby oil on your baby, to avoid irritating your skin and your baby possibly inheriting the allergy from you. No one product is the absolute best, because people's skin varies in types and textures, and you can never be too safe when it comes to your baby's skin!
(Visited 42 times, 1 visits today)