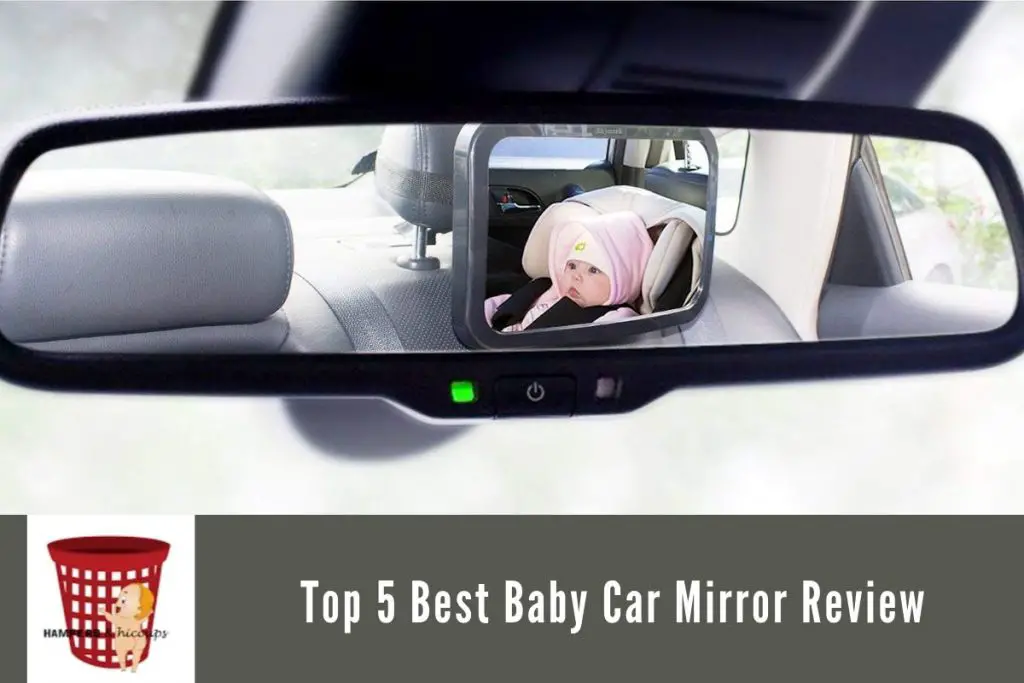 Whether going on a long or short journey, it is useful to be able to keep your baby or toddler in sight. You want to check they are ok and reassure them. Many safety organizations recommend that young children ride in rear-facing seats for as long as possible. Fortunately, products exist to help you check on your little one, and it is as simple as fitting a mirror.
That leads to the next issue, though, which are the best baby car mirrors to suit your needs. There are lots of mirrors to choose from, which makes it hard to know which is best. When your baby's safety is concerned, you want something reliable and easy to fit.
We will talk you through the different features to look out for and review 5 of the best mirrors available. Hopefully, our in-depth review of the best baby car mirror products will help to inform your decision.
Best Baby Car Mirror Review: Our Top 5 Picks

With the Shynerk Baby Car Mirror, you can expect a lightweight and durable product. It delivers in the primary function by providing you with a clear view of your baby, and they can see you too.
The mirror is large compared to other products we've reviewed; it measures 11.4 by 3.5 inches and is 1.2 inches thick. You can mount the mirror horizontally or vertically, which makes it flexible to suit your needs.
Features
One of the main unique features of this baby mirror is that it is extra wide. Once fixed, it can be adjusted to achieve the right position and has 360 pivot ability.
In terms of safety features, the mirror is advertised as shatterproof and scratch-resistant. The acrylic glass has been crash tested to ensure safety. The mirror comes with easy to adjust straps that attach to your headrest. It fits in a wide range of cars, SUVs, trucks, and vans.
Pros
easy to install
easy to adjust
large mirror
stays in place
Cons
can rattle when driving
shiny edges can reflect sunlight
Customer Sentiments
Most users mentioned the peace of mind this product brings them. Users were impressed by the real brackets, which helped to give a good angle and keep the mirror in place. Some users noted that it is best for adjustable headrests.

The So Peep Baby Backseat Mirror comes with a lifetime satisfaction guarantee, which is reassuring when making a purchase. You can expect a product that features a rounded, convex mirror, where the baby can see themselves, as well as you being able to see the baby. The mirror is durable and attaches to car headrests with straps.
Features
The mirror is made from acrylic glass, which is shatterproof.  It comes ready to install straight from the box.
The mirror is large, measuring 11.5 by 7.5 and is 3.5 inches thick. It can be adjusted using the pivot function that allows you to change the angle of the mirror to best suit you.
Pros
stays in place,
the largest mirror we reviewed
fits more than one child in view
Cons
straps get worn quickly
mirror sticks out from headrest preventing the seat from being used
the image is not as clear when the mirror shakes
Customer Sentiments
Most users were pleased with how easy to install this product was. They found the swivel very useful as they could attach it to a side seat but place the car seat in the middle seat. Some users found that the mirror was easily moved when taking things in and out of the car as it doesn't lock in place.

The Baby Car Mirror from DARVIQS is a convex mirror. You can expect a wide-angle view from this large mirror, that provides a view of your baby and they can see you.
The product is lightweight and easy to store or carry. It has heavy-duty straps that attach the mirror to the headrest, and it fits most vehicle types.
Features
The mirror measures 11.8 inches by 7.4 inches and is 1.1 inches thick, so it isn't the largest mirror we reviewed. It is made from shatterproof safety glass that provides a clear and solid picture.
It attaches using horizontal and vertical straps. You can adjust the mirror using the 360-degree rotation feature as well as the 180-degree pivot.
Pros
easy to install and remove
adjustable
Cons
the mirror comes loose from the mount
image is distorted
not easy to assemble
Customer Sentiments 
Several users noted that the mirror moves easily out of position and that it shakes when driving. Many users were happy with the size and tilt, which gives a good view.

The Britax Back Seat Mirror is lightweight and shatterproof. There is no assembly required, so it is ready to use straight away. It is convex and designed to show as much of your little one as possible, and they are kept entertained by seeing themselves and you too.
Features
This mirror is crash tested. It measures 11.5 inches by 7.5 inches and is 3 inches thick.
It is silver in color and has a sleek look and feel. You attach the mirror to the headrest using straps. Once attached, you can adjust the angle of the mirror using the pivot function.
Pros
easy to install
simple to adjust
tilts to give a good view
Cons
the mirror can come out of the frame
the straps come undone easily
the seat can't be used when it is in place
Customer Sentiments
Several users commented on the fact that the mirror didn't stay securely in place. Other users were pleased with how much of the backseat was visible from the mirror, while many others commented that it is quite large.

The Lusso Gear Baby Mirror for Car comes with a satisfaction guarantee. It is advertised as coming with a secure mount system. You can expect a product that is easy to install and also easy to remove.
It has adjustable straps and offers a large and clear view of your baby or toddler, who can see themselves and you in the mirror.
Features
Although not the widest, this is the tallest and thickest mirror we reviewed. It measures 11.6 by 9.5 inches and is 3.7 inches thick.
The convex mirror is made from shatterproof materials that still provide a clear image. You can change the angle of the mirror using the pivoting mount. The product is available in three colors: black, grey, and tan.
Pros
easy to install
large and clear view
sturdy
Cons
the mirror can come free from the mount
most expensive of those reviewed
diagonal straps might not suit all headrests
Customer Sentiments
Many users commented on the clarity of this mirror, which provided a large view of young children in the back seat. Some users expressed their concern that the mirror can come free of its mount.
---
What to Look for in Baby Car Mirror?
When you are shopping around, here are a few things to consider when choosing your mirror.
Safety Features
Most mirrors should indicate what materials they are made of and whether they have gone through any safety testing. It is also reassuring to see a lifetime guarantee on the product.
The features you should look out for are a shatterproof or shatter-resistant mirror. This will usually be made out of acrylic glass. Some products will state that they have been crash-tested. As many of the mirrors are held in mounts that pivot, it might be worth contacting the manufacturer to see how the mirror is secured.
How It Attaches
It can be quite difficult to tell if a mirror will suit your vehicle. While many claim to fit cars, SUVs, trucks, and vans, it can all depend on the model. It often comes down to the headrests. If they are movable and regular in shape and size, most mirrors will be suitable.
However, if they are large, rounded or fixed, or you don't have headrests, be sure to check all of the details to see how the mirror attaches. The majority of the mirrors reviewed here require two straps to secure them to a headrest. There are mirrors that attach to the windshield to provide a rear seat view.
Size
Although most mirrors reviewed here were a similar width, the size of baby car mirrors available does vary. The size of the mirror that meets your requirements will come down to personal preference.
Bear in mind the size of your car and your rear windscreen. Some users found that the larger mirrors reduced their view and required considerable adjustment of the headrest to ensure the view wasn't compromised. Others preferred one larger mirror in order to be able to see two children in the back of the car.
The thicker models, and especially those on pivot mounts, protruded quite far from the headrest, which meant that the seat could not be used normally without removing the mirror. If you have an easy to install and remove product, then this might not impact you as much.
Assembly and Installation
While the majority of these mirrors come ready assembled and are easy to install, that isn't the case for every product.  Some mirrors needed to be fixed to their mounts, which users found tricky and time-consuming.
If the straps and the mirror are easy to adjust, then installing the mirror into the car should take a matter of minutes. Most users are helpful in commenting on this aspect, so that is definitely something to look out for.
Function
All of the mirrors reviewed were built with safety and one function in mind. They are the top five mirrors and haven't been compromised in value for money or efficacy by trying to do anything else.
However, if you are looking for a multi-purpose product, you can find mirrors with animal characters on them. There are also mirrors with bright colors and sounds to keep children entertained. Other mirrors come with a nightlight so that you can use the mirror in the dark.
Other products that you might want to consider when purchasing a baby car mirror are sunshades. They prevent direct sunlight on your baby, but also stop bright light shining off the mirror.
---
FAQs about Babies in the Car
1. How Long Can You Travel With a Baby in the Car Seat?
It is recommended that babies should not travel in a car seat for longer than two hours in a 24 hour period. However, babies should always travel in a car seat for their safety.
And if you are flying make sure to check out the article: Best Baby Carrier for Flying
2. How to Choose a Car Seat?
Try to find a retailer that will let you try out and return car seats if they don't fit your car, as it is essential that you find a good fit. Check the manufacturer's guidelines to see if it lists car makes and models that are suitable.
Seats are sold to suit the height and weight of a child. They are often divided into groups, one for rear-facing seats for babies up to 15 months. Another group is the forward-facing kind that is designed for children between 9 months to 4 years.
Then there are booster seats that are suitable for children from 4 to 11 years. If your child is small or big for their age, they might sit outside of these guidelines.
3. Should Young Children Have Airbags?
No. Car seats, especially rear-facing ones, should be placed in the back seat. In some circumstances, you can place a child in a car seat in the front seat; if you have a car that allows you to disable the airbags on the passenger side, you can do so. Ensure you enable them once the child is no longer traveling in the front seat.
---
Verdict
The Shynerk Baby Car Mirror is the best choice overall when it came to reviewing the top 5 products. It stays in place well and is easy to install and adjust. Its slim design means it doesn't take up much room but does offer a wide-angle view of your little one.
Sale
Last update on 2022-09-20 / Affiliate links / Images from Amazon Product Advertising API
(Visited 415 times, 1 visits today)