Wanting to jump head-first into the shopping spree for new baby stuff when you find out you're expecting is something most soon-to-be moms find themselves tempted to do. It's so easy to just start spending your money on every cute thing you see, and collecting massive amounts of baby stuff in hoards. But is there a good way to get this task done, without wasting extra money and without spending all your time in baby stores?
Here are all the best pieces of advice, information, and your questions answered about all things related to when to start buying baby stuff!
Getting Started With Your Baby Shopping
So, first things first, don't get ahead of yourself. Like any major expense, baby stuff shopping needs some careful planning and set-up before you get started. If you want to make sure you preserve your savings and avoid stuffing your home full of new baby things, you need to set some ground rules for yourself and plan ahead.
Don't worry, this is the easy part!
Knowing What To Buy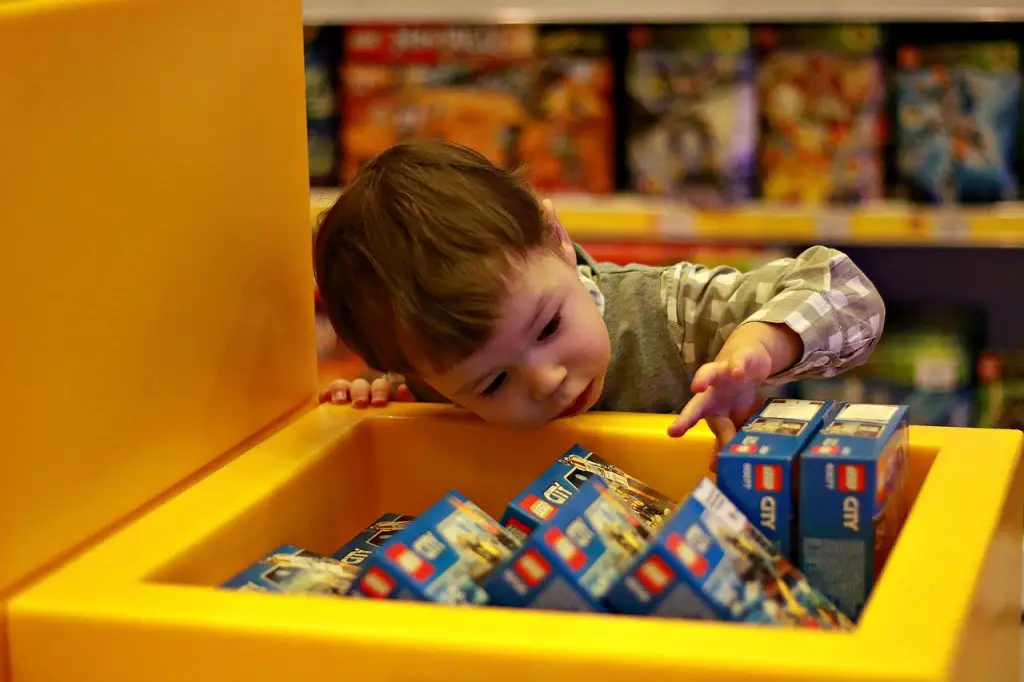 Your baby will need a lot of things you probably don't have yet. From clothes to bottles to breastfeeding supplies, there is a lot of shopping that needs to be done, and you'll probably exhaust yourself once or twice trying to figure out every little thing you'll need once your baby arrives.
Luckily, you can find some amazing resources online that give you shopping checklists for all that you'll need for a newborn. These usually can be pretty extensive and quite vague, so I suggest conducting an investigation of several, and making your own of the items you think will be personally needed by you and your baby.
A good idea is starting with the basics:
Crib
Feeding supplies (either breastfeeding or bottles)
A diaper stash of several sizes
Diaper changing table or area
Diaper pail
An assortment of outfits and sleepers
Blankets and burp clothes
Swings, baby seats, or other comfy infant furniture
Bath stuff
And more!
Getting yourself familiarized with many of the must-have new baby items you'll need to shop for first can simplify the process later on. Ask around for any second-hand items and don't start shopping until you've been given all the donations coming your way from friends and family.
Staying Organized
Once you've decided what all is left to buy, you want to make sure you get it done in a timely manner. Lists will be your best friend right now, and make sure you keep them updated. I liked to organize my list into sections for different parts of a baby's life. Bath, bed, feeding, play, etc… and I tackled each one individually.
It always felt good to retire a list when I got everything marked off!
Slowly but surely, your collection will begin to come together. It's important to also stay organized as you shop, too, not just ahead of time. Don't make a giant stockpile you have to sort through later, but instead set things up and put them away as you purchase and receive your items.
Finding Inspiration
Another great piece of advice I find to be sorely undervalued is that you should make this whole process fun, too! Decorating and styling your nursery, baby areas, and even the things you buy for your pending bundle of joy can be a great deal of fun if you let it be. This is your chance to be creative, so if your budget allows, get unique with it!
A great source of inspiration for me was Pinterest. You can search all sorts of keywords and phrases, such as nursery ideas, nursery organization, DIY baby stuff, and more! With these tags, you can get a beautiful arrangement of visual inspiration, and they will often redirect you to sites with tutorials and online stores to bring your vision to life.
YouTube also is a great place to get excited by your baby stuff shopping! Follow some mommy bloggers or pregnant YouTubers, or even check out some interior decorator channels that focus on baby stuff.
---
Time To Shop… But When To Start?
The easy answer to this question is as soon as you're ready! Many moms are eager to jump right in from the moment they discover they are pregnant, but if this isn't the case for you, no problem. You've got plenty of time to get bitten by the shopping bug, and it'll happen!
Having a cluttered home full of unused baby stuff for months on end can be frustrating, and make the waiting all the more difficult. Plus, you want to avoid shopping for things too early, in the event of a tragedy in the form of a miscarriage, or even a false negative. Usually by the second trimester, your pregnancy can be considered definite, but your doctor can provide more information about that for you.
Once you know you're all set and the baby is doing great and you're healthy and up for it, start spending that money! Take the time to plan ahead, of course, but after that… what's holding you back?
An important note to keep in mind: Try not to wait too long before shopping, either. You don't want to be ready to burst and still rushing around for a crib and enough onesies to survive the endless stream of poop and spit up that will become your existence for a few months. Around the start and early stages of the second trimester is when most shopping begins, but bigger items tend to wait for closer to the due date.
---
How Much Should You Really Spend?
Every family will have a unique budget that fits their specific financial situation, as well as what works for their home and parenting styles. It's hard to give a genuine price range for what a parent should spend on their baby stuff, because that number will vary based on circumstances.
However, it is important to note that the average American spends up to $12,000 on baby stuff during the first year of their life. A lot of this number comes from many one-time expenses such as a crib, car seat, and swings. This may be a good ballpark to start with as you create your budget.
No matter what your spending limit is, having a good plan and a general idea of when to cut off the cash flow is a good way to avoid making financial mistakes or going too overboard with the spending.
---
6 Top Tips For Baby Shopping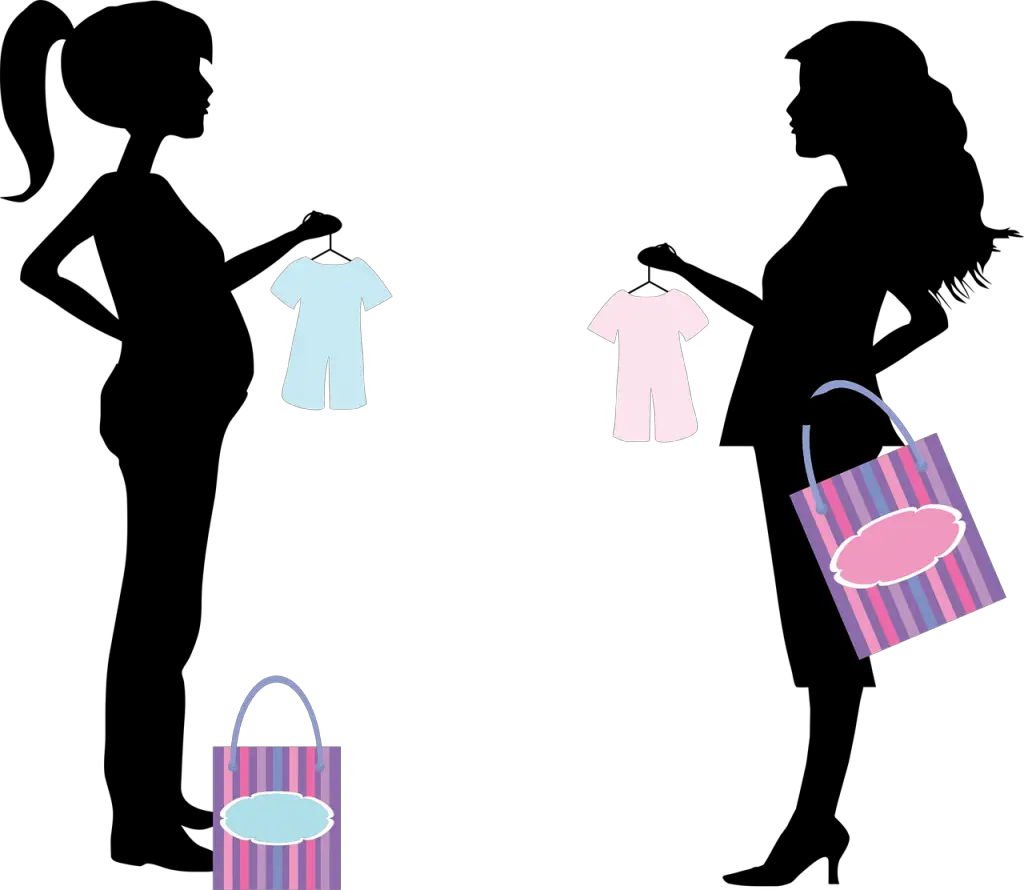 Getting through the long process of gradually building your collection of infant essentials won't happen overnight, but these handy tricks will make it feel like it!
1. Make Storage Room First
One major issue that several new moms run into during the shopping spree phase of pregnancy (which can last the whole nine months for some of us!) is finding room to put it all. From boxes of diapers to play pens, swings, and oodles of toys; it's tough to make that sort of room.
A great way to avoid running into excessive clutter in your home that will just stress you out more is by planning ahead and designating specific areas for storage. Maybe the nursery closet can be left available for all the goodies you'll find while shopping for the next few months, or maybe it's a corner in the bedroom. Whenever you decide, make sure you have plenty of available space for your new baby stuff before you begin carting home all those bags and boxes.
2. Utilize Online Shopping
Listen… the last thing you want to be doing while pregnant, especially later on, is be on your feet pacing through malls. My relationship with shopping is very love/hate. Getting new stuff is great but the actual process? Sometimes it's gruesome.
My easy life hack to avoid the hassle of shopping? I get pretty much everything online. The amount of online stores and incredible prices alone is enough to keep me away from shopping centers forever, so I try to purchase as much as I can online, including my baby stuff. It may not work for all of your needs, but you can check off most of your list right from your phone or computer!
3. Create a Baby Registry
This is an easy, classic go-to move for most pregnant moms expecting a baby shower or party of celebration. But even if you're not going to be having a party, I've found that making a wish list or registry can be extremely helpful. A lot of people would ask me during my pregnancy what all I still needed or if I was looking for anything. Whenever they asked, I simple directed them to my registry or wish list!
Amazon makes this especially simple with its wishlist feature. I recommend making two lists or registries. One with the essentials, and after that, one full of all the cute baby stuff you probably don't need… but boy, do you want it! This is also helpful so loved ones get an idea of what you have yet to buy. Maybe they see it on your list and have a secondhand version for free!
4. Stick To The List
Every pregnant mother gets a little over excited and buys some luxury baby items at some point. It's part of the whole experience, but the problem arises when it stops being a couple of cute things here and there… and becomes something else entirely. We all love the outfits, the booties, and the frilly, lace dresses, but in reality, you're going to be sticking with the basics.
You don't have to entirely cut yourself off from all frivolous spending, but be extra mindful. It's shocking how quick your eyes can get away from themselves, and if you're not careful, you'll have less money reserved for the really important items and way too many cute outfits and pacifier designs than you ever need. Stick to your list of essentials first, and worry about fun extra things later.
5. Thrift First!
Yardsales, second-hand stores, Goodwill, and several other establishments will have an excellent selection of baby stuff for way cheaper than retail price, and you can find some amazing products you'd never have found otherwise! Some of my favorite go-to baby items when my son was a newborn came to me used from the most unlikely places.
Baby stuff is expensive and all of that shopping adds up quickly! Even if you're not in a position where you need to save your money and budget strictly, it's a good idea to stick with some good deals as often as possible. The spending doesn't stop when the baby is born; in fact, the older they get, the more expensive they become!
6. Be Aware Of Your Home Space
In a world where apartments, young families, and rental homes are growing almost more common in popularity and occurrence than the alternatives, it's important to be strategic about your home nursery. Sometimes it's not realistically possible to fit everything you want into the space you designated for it.
Take inventory of your home, and make notes of the layout, and try to plan ahead for how you want your environment to be arranged. I found it best to have little stations in each major room that held plenty of essentials; rags, breastfeeding necessities, pillows, and whatever else would be handy. Getting an idea of what you have and don't have, and where it will go, can help you get a grasp on what you really need to buy.
---
Final Thoughts
When to start buying baby stuff? This article covered all of those details.
Shopping for baby stuff, as fun and thrilling as it can be, is a time consuming task that requires much more thought than you'd imagine it would need. In order to minimize stress and unnecessary fuss and expense, follow these helpful tips and tricks for an easier, cheaper time getting everything you need (with some fun extras included!). Before you know it, your home will be transformed into a world for the smallest humans on this planet; your precious baby.
(Visited 44 times, 1 visits today)