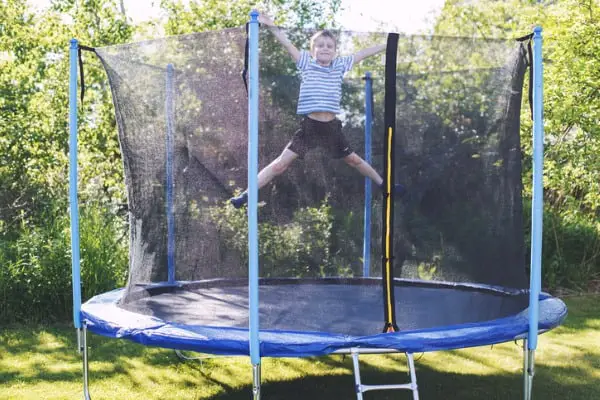 Nothing gets a kid more excited than knowing that they're going to have a trampoline in their backyard.
Trampolines have been a tried and tested way of keeping kids active while making sure that they are getting enough exercise during playtime as well.
What better way to make things fun in your backyard than giving them this to play with. Trampolines are a lot better than they used to be.
They offer more bounce, there are better safety measures installed, and most importantly, some of them now come with a basketball hoop.
The freshest backyard activities are trampoline basketball hoops in many neighborhoods right now. Is it really worth the buy?
Basketball And Trampolines Combined
If your kid is a huge basketball fan, then he or she will certainly enjoy this latest iteration in trampolines.
Simply put, it's your usual trampoline but it comes with a backboard and a basketball ring which adds a whole new meaning to the term, trampoline fun.
It's a good fusion, to be honest. With a trampoline, your kid can jump as high as they can.
With a hope installed, they can make baskets as much as they want.
They can also dunk if they want to! It's much better than your regular trampoline which makes buying one or upgrading to one well worth it.
Benefits Of A Trampoline Basketball Hoop
At the very least, trampolines are actually a great form of exercise. You and your kids might not feel it as you having so much fun. In truth, you are using a lot of leg and core strength and jumping around a trampoline. This action alone helps you burn calories during playtime and that's always a good excuse to get a trampoline.
Now consider this benefit and partner it with the fact that you are burning more calories as you are trying to score hoops over the ring.
This means your kids can get an even better workout as well. Whether they dunk of their shoot, they're going to spend more energy than they use to as compared to when they are plainly jumping around.
Another benefit is that the hoops add an extra layer of fun to your basic trampoline.
Your kids will certainly enjoy this new twist as it adds a lot of extra fun as well.
When they are using this trampoline, they can even think up new games with the basketball hoop in mind. As the pandemic has basically forced your kids indoors, buying a trampoline would be a great way to get some fun and exercise in their daily routine.
Trampolines aren't exactly as expensive as pools or even gaming consoles. It will be fun on a budget that your kids will appreciate.
If you want to surprise your kid with something new and fun, then it might be time to get a trampoline with a basketball hoop.
It's something that you can definitely enjoy as well if you are a fan of basketball, you can enjoy it as well.
(Visited 17 times, 1 visits today)