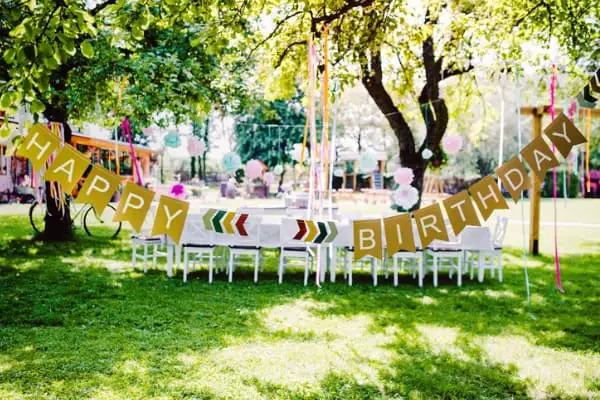 You wanna come to a super soft birthday party?
The fight scenes in Letterkenny are so bad they're good.
But I don't need to convince you that super soft birthday parties are never bad.
And throwing one is easy – so easy that you could do it in just nine steps!
To stay true to the show, remember that it's best to throw the party outdoors. We're talking unicorns and rainbow party decor, after all.
Let me run you through the steps quickly so you can get to putting it together ASAP.
1. Make Invitations
Making birthday party invitations like we would, in simpler times, is no longer considered "hip."
However, blogger Kristen's genius invitation idea is a must-execute if you're throwing a super soft birthday party!
The invite stays true to the birthday theme and inquires Wayne-style if they'd like to come to the birthday party.
All you have to do is visit Kristen's Dropbox and print it out!
Printing it on card stock paper is the way to go – the colors look more decadent, and the invite is sturdier.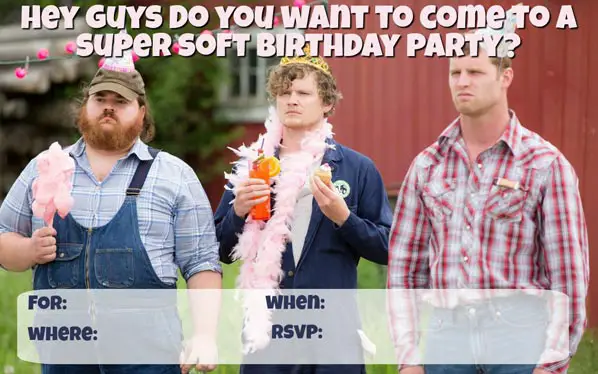 All credit for this hilariously genius idea goes to Kristen from the Musings of an Average Mom blog. Her blog post highlights a ton of other ideas for a Letterkenny-themed birthday party, so make sure you check it out!
2. DIY A Cupcake Decoration Station
Cupcakes are the softest of birthday party food ideas, and having a cupcake decoration station is a MUST.
Luckily, Linda, from the Bubbles and Sweet blog, has just the guide for you!
For her daughter's ninth birthday, Linda decided to throw a cupcake decorating party.
She makes all her cupcakes using a cupcake mix, making things quicker and easier and uses ready-to-spread frosting for decorating.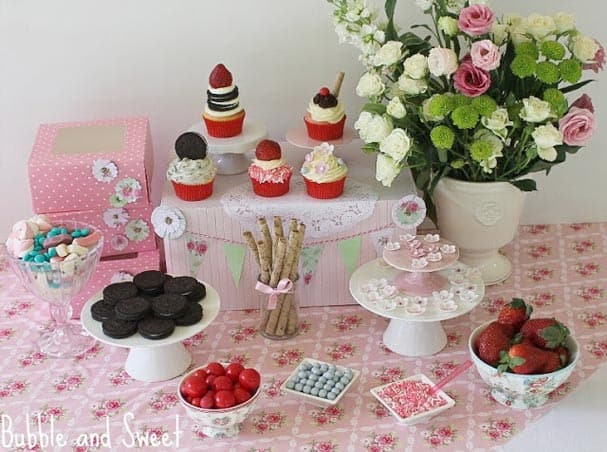 Linda includes recipes for "Cookies and Cream" and "Sundae Best" cupcakes, but her "Pretty flowers and pearls" and "Strawberry forever" cupcakes are what steal the show! You can find the recipes on her blog, Bubble and Sweet.
3. Make the Birthday Sign
Making a birthday sign just like they did in the show is very easy!
Cut a paper roll to size and use a pencil to mark "Happy Birthday Bestie!!!"
Paint the letters pink, and outline them with purple paint.
BOOM. Birthday sign ready.
4. Make the Strip Lights
Strip lights are essential birthday party decorations.
And you can DIY the red strip lights they use in the show with ease!
YouTuber VENTUNO ART shows off how you can make paper garland balls for your strip light.
All you have to do is stick strips of red craft paper in a particular pattern and you've got a great start to some super soft birthday party decor.
5. DIY Tiaras
Tiaras are the softest birthday accessory EVER.
And you can make these for a birthday party yourself using a skinny plastic headband, 24-gauge floral wire, and pink plastic beads.
Corinne, on the ThreadBanger YouTube channel, breaks the process down for us wonderfully.
Following her step-by-step tutorial will allow you to make a tiara in an hour or less!
6. Get Pink Boas
Unfortunately, there is no way to DIY boas.
However, these come very cheap, so there's no real need to DIY them.
Here's a high-quality pink boa you can buy online:
7. DIY A Table Skirt
Making a table skirt is a lot easier than you think. All you need is a white cloth to cover the top of the table and the skirt's pink fabric.
YouTuber Lorena Scofield has an excellent tutorial on making a pretty pink table skirt.
After you cover the top of the table, you must begin the skirting by pinning the skirt cloth at any point.
Leave a two and ½ inch gap and pin the skirt again. Fold the cloth back to the initial point and pin it back. Repeat until the skirt is ready!
8. Make Some Fruity Drinks
Making the right drinks is the key to throwing a 10-ply soft birthday party!
You can make any of these drinks:
Corabella love potion
Purple passion punch
Lemon gingerini
Flirtini
Sparkling mango sorbet float
But of course, there are several other options that I haven't covered. Make whatever you think your guests would enjoy best!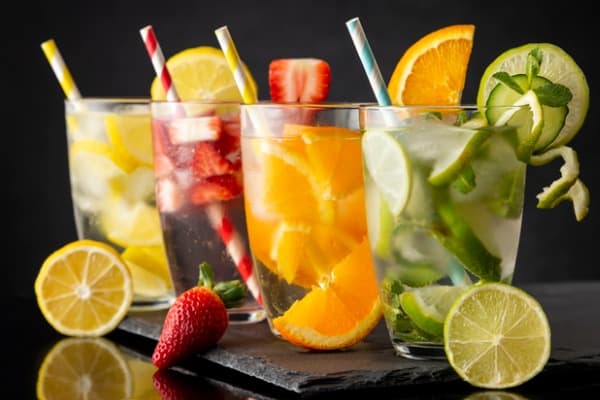 9. Dress Up A Horse as A Unicorn
Do you want this to be the softest birthday party or not?
Then you NEED to get a horse and dress it up as a unicorn.
Dressing it up is the easy bit – just braid the horse's mane like they do in the show.
Managing the logistics for the horse, though, will get hectic.
But don't sweat it if you can't arrange for a horse – you can always DIY a unicorn pinata!
Kelly Sanderson shares a super-easy way to do it.
She tapes two balloons together and uses paper mache to strengthen them. After the cast is ready, she slips string and candy into the body via doors.
After attaching the legs, ears, and horns, she paints the unicorn and makes it look fabulous!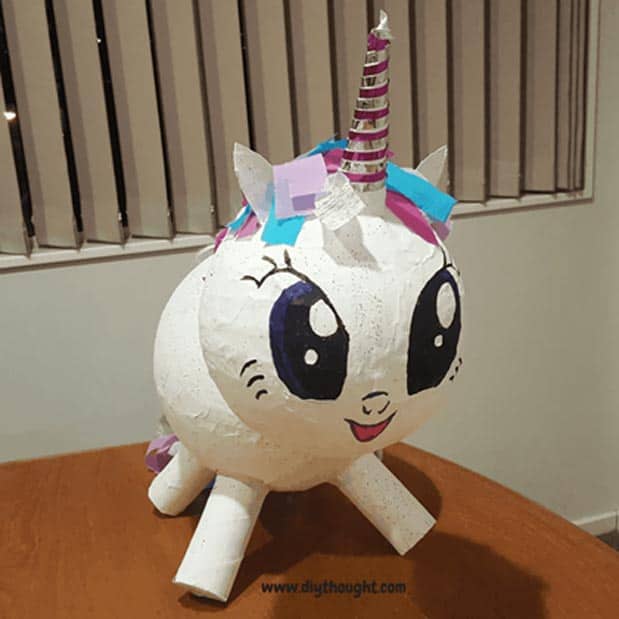 You can find Kelly's full tutorial on her blog diyThought.
BONUS: Set Up A Projector Outdoors to Watch the Episode
It's the perfect cherry on the cake! (pun intended)
If you have a projector, hook it up outside, or ask friends to loan theirs to you.
Enjoying the fight scenes in Super Soft Birthday (Season 1, Episode 2) is an excellent final flourish!
—
And that concludes my blueprint to a Daryl-approved birthday party!
Make sure everything is pink – from the cake to the balloons and birthday party favors. The party has to be SUPER soft, after all!
Don't forget the belly slap – you must keep with Canadian traditions!
(Visited 132 times, 1 visits today)