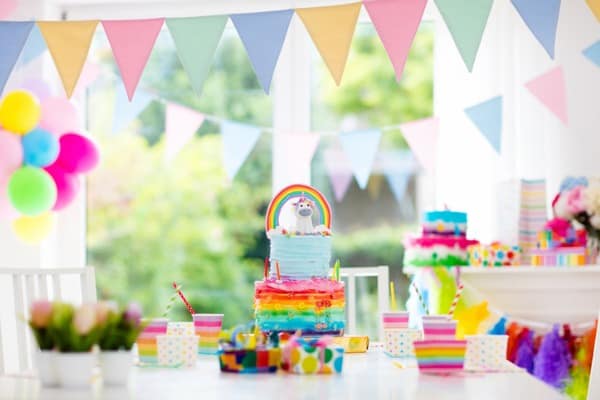 Is your little one's birthday coming up? Are you in a pinch for ideas for the birthday party theme?
How does a fun, color-filled rainbow birthday party theme sound?
The vibrant theme will enliven the mood of the party, and ensure that it's memorable for both your child and the guests!
Plus, putting it together is easy on the wallet and on the mind. You don't have to pull off complex designs!
Convinced?
Here's a list of some of the internet's best DIY rainbow birthday party ideas that you could execute with ease!
1. Rainbow Loom Birthday Party
The rainbow loom birthday party idea is perfect for elementary aged kids.
Sharon Rowley from Mom of 6 presents a DIY to create a rainbow loom activity table consisting of metal hooks, a loom, rubber bands, and c-clips.
Add these in plenty and write an instruction manual for the birthday guests to make colorful bracelets to give each other.
Allow up to an hour for the kids to make these beautiful rainbow colored bracelets.
If you're in a hurry, you can buy readymade rainbow loom kits with the instruction manual online.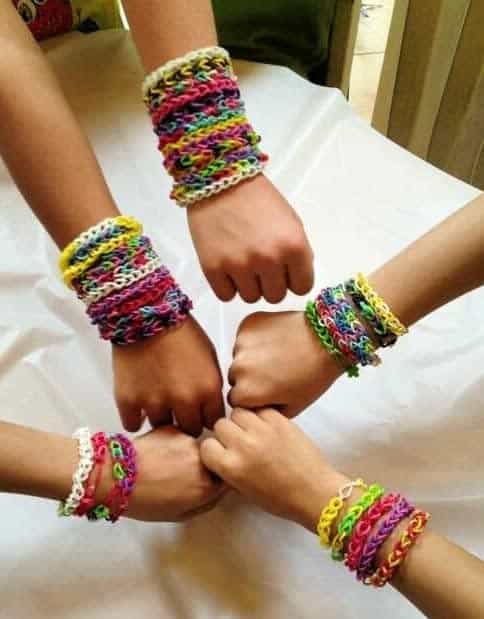 Sharon shares a detailed tutorial on her blog Mom of 6. Make sure you check it out!
2. 7 Layer Rainbow Smoothie Game
This seven layered rainbow smoothie is one of the ultimate rainbow birthday party food ideas.
With the smoothie, you can sneak in some nutrition before the kids begin to gorge on the cakes, pastries, and the ice-cream.
But here's how you can make it a game.
Toss a chocolate coin at the bottom as you make the smoothie. Ask the kids to find it — like a mini-treasure hunt!
Then watch the fruits being gulped down in an instant!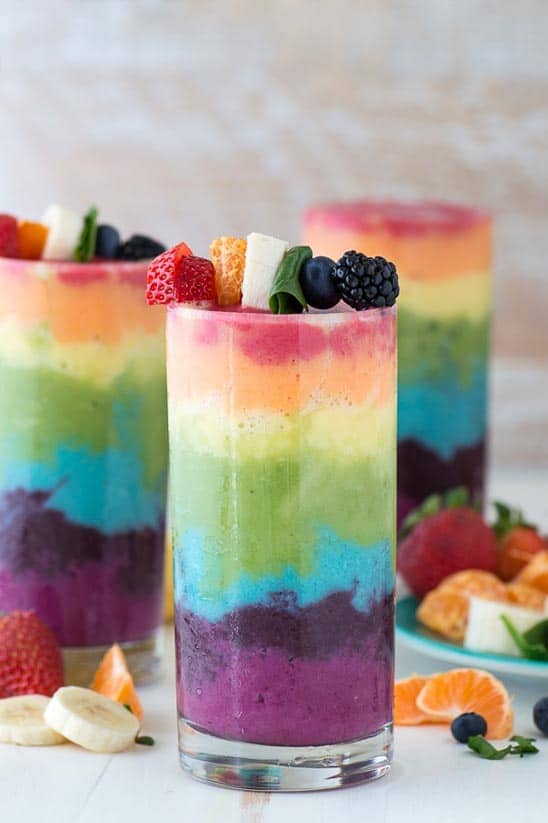 Beth shares this GENIUS idea on The First Year Blog.
3. Rainbow Palette Art Party
Combine your rainbow birthday party idea with an art activity.
Give the kids their own paint and easel sets and watch them go crazy being miniature Picasso and Monet!
You can buy pre-filled palettes of bright rainbow colors, too!
By throwing an art party, you'll be teaching the kids to flex their creative muscles. You'll also be encouraging healthy competition — all in a fun way!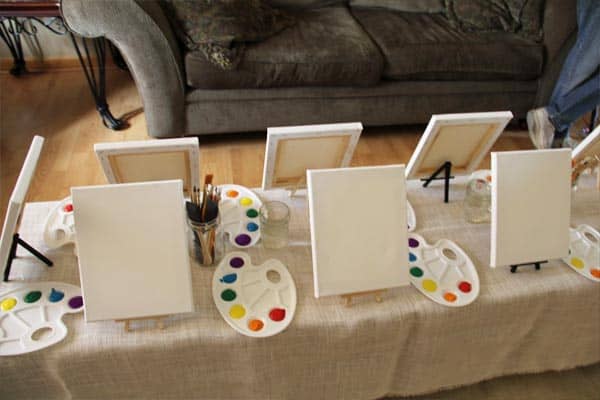 Find out how blogger Meg Herald planned a rainbow palette party for her 6-year old daughter Riley on her blog!
4. Cardboard Rainbow Blowers
I know for sure that these rainbow blowers made with cardboard tubes and plenty of tissue paper rolls would be a massive hit with the kids. These are recyclable, so you have nothing to worry about!
Kids will enjoy seeing the colorful steamers blow and float about from their rainbow blowers.
Once the kids have had enough of them, you can hang them up as pretty windsocks.
The best part is, you only need some cardboard tubes, tissue papers, and acrylic paints to make these!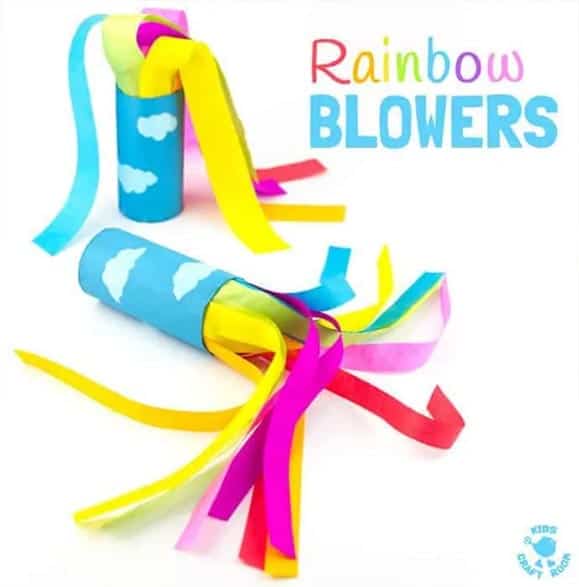 You can find a comprehensive guide to making these on the Kids Craft Room blog.
5. Rainbow Birthday Party Invitations
The Mr. Printables blog shares an excellent surprise rainbow birthday invitation idea.
To pull it off, all you need to do is print the patterns the blog supplies, and write the names of the guests on them!
Easy-peasy!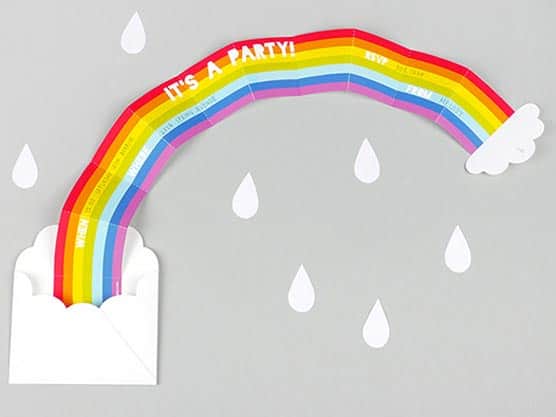 Head over to Mr. Printables to find and download the fantastic invitation card for your child's rainbow-themed birthday party.
6. Rainbow Fruit Pizza
Pizzas are a favorite party food – it is easy to make and easy to eat!
Erin Clarke from Well Plated gave a twist to the good ol' pizza by adding a dash of fruits and Greek yogurt!
Her recipe is several times healthier, and kids enjoy it, too! It's PIZZA, after all!
Shape the dough in a crescent, and use vanilla Greek yogurt as the sauce. Top it with fruits, and that's it, you have healthy pizza ready to be served!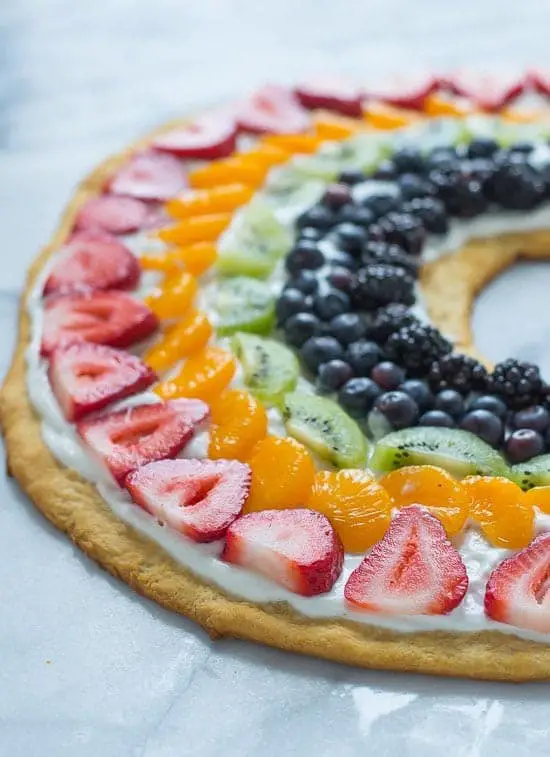 Check out Clarke's post on Well Plated for the detailed recipe.
7. DIY Balloon Arch
Create a big festive splash for your party with this rainbow birthday party decorations idea!
You can place these balloon arches as a background to the rainbow birthday party table. Jordan from the Oh Happy Day blog explains how to DIY the balloon arches.
Throw in multiple 6″ balloons and twist four blown-up balloons together for a clover leaf appearance.
Put each clover group together and gently turn them with wire for the desired appearance.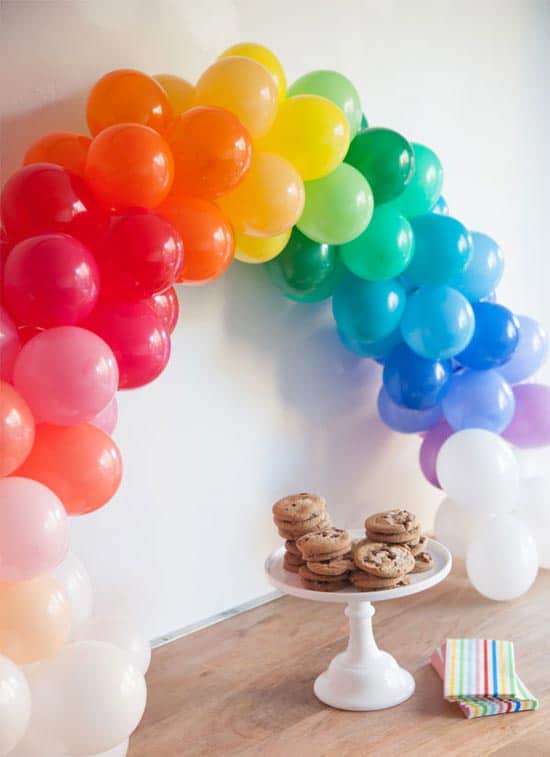 You can find the detailed instructions over at Oh Happy Day.
Psst… there are plenty of other versions of this rainbow balloon art approach you can do. Just use your imagination!
8. Rainbow Cake Toppers
These modern cake toppers are a beautiful way to make your rainbow birthday cake look cool and attractive.
All you need are felt balls/gum balls, jewelry wire, and a cake.
Alternatively, the cake toppers can be made with felt balls or with medium-sized gumballs.
But you must be careful not to hurt yourself with the jewelry wire.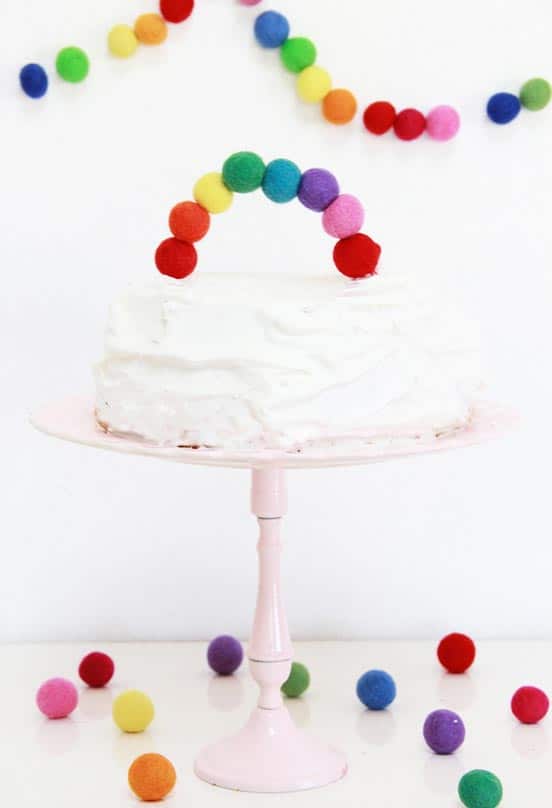 A Subtle Revelry writes the complete DIY process. Check it out!
9. DIY Confetti Party Favor Bags
Make your own rainbow colored confetti party favor bags to package up birthday party favors and little treats.
Malissa and Machelle at A Joyful Riot write about how they used glassine bags, sticker papers, and printable confetti designs to create randomly designed confetti party favor bags.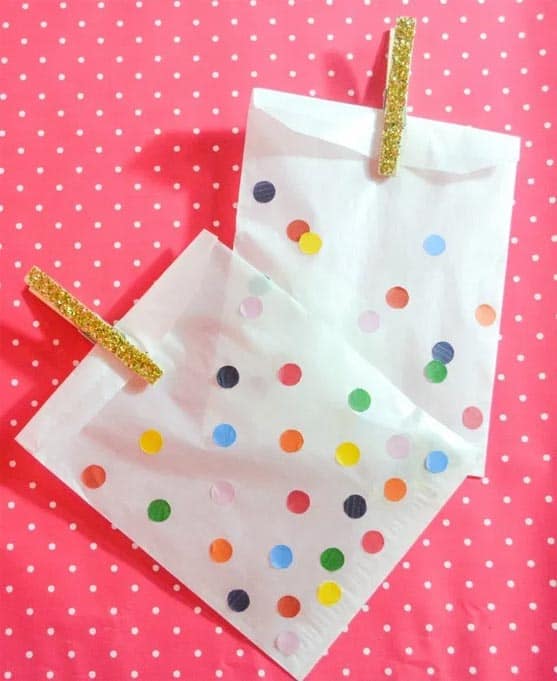 These are cute, classy, colorful, and simple – perfect for a rainbow birthday party! Find out how the duo make them on their blog, A Joyful Riot.
—
Putting together a rainbow birthday party with these rainbow birthday party ideas should be super easy!
Don't be afraid to give the ideas your own twist if you're short on materials or are just feeling creative.
That's what DIYing is all about, after all!
(Visited 1 times, 1 visits today)