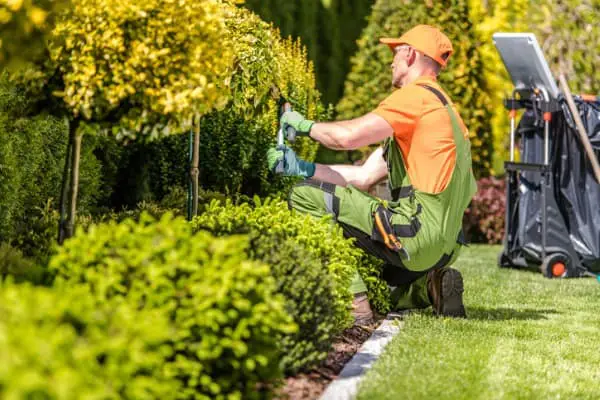 A lovely garden can remarkably improve your home, look expensive and make it more valuable.
You may be too busy for lengthy gardening jobs.
This article will comprehensively examine some low maintenance small garden ideas you can create. So more relaxing for you and yours, and less weeding!
If you are keen on ultra-low maintenance methods of styling your outdoor living space but still maintaining a classy and stylish look, then you should consider garden decking boards.
Decking your garden is one of the best ways you can style your outdoor living space.
From flower-filled gardens that exude traditional charm to contemporary hideaways, composite decking is an ultra-low maintenance way of creating an ageless and unique garden.
Regardless of the size of your garden, composite decking boards can take center stage and blend effortlessly with your surrounding space.
The benefits of composite wood decking cannot be overemphasized.
They are realistic, ooze confidence and class, have a lot less maintenance than natural wood and are flexible enough to be tweaked to your style.
You won't have to worry about rot, termites, expansion or contraction, splinters, or literally any of the issues that come with traditional wood.
Here are some low maintenance small garden ideas you can use to create a unique outdoor space exclusively to your tastes with decks.
1. Priorities Simplicity
If you are working with a small garden shape and size, you have to prioritize simplicity in your design. Rectangle and square decks provide lots of usable square footage and are usually easier to scale appropriately to your home.
To avoid some expenses you may not budget for, like railing, consider building your garden deck to stay low to the ground.
Simple designs also ensure you will not spend too much when the need to maintain arises.
2. Touch of Color
Although composite wood comes in natural and vibrant colors like grey, brown and anthracite, most times it does not need painting; however, you can add a splash of color to suit your tastes and stay in sync with your home.
There are many colors and shades to choose from. Each hue has its personality and is capable of instantly altering the ambience and tone of your outdoor space.
Some homeowners choose grey because of its modern aesthetic, but bright oranges also represent a bolder choice. If you want an air of sophistication, then your best bet is dark wood.
You are also not restricted to a particular color. You can peruse many options, from minimalist shades to the strikingly modern.
3. Consider Shape Shifting
One of the best ways to make your garden space stand out is to create a decking with a different shape from the conventional square or rectangular.
Octagonal and Hexagonal decks are becoming increasingly common recently, mostly when used to separate levels and zoning.
Although the space you have to work with might not exactly be octagonal or hexagonal, you can still mix things up by incorporating cut-out areas within the deck.
You can dedicate the cut-outs to flower beds for an ultimate mix of class and color.
4. Keep Accessories Minimal but Stylish
Your finishing touches will play a part in how the entire outdoor space looks like. You do not have to break the bank in adding accessories, and you should keep it minimal because of maintenance.
There are several ways you can keep your garden decking from being elaborate but still ooze class and comfort.
From plant pots to fire pits and hot tubs, decking lends itself to numerous optional extras that can create comfort but still stay within your budget.
Some garden deck boards can be modified to make a built-in bench that will match your deck and retain the ultra-durable properties of composite material.
5. Incorporate Steps or Levels
Incorporating steps into your design is another great way to inject more life into your deck and make it look stunning. It also ensures you effectively make the most of the small space you have.
This is another great way of splitting your garden deck into zones. Having steps and leveling your deck ensures you can have multiple activities there.
You can dine in the lower are and use the upper partition for socializing with friends and general lounging.
(Visited 29 times, 1 visits today)