Do you need to cross the ocean but don't want to leave your dog on the other side? Or maybe you want your pet to accompany you on your journey of a lifetime?
Despite the numerous difficulties, it's not impossible. There is hope for your fur baby to experience exciting sea travel with you.
The travel industries often neglect dogs, and taking your pet to airlines and trains poses a challenge, not to mention the ferries.
You have to be prepared very well for all the obstacles ahead. Be aware of all the requirements of the operators of ships and ferries that you want to travel with.
Take care of your pet's comfort and be sure that the trip would be as enjoyable for it as for you.
Dog-Friendly Cruise Lines
Before you start asking questions like: Can dogs eat shrimps? Would my pet vomit on the deck?
What would it eat? (The answers are yes, no, and whatever it wants, but that's not the case.) Figure out where you have permission to take your dog, as there are not plenty of sea-lines that allow doing it.
When it comes to cruise ships that let dogs on board, there is only one long-distance passenger vessel to carry pets – Cunard's Queen Mary 2.
The vessel is specially adjusted for pupils and has special kennels where they can stay. The Kennel Master (full time "pet master") walks and feeds them and plays with them.
Pets are accepted on all transatlantic crossings, and they're equipped with 12 kennels, which size can be adjusted to your pet according to Pet Size Guide.
If booked one month in advance, the cost of booking a kennel is between $800 to $1,000. If you are a dog owner, you can, of course, visit your pupils, but they have separate space just for their needs.
You don't have to worry that your pet would suffer from any discomfort. They have companions and professionals who make them feel at home. It's a great way to cross the ocean with your dog.
Private Yachts
Taking a pet on a private yacht is more accessible but still challenging.
To take your pupil on board and visit another island, you need to check whether each port hires an official to verify your dog documentation and a vet to inspect it.
Moreover, you need to check each island you intend to visit.
Each of them might have distinct requirements regarding documentation and certificates.
The best what you can do to be sure that no surprises happen on your way is to prepare import permits, a microchip, rabies, and health certificates – everything in advance.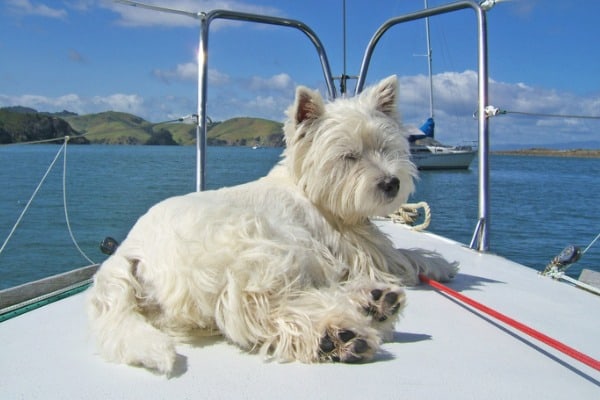 For instance, if you travel within the European Union, you would need an EU veterinary certificate.
Usually, they are required only if your dog is leaving the boat, but it might happen that you wouldn't be able to anchor the yacht without specific documentation.
Guide Dogs
As you see, only in very few situations it's permitted to take your pupil on the cruise. However, an exceptional case is an assistance or guide dog.
Any ship should provide you with information about special permissions and requirements. If it's not allowed, the operator should provide you with an explanation of the reasons for the ban.
You will need documentation to prove that your dog is specially trained for assistance. It can be an ID book in your dog's collar.
The additional necessary document that you should prove your operator with is your European PETS passport, checked before boarding the vessel.
But don't worry – the verification methods are fast, and if you're just about to go on the sea with your dog and lack the documents, it doesn't take long to get them.
Additionally, it would help if you remembered that even though it's permitted to take your dog with you, the vessel might not be professionally prepared for your dog's unique needs.
Ensure which facilities are on the board and take care of your dog's food ahead of the journey.
Moreover, often there is no veterinary staff onboard a cruise ship, and not all ports have veterinary support at hand. Before you decide to take your service dog with you, go to the vet, and check if it's in good health condition.
Conclusions
All the dog lovers should only hope that the number of initiatives like Cunard's Queen Mary 2 would rise.
For now, however, we can cherish only a few options to let our four-legged friends accompany us on the sea journey.
You can also think of the local cruises. Going abroad on the seas, as you see, demands a lot of preparation.
However, short cruises in the day-time on passenger boats are more accessible and equally fun.If you are looking for an alternative, consider boating with your dog!
It's not a long cruise, but you can feel the wind in your hair. Dogs are instinctive swimmers, so the rays of the sun wouldn't be fun only for you.
Get them a lifejacket, don't allow them to drink water from the lake or sea, and enjoy a sunny ride together.
(Visited 65 times, 1 visits today)