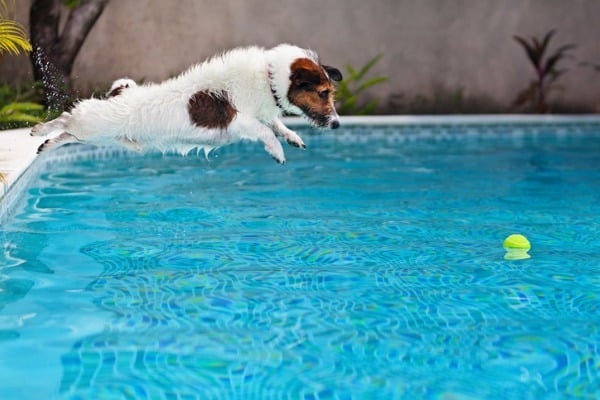 If you have a backyard pool, you need to think about pool safety, not just for your family, but for your pets. 
It's all fun and games when everyone is outside together, but what happens when you let your dog out at night for a bathroom break, or you're busy barbecuing?
A pool is a great way to have fun, but without proper consideration, a pool is also a potential hazard. 
Dogs can fall in the water, or jump in willingly, and have difficulty getting out. This can put their safety into question. 
Some dog breeds are especially fond of the water. Poodles, Golden Retrievers, and German Shepherds are enthusiastic swimmers.
But no dog breed is more water loving than Labradors. 
Labs just love the water and will jump in even when it's not time to swim. This gets really scary in the winter. Your dog doesn't know how cold the water is.
If they jump into unsafe water, it could be very dangerous, for both your dog, and you – their trusted rescuer. 
To keep your pet safe, we have some practical tips for pool safety and dogs.
1) Have designated swim time
Only let your dog swim when people are also swimming or when you are actively playing fetch with them.
You want to teach them that the pool is only open when you have given them permission to swim.
Give your dog a command to get in and out of the pool and give them a reward when pool time is over. Always get them out of the pool when the people are out of the pool so they learn not to swim when no people are present. 
2) Practice getting out of the pool
Dogs can drown in pools because they don't know how to get out and they become exhausted or panic.
Make getting out of the pool a fun game by rewarding them for getting out of the pool themselves. This way, if they do go into the pool when people aren't around, getting out safely will be second nature. 
If you don't have an easy way for your dog to get out of the pool, consider adding in stairs or steps (see examples) that will make it easy for your dog to get out safely. Dogs will have difficulty with a ladder so invest in something safe for them.
3) Prevent unsupervised swimming 
If training your dog isn't effective, consider installing a safety fence around your pool to prevent your dog and even other animals from getting into the pool in the first place.
Pool fences aren't always the most attractive, but there are lots of options to choose from. For value, find a removable mesh fence. For style, you can get a tall plexiglass fence. 
In any case, the fence prevents accidental swim time and decreases the chances of anyone falling in. 
4) Use a pool safety cover in the winter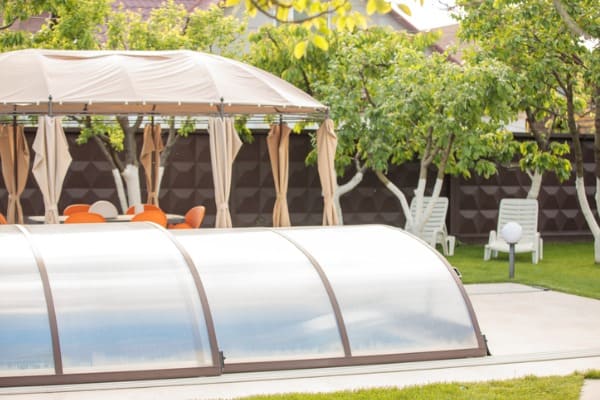 The winter months are especially dangerous for dogs and other animals. Even if your dog is a highly trained service dog, and wouldn't swim under normal circumstances, backyards with snow can create confusion.
An uncovered pool after a snowstorm can create conditions that would allow a dog to fall into the freezing pool or through ice. 
Investing in a pool safety cover creates a sealed platform that prevents anyone and anything from falling into the water over the winter months.
Not closing your pool with a pool safety cover like these creates a hazard for dogs, people, and even other neighborhood animals like squirrel, mice and racoons.
And hey, it also makes it easier to open your pool in the summer.
If your dog does find their way into freezing water temperature, do not jump in after them. Humans can only function in the ice for a couple of minutes before going into shock.
Dogs likely have 10-15 minutes. If they aren't swimming, they may be in shock, but they can survive the cold. 
Look for something to help your dog out or guide them to the stairs. If possible, call another person outside in case you endanger yourself while trying to rescue your dog. 
The bottom line
All in all, dogs love to hang out with you in the backyard and even enjoy some pool time. It's up to you to make sure that having a pool is safe for everyone.
Just as it's essential to make sure that everyone in your family knows how to swim, make sure your dog is comfortable getting in and out of the pool and knows the rules of the pool. 
Now you're all set to enjoy summer pool time with your dog and stay safe all winter long.
(Visited 58 times, 1 visits today)