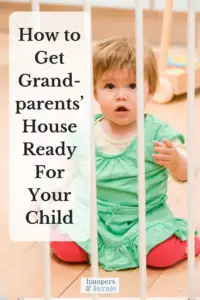 You might have big dreams of being your child's most favorite person, but the truth is, they might look to your parents for that honor. And can you blame them? These are humans who are always excited to see your baby, always want to have fun, and – when they're older – are slightly more forthcoming when it comes to gifts and treats. They'll provide a service to you, as well, as they'll be on hand to provide a babysitting service when you have to run errands or the occasional date night. But since you're leaving your child there, it's important to get the Grandparents' house ready so that it's a fitting space for a baby or toddler. It may have been some time since your parents have had a child in the home!
Making it Safe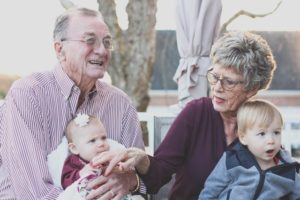 Above everything else, safety comes first. When you brought your child home, you will have taken many steps to make sure there was nothing there that could potentially cause injury to your little bundle of joy. If your baby is going to spend a lot of time at your parent's home (with or without you), then you'll have to perform the same task there. Of course, you don't need to go through the entire house and make it baby-proof, but you should focus on one or two key areas where your child will be spending the bulk of their time.
The Essentials
Your home is a treasure trove of everything you could possibly need for your baby. Their grandparents' house? That's not going to have any of that stuff. If it seems likely that your baby will be there a lot, then it'll be worthwhile investing in some of the essentials that they'll need. They'll need things like a baby-changing table, and baby food. It'll also be worthwhile reading this review on the 3 most popular high chairs, as it'll be something that your grandparents will get a lot of use out of! If they've got all the essentials in the house, then they'll find it easier to manage all the energy and tasks that a baby brings.
Entertainment Options
Your baby isn't going to be spending all their time in your parent's house asleep (you better hope not, anyway, as they won't sleep when they're back at your place if they do!). As such, make sure they've got some things that'll help keep your baby entertained and having fun. Toys, books, teddies, and a list of their favorite children television shows will ensure your parents are able to keep your baby smiling.
Safety First
If your baby is crawling or walking already, it's time to babyproof! Get
so those little fingers don't get a nasty shock. Also, be sure there are no chemicals or cleaners or dishwasher detergents kept in lower cupboards that the little one can open. If that is where they must be kept, consider a
. Get a
to keep your little one out of the room that has all of the breakable knick-knacks, or to keep him away from the dog, or to prevent falls down open stairways. Advise them to keep the bathroom door shut for safety as well.
Don't Be Too Controlling
It's worth remembering that this isn't the first time your parents have looked after a child. And hey, you turned out OK, right? So while you can enforce some rules and suggest some others to ensure your child is kept safe while they're at the house of your mom and dad, you should avoid being too controlling. They'll have some ideas of their own on how to make their home the perfect spot for your little bundle of joy!
(Visited 20 times, 1 visits today)