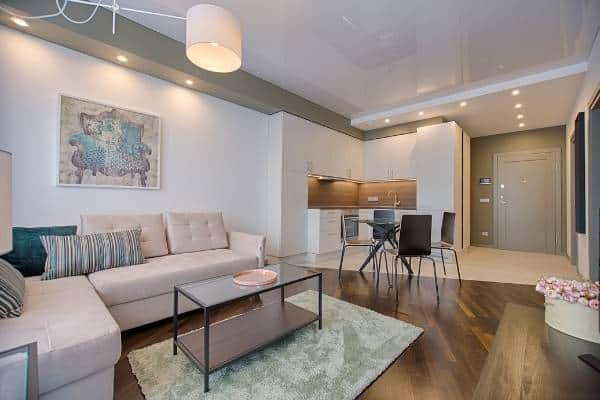 When you're trying to sell your home, the number one tip real estate agents will tell you is to make sure it looks attractive and staged before putting it on the market.
This means that you should fix up the outside of your house as well as its interior, so that potential buyers see how amazing it would look if they move in and take care of it.
Home improvements are one of the easiest ways to increase the value of your house without breaking the bank or disrupting your everyday life.
Before you decide to sell your house, make sure you keep in mind these cost-effective home improvements to make before selling your home.
These projects won't take much time but will give you a big return on investment when it comes time to sell and move on.
1. Small Bathroom Renovation
If you're selling your home, you probably already know that a good bathroom is a must-have.
But just because you're painting, installing new tiles, and giving it a fresh coat of paint doesn't mean it will look new.
Make sure every surface is in top condition, and every fixture looks spotless by hiring a bathroom contractor.
Then, it will be well worth it when potential buyers imagine how wonderful their morning routine could be in your dream bathroom.
And don't forget about your kitchen! Although it might not seem like there's much room for improvement, updating outdated appliances or adding an island can drastically change curb appeal.
2. Fresh Coat of Paint
Given that most home sellers say that a buyer's first impression of a house is a visual one, it's clear why one of the best—and cheapest—ways to add value and maximize returns on your investment is with fresh paint.
New paint can breathe new life into tired-looking rooms and make an old kitchen or bathroom look brand new.
Hiring professional painters will cost you more money upfront, but you may see a greater return when it comes time to sell.
When getting ready for an open house, be sure to hire a painter before you do any renovation projects because paint can affect how potential buyers feel about possible renovations!
For just a few hundred dollars, you can do something that will make your home look more expensive and updated.
Add shutters or some other window treatment to add warmth, character, and value to your home.
Because they can be installed within an hour or two, shutters are one of those projects you can definitely tackle yourself—even if you don't consider yourself handy.
Shutters are also an investment. They'll continue raising your home's value as long as you own it.
3. Landscaping Renovations
A good first step towards making your home more appealing is landscaping renovations.
It doesn't matter if you have a small yard or a large one. Improving upon what's already there can help sell your home faster.
When people walk through your front door, they should immediately be wowed by your place, not just because of its interior design but also because of how nice it looks on the outside.
4. Hardwood Floor Refinishing
Hardwood floors are very durable and can last a lifetime if properly maintained.
If you want to sell your home, make sure that your hardwood floors look their best by refinishing them before listing.
This will allow potential buyers to envision themselves living in your house.
Hardwood floor refinishing can be done with a solid stain or wood color of your choice and takes just one day. You'll also get extra value out of an otherwise outdated feature of your home.
5. Add Basement Finishing Options
Many homeowners consider adding a basement finishing option, whether for living space or additional storage.
Basements are often ignored in home improvement plans, but you can boost curb appeal and increase your home's value significantly by doing a few necessary things.
Having a musty basement or excessive mold, particularly in bathroom and laundry room areas, can be major turnoffs for potential buyers.
Why not get that problem area under control before you put your home on the market?
Hire a pro who can clean and remove mold problems, like attics or basements, while putting steps in place to prevent future mold growth.
The right remediation will also help increase indoor air quality. It may seem like an expensive endeavor now, but it's an investment that can pay off when you sell your home (and keeps family members safe and healthy).
You'll have one less thing on your list of pre-sale worries, too!
How to Focus on the Right Fixes Before Selling Your House
Conclusion
While there are many ways you can improve your home before listing it for sale, by considering these things, you can make an immediate impact on a home buyer's first impression, and you will be more likely to get that sale price.
To make sure that you are making an educated decision about which improvements will work best for your particular home situation, click here to learn how to reach trusted home buyers in Corpus Christi and beyond today.
(Visited 58 times, 1 visits today)