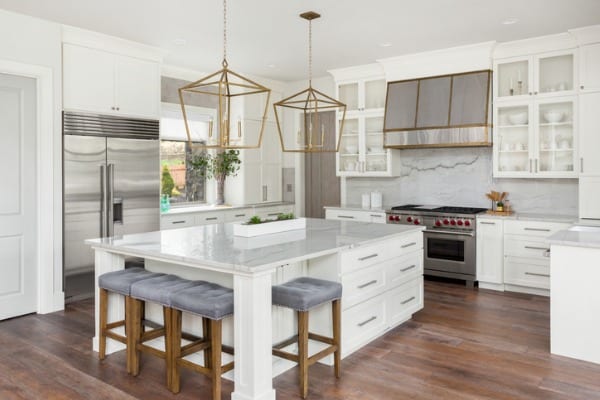 Ensuring a comfortable and problem-free day in a busy household might seem like an achievement for most house owners in the US, but certainly doable, especially if you have the right appliances in your house.
Choosing the right devices can be highly beneficial when it comes to saving money on bills (up to $2000 per month).
If you're thinking of upgrading the appliances in your house, here are a few recommendations that can make your life a lot easier.
Smart Control Thermostats
Tired of your old, beaten up thermostats? You can try a new smart thermostat and save time and money with this new technology!
Smart thermostats are changing the way houses are now being heated, as they can detect where the activity is happening in your house and heat rooms that are in use.
It can also adjust the heat, so it suits the peak times without manually changing the temperature.
With a smart thermostat, you'll be able to add a range of temperatures, so it won't go higher than your temperature preferences.
Like all smart devices, you can either control it from its base or through an app on your smartphone.
Cleaning Supplies
Every house has a collection of cleaning supplies, but most house owners tend to forget updating these supplies every once in a while, especially when moving to a new house.
If you go to website home pages, you'll find a variety of cleaning supplies, including vacuums, washing machines, mops, rags, brooms, dishwashers, dishwashing agents, washing machines, laundry agents, and so on, which are all necessary items for every household.
To make sure that you don't miss anything, you can write a list of all these items and buy them next time you go shopping, or you can buy them online without having to leave your house.
Gardening Supplies
In addition to cleaning supplies, gardening supplies are indispensable if you're moving to a new house.
Your front and backyard might require some work, and you'll need a variety of gardening tools for that purpose.
There is an abundance of gardening equipment on the market, but you should make sure that you're getting only high-quality supplies if you're planning on doing some serious landscaping.
Essentially, your gardening toolkit must have these items: a rake, hedge trimmer, hoe, spade, hand pruner, sprayer, trowel, and gloves. Don't forget that you'll need fertilizers and acidifiers.
Security System
While living in a gated community with a low crime rate can certainly feel safer and comfortable in your house, not to mention that it would increase your house value in case you want to sell it in the future.
However, that doesn't mean that you don't need to install a security system.
The first thing that house buyers do while inspecting houses is the doors and windows to ensure that they lock properly.
They might be even more impressed if the house has a full safety and security system installed.
You might also want to increase safety by adding new locks, double locks, or deadbolts. To add the final touches on your house safety, make sure that you have a fire extinguisher within reach.
Smart Lighting
Smart light bulbs are another good way to save energy bills, as smart lighting systems allow you to control home lighting no matter which room you're in.
You can control the lighting from your smartphone, or you can connect it to your smart hub and network, which will allow you to control illumination only with your uttered commands.
Additionally, smart bulbs help reduce energy bills, so you won't have to worry about wasting energy if you're outside and have left the lights on. One cool thing you can do is put the lights on remotely to ward off any burglars if you're on holiday.
Toolkit
Landlords usually handle repairs, which means they have a toolkit within reach whenever the tenant requires maintenance, but if you've recently bought a new house, you'll have to buy a toolkit of your own since no one's going to the repairs for you.
A house owner must have a toolkit that contains all the basic tools, like a hammer, a screwdriver set, a wrench set, a drill set, and nails and screws.
Make sure to update your toolbox every time you need a new item. Doing so will help you do minor fixes, so you won't have to call the plumber or a handyman to do them for you.
With that said, you can now buy some of the best appliances to improve your everyday life and maintain your house in optimal condition.
Make sure that you invest in quality products and consider making purchases from trusted buyers to avoid the hassle of returning malfunctioning items.
Finally, be sure to set up a budget for your house appliances so you can prioritize the essentials and buy the rest later.
(Visited 16 times, 1 visits today)