One of the best things about having your own family at Christmas is that you get to create your very own festive traditions. These are things you can do year in year out, that will get you all feeling in the Christmas spirit and are something your own kids are likely to pass on to your grandchildren later down the line. If you're looking for new ways to celebrate the season and get excited to the countdown to the big day, here are some ideas!
Make your own Christmas cards
You can get lots of beautiful cards in the shops, but there's nothing quite as special as receiving something handmade! It's a chance for your kids to get out their art supplies and get creative, and give a card they've made to some of the special people in their lives. While they have fun with glitter glue, you could have a go yourself- if you're already crafty then chances are you have the basics that you need. Your scrapbooking materials could come in handy here, you could do some painting or even sew a design to stick onto a card. If you have a cutting machine such as vinylcuttingmachineguide.com you'll have the ability to try out lots of custom designs. You could spend a day each year making some cards, and then hand delivering them.
Do some festive baking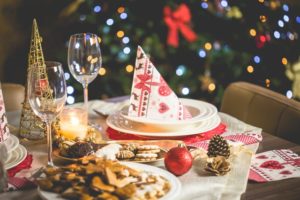 Festive baking is a great way to get the house smelling like Christmas, with spices such as cinnamon, nutmeg and ginger it will really create a festive atmosphere. It's another fun activity both for you and kids, and once the baking is done they can go wild with the decorating. You could make homemade baked goods for gifts and put them in cute Christmas boxes or tins to keep costs down, or just enjoy them yourselves!
Volunteer and/or donate
Volunteering teaches children empathy, and while it's a hard hitting message it shows that not everyone is as lucky as them. Even an hour spent volunteering at a soup kitchen could really make a difference, and knowing you've helped people can add to your festive cheer. Another way you can encourage children to think of others is by donating to a charity. Often charities will run 'shoebox days' where you can fill a shoebox sized box with some essentials and bring them to donate. It could be for children, women at a women's refuge or even for animals. Have them pick out the things they'd like to include, and explain why what you're doing is so important.
Have a movie day
Movie days at Christmas are the ultimate lazy, cozy days where you can all enjoy each other's company. Put on a few of your festive favorites and enjoy them with some tasty snacks and hot chocolate. It's a fantastic way to spend a cold and miserable day, and allows you all to relax during the run up to the main event.
What are your family's favorite festive traditions? Have you done any of the above?
(Visited 69 times, 1 visits today)