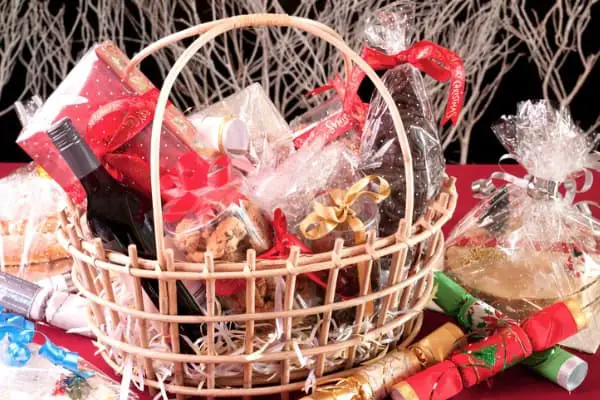 Nothing compares to the joy of receiving a gift that is precisely made according to the receiver's choice. So, this Christmas, skip pre-made hampers and create your own with our favorite DIY Christmas hamper ideas.
The secret to making the ideal do-it-yourself hamper is to emphasize personalization. In this instance, customization does not have to be costly!
Concentrate on little things, and we promise you will finish up with a great hamper that the receiver will like.
Combine a variety of products that address their interests. Consider the practical and thoughtful items, and do not forget to include some personal touches.
What is a Hamper?
A hamper is traditionally a woven basket packed with a variety of food and drink during Christmas. Usually, the baskets are lined with wood wool, and the contents are placed on top.
The hamper is then wrapped with cellophane and fastened with a bow.
However, the phrase 'gift hamper' or 'gift basket' is increasingly used in Australia to refer to various other kinds of gift packages that are themed and presented attractively.
You can purchase pre-assembled gift baskets or create your own.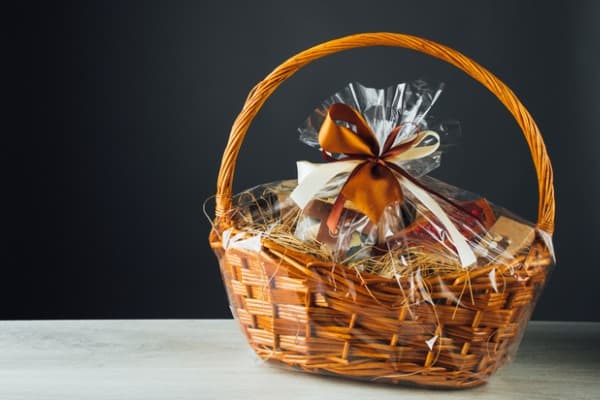 What to Put in a Hamper?
When choosing items to include in a hamper, pay attention to the theme, the budget, the recipient, the delivery method, and the size of the hamper.
Theme
A theme will assist in tying together all the components of your hamper. In addition, selecting items based on the recipient's interests, personality, and occasion can assist you in creating a meaningful present that they will cherish.
Budget
If you have set a budget for the hamper, consider dividing it into different parts. By adding handmade components, such as baked pastries, you may save money and demonstrate your concern.
Preference
The recipient's preferences and dislikes should influence both the general concept of the hamper and the individual item selections. For instance, while purchasing or preparing meals, it is important to consider their preferences and dietary restrictions.
Delivery Method
When, where, and how will you give your hamper? These variables may impose restrictions on the weight, size, and kind of presents you may purchase.
In addition, expiration dates are a critical factor to consider while organizing a food hamper.
Hamper size
To provide an attractive presentation, you need to ensure that the basket has ample space for displaying your presents. You may want to select your gifts first, and then look for a suitable hamper.
You can also buy quality Christmas hampers in Melbourne if you are living in the Victorian capital and do not want to prepare your hampers or do last-minute shopping.
But if you are all up for making your own, here are some DIY hamper ideas for your loved ones.
Hamper for Moms
Christmas is ideal for people to get down on their knees, pick out some weeds, and reintroduce some love into the soil. Moms will enjoy plant pots, even more so when stocked with all the necessary equipment for a green thumb.
Gloves for gardening, seed growing pots, shovels, gardening notebook, seed packets, twine, and so on will make the hamper a perfect gift for moms.
Include something thoughtful, like a moisturizer to soothe her skin after a day in the sun.
This DIY hamper with necessary items will put a big smile on your mom's face and will remind her of you for months to come while she works with her plants.
Hampers for Dads
A flavorful BBQ pack is an excellent hamper option for your dad. The man in the family likes being outside and cooks for their families. Make a DIY hamper using a serving tray or cutting board and add some skewers, a basting brush, some gourmet sauce, spice mix, or BBQ rub tied to it with ribbon!
This can be an excellent opportunity to share some handmade treats while also demonstrating your genuine feeling with a present that he will appreciate. Making it yourself and including some of his preferences, like favorite BBQ spice, gourmet nibbles, or his beloved beer or cider, gives it that extra personal touch!
Hampers for Wife or Sister
The simplest Christmas hamper ideas for women are the most creative. Nothing truly screams 'treat yourself like a homemade manicure, pedicure hamper.
Some plush slippers serve as a foundation for the other gifts, including a nail care kit, nail polish, foot lotion, massager, and other pedicure or manicure tools.
Or you can get a makeup kit, some exclusive cologne, or perfume with the kit to make it more appealing.
With a lovely ribbon wrapped around, you can create a wonderful Christmas hamper she will enjoy.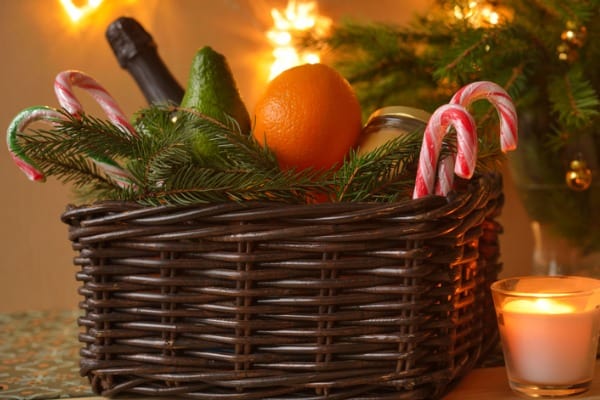 Couples Hamper
Are you on the lookout for the ideal present for a loving couple? Christmas hampers are perfect couples' presents, whether for your brother and his wife, your friend, and his girlfriend, or an office colleague and partner.
If the couple has just moved in together, kitchen items are an excellent option for a DIY Christmas hamper.
Necessary tools like oven mitts, knife sets, spatulas, a set of bowls or cups can make a great DIY Christmas hamper for couples.
Hampers for Choco Lovers
Australians love chocolates and coffees. A Christmas hamper with a chocolate or coffee theme is ideal for anyone who loves chocolate or cannot function without their morning coffee.
There are many fantastic options for the contents of a coffee and chocolate Christmas hamper. Fill a milk crate with their favorite coffee beans, coffee liquor, bright cups, gourmet chocolates, and, of course, some delectable chocolate-covered coffee beans.
Wrap a large coffee-coloured ribbon around the crate and sit back and relax, knowing that you have just made a Christmas present they will appreciate.
This is an innovative hamper idea that will delight the recipient.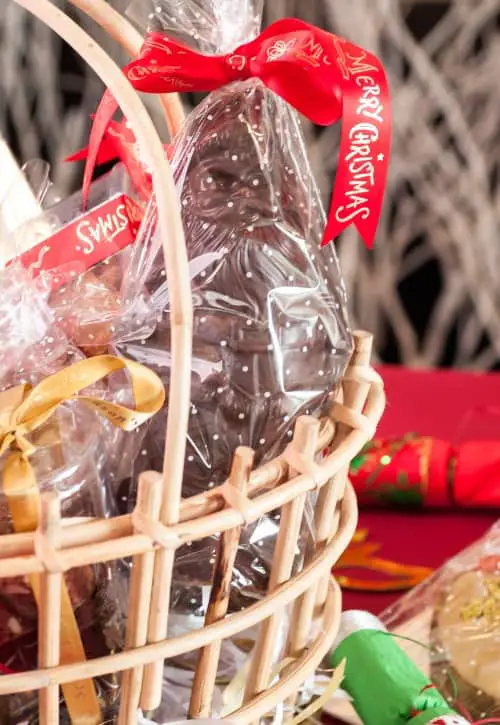 Hamper for Sweet Lovers
We are all familiar with that one person who is a huge sweet lover! Here is one of the simplest DIY hampers on this list.
Simply fill this beautiful willow basket with all the favourite sweet goodies! They will undoubtedly enjoy having an unlimited supply of snacks at their disposal.
Spa Essentials
Are you having difficulty selecting products for your hamper? Then, fill your hamper with a variety of spa necessities to assist your loved ones in unwinding after a long day.
The only essentials for the spa are bath salts and scented candles! So to fill up the hamper add some chocolate and other sweet goodies for them to nibble on.
This is an excellent trick for saving a few dollars when creating several hampers.
Purchase a large quantity of the goods you want to include in your hamper and empty them into individual containers for separate hampers!
We usually suggest utilising these mason jars for any DIY projects. Including bath salt, fragrant candles, and individually wrapped bath bombs which will transform this hamper into something special.
When it comes to assembling the perfect spa kit, there are many items you can include in your hamper. You can load it with herbal tea, essential oils, Arabic coffee body scrub, and sheet masks.
Chef's Hamper
Everybody knows someone who loves cooking. Rather than making a standard hamper, this is your opportunity to be unique.
Purchase that one kitchen item they have been eyeing or something large enough to serve as a container for your smaller presents.
Use a slow cooker or a big pot and just load it with recipe books/magazines, herbs & spices, dishcloths, and an apron.
Hamper for Pancake Lovers
On a cold morning, who does not like warm, fluffy pancakes? Make it simple for your loved ones while making their favorite breakfast by including all necessary ingredients such as maple syrup and pancake mix in an attractive hamper!
Suppose you know someone who is following a ketogenic diet. In that case, you could always buy them a slightly different set of ingredients to create their keto pancakes: Almond flour, Coconut flour, Sugar-free Maple Syrup, and Sweetener.
This might be a very thoughtful present!
Makeup Hamper
We all know someone who loves being dressed up! So what is the simplest method to bring a big grin to their face? Fill their cart with the hottest beauty must-haves.
Here are a few beauty products that any girl would love to receive in her hamper: An eyeliner, eyeshadow pallet, eyeshadow primer, mascara, concealer, blush, lip gloss, and a beauty blender!
Breakfast Hamper
Here is the perfect foodie's gift! Assemble a breakfast kit for your loved ones by gathering all the necessary ingredients in a hamper.
Orange juice, maple syrup, pancake mix, high-quality kitchen towels, bacon, and a bottle of excellent wine or champagne are items you can add to your hamper.
Also, Australians love good cheese, so including some exotic cheese in this hamper will be a great idea.
Cupcake Making Kit Hamper
Is Christmas complete without a fresh batch of baked goods? Create a cupcake kit for your friends and family to keep them occupied on a cold evening.
All you need is a cupcake pan, cupcake liners, mix, frosting, icing tips, and sprinkles for your cupcake kit!
Conclusion
Investing time and effort in making a Christmas DIY gift hamper is an excellent way to demonstrate how much you care about someone.
Although the possibilities are limitless, we hope these ideas and suggestions have inspired you. Merry Christmas!
(Visited 34 times, 1 visits today)