Did you know that the children in America are not up to par with the
federal nutritional guidelines?
According to a journal published by the Journal of Nutrition Education and Behavior, allowing kids to take part in cooking is associated with a healthier dietary intake.
Each child deserves to have a healthy breakfast. And what's better than teaching healthy recipes that they can prepare by themselves? This way, they will feel in control while learning the importance of nutrition from a young age.
This article has listed eleven mouth-watering breakfast ideas kids will love making. You can teach them or let them cook with you.
So keep reading!
1. Cereal with Nuts and Fruits
Teaching your kids to make a healthy cereal with the goodness of fruits and nuts will benefit them for years to come.
Ingredients
1 cup of sliced fruits
1 cup of crunchy broken nuts
1 glass of milk
Cereal
Method
Add cereal to the bowl and include the fruits and nuts as per your choice.
Fill it with milk and your breakfast filled with proteins and carbohydrates is ready.
2. Peanut Butter and Banana on Toast
Peanuts are high in protein, and bananas are known to release happiness hormones. Mixing them both will keep your kids' hunger at bay.
What's the best part? You can also pair this breakfast with a smoothie or nut milk.
Ingredients
Two slices of bread
1/2 teaspoon cinnamon powder
1 tablespoon crunchy peanut butter
A small banana
Method
Slice the banana and set it aside.
Toast the bread and top one piece with a layer of banana, then dust it with cinnamon powder.
Similarly, spread the peanut butter on the other slice and combine the two pieces.
Your tasty toast with peanut butter and banana is ready. Instead of cinnamon, you can add cocoa powder for a unique taste.
3. Omelet Wedges
Teach your kids how to make omelet wedges, and it'll take care of their morning hunger. Your kids can easily prepare this simple breakfast by themselves at home.
Ingredients
2 tablespoons of butter
4 eggs
1 tablespoon crumbled bacon
2 tablespoons cheese
1 onion (sauteed)
Method
Take a pan and heat it on a medium flame. Drop two tablespoons of butter onto the pan and allow it to melt.
Break the eggs and whisk them with the seasoning of your choice.
Once the pan is heated, pour the beaten eggs and top it with cheese, sauteed onion, and crumbled bacon. Keep the cheese from oozing out with a spatula.
Flip the omelet. Once the second side has cooked, fold it in half.
Cut it into small pieces after placing it on a plate.
You can combine it with a glass of fresh juice for a completely healthy breakfast.
4. Banana Pancakes
Bananas are rich in fiber, potassium, and vitamin B6. When turned into a pancake, they are even more delicious and healthy.
It is arguably one of the best family breakfast ideas you can teach your kid.
Ingredients
3 ripe bananas
1 box of pre-made pancake mix
100 ml milk
Granulated sugar (based upon your sweetness preference)
1 teaspoon vanilla syrup
Method
Take a box of pre-made pancake mix and prepare the batter with milk or water. Once you achieve the required consistency, add granulated sugar and vanilla syrup.
Whisk the pancake mix until the ingredients are properly mixed. The more you mix it, the fluffier your pancakes will be.
Mash the bananas and add to the pancake mix. You can also add chocolate chips for extra flavor.
Pour the batter onto the pan and when you start to see bubbles, flip the pancakes.
Drizzle with maple syrup for an exquisite taste.
5. Smoothies
Though the nutritional value of smoothies can differ, overall, they help to maintain health and energy levels.
Teach your kids to make a smoothie filled with nutrients and fiber to boost their morning energy.
Ingredients
Granulated sugar to taste
2-3 fresh fruits (like banana, berries, and apple)
Whipped cream
Nuts
Method
Chop the fruits into small pieces and add them to the blender.
Add some sugar and nuts into the mix for a better taste.
Blend them in a mixer and pour them into a bowl or glass.
Add some whipped cream on top. You can also add some fresh mint for a refreshing feel.
6. Crepes
Crepes have less fat and calories than pancakes, but they are still a mouth-watering breakfast option. They are easy to prepare because most of the ingredients are probably in your kitchen.
Ingredients
2 eggs
1 cup of all-purpose flour
1 tablespoon granulated sugar
Salt
1½ cup milk
Butter
Fruits
Powdered sugar
Method
Put the all-purpose flour in a bowl and add salt, eggs, and sugar. Add the milk gradually while whisking the contents.
Keep the batter aside for 20 minutes.
Heat the pan and pour 1⁄4 cup of the batter into it.
Spread the batter evenly by moving the pan slightly.
Wait for a minute and flip the crepe.
Remove it after a minute and garnish it with bite-sized fruit toppings and powdered sugar.
7. French Toast Casserole
French toast dates back to ancient Rome. So you can sprinkle some old mythic stories of Rome while teaching your kids how to make a French toast casserole.
Ingredients
One large loaf of bread
2 tablespoons of cinnamon powder
4 tablespoons of granulated sugar
1/4 cup melted butter
4 eggs
1/2 cup milk
Salt
Chopped pecans
Method
Take a fresh pan and spray it with cooking oil.
Chop bread slices into small cubes. Then place a layer in the pan.
Add chopped pecans between each layer for flavor.
Take a different bowl and whisk the eggs with two tablespoons of sugar and one tablespoon of cinnamon powder and milk.
Pour the mixture into the pan on top of the layers.
Mix melted butter, two tablespoons of granulated sugar, one tablespoon of cinnamon powder, and salt in a separate bowl.
Sprinkle it on the top for a sweet taste and bake for 15 minutes.
You can serve it with maple syrup, custard, or powdered sugar for extra sweetness.
8. Choco-Chip Pancakes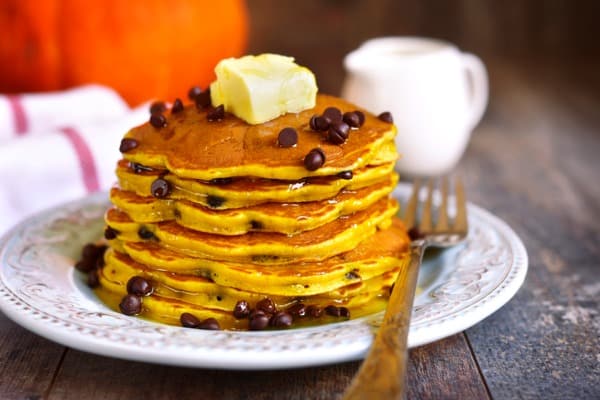 Pancakes are rich in carbohydrates and contain various minerals and proteins. They are considered "heavy" foods, which are more difficult to digest. As a result, they can make your picky eaters drowsy and lethargic.
So, it's better to indulge in this breakfast once in a while, not regularly.
Ingredients
1 cup of pre-made pancake mix
Chocolate chips
1 cup milk
Butter
Method
Put the pancake mix into a bowl and add the milk slowly.
Whisk the batter until it is soft with no lumps.
Add sugar for extra taste (optional).
On a griddle or heated pan, add butter and pour the pancake mix.
Drop some chocolate chips on top.
When you start to see bubbles, flip the pancake. Let it cook for another minute or two and remove.
Top the pancake with maple syrup and your favorite berries for an added taste.
9. American Omelet
The American omelet is a simple breakfast idea for picky eaters that requires fewer ingredients. This dish is filled with healthy toppings, cheese, and eggs and has all the nutrients with an exquisite taste.
Ingredients
2 eggs
Pepper and salt to taste
3 tablespoons cheese
¼ cup topping—avocado, tomato, etc.
2 tablespoons butter
Method
Heat a pan and grease it with butter.
Put the eggs in a bowl and add the seasonings.
Beat the eggs with a whisk and pour them into the pan.
Add cheese and toppings and then fold it.
Reduce the heat and remove the omelet from the pan after a while.
Top it with some more cheese and herbs for a final finish.
10. Grilled Cheese Sandwich
Ingredients
2 slices of bread
3 tablespoons butter
1 slice of cheese (whatever kind you like)
Method
Preheat the pan on medium.
Spread butter on one side of both slices and toast them in the pan.
Place the butter side down, add one slice of cheese, and place the other toasted bread on top (butter side up).
Grill it until the cheese melts.
Keep the stove on low flame to avoid burning the bread.
Serve it on a hot plate with a layer of butter on the top.
11. Scrambled Eggs on Toast
Your kids can prepare this breakfast in a matter of minutes. Scrambled eggs on toast is an energy-filled food with the goodness of vitamins B and D and protein.
Ingredients
2 eggs
Butter
Pepper and salt to taste
2 slices of bread
Method
Toast your bread and set it aside.
In a separate bowl, mix the eggs, butter, and seasoning. Beat until soft.
Pour the mixture into a hot pan and stir until the eggs cook.
Place the scrambled eggs on the toast and eat it.
Conclusion
Now that you have learned the recipes of eleven breakfast ideas for kids, it's time to teach them. These breakfast options will keep your kid healthy and reduce the risk of significant health problems.
Encourage them to get creative and don't hesitate to try their ideas of playing with a few ingredients.
So which recipes are you going to teach your kids first?
(Visited 66 times, 1 visits today)