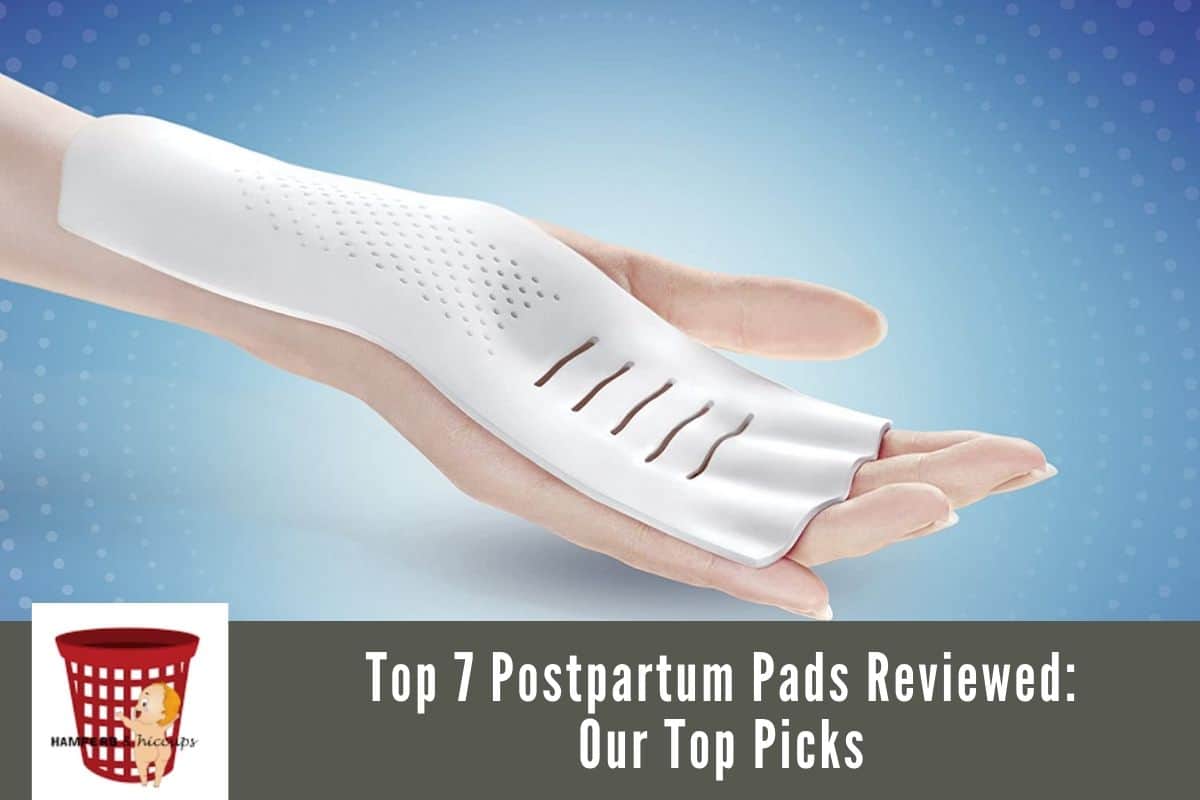 The birth of a baby comes with as many surprises as it can. While some are quite pleasant, like the baby itself, others might not be too pleasant. One of the not so pleasant surprises that the new mother would experience is vaginal bleeding and discharge. This occurs because the body tries to recover from the childbirth it has just gone through. The bleeding cuts across all kinds of birth: vaginal, cesarean, medicated, etc. At this stage, the new mother will need something to protect her clothes and bedspreads from the bleeding. Here come postpartum pads to the rescue.
As a new mother, you'll need postpartum pads almost immediately you can stand up after your delivery. As a result, postpartum pads must go with you to the hospital when you're going to deliver your baby.
There is no set number of postpartum pads that you will need; however, you can expect that the flow will be heavy and it will last for weeks. Pad change will be frequent during the first weeks – as frequent as every 60-90 minutes. That said, you might need over 200 postpartum pads before the bleeding stops.
It's one thing to know that you are going to need postpartum pads, and it's another thing to know the best ones on the market. This article highlights the best postpartum pads that you can place your money on. They have been selected as best, putting into consideration their qualities and features. You'll find the selected postpartum pads worthy of being among the best ones on the market.
Top 7 Postpartum Pads: Recommended Picks

Manufactured by reliable manufacture, the Always Infinity Flex Foam with Wings postpartum pad is one of the best on the market when it comes to protecting your clothes and beddings during the early days when the flow is the heaviest. As a result of its FlexFoam, it can absorb up to 10 times its weight and it is designed in such a way that it fits your shape well.
Also, this pad will keep you clean and fresh, make you feel light and comfortable, and you will confidently wear your favorite clothes without fear of the clothes getting stained.
Pros
The Always Infinity Flex Foam with Wings postpartum pad is thin and not heavy
It has non-textured surface so it doesn't hang on to stitches
It is longer than most postpartum pads on the market and as a result, it offers more protection
The foam filling of the pad makes it very comfortable
This pad has extra coverage in the back that offers more protection
Of course, this pad is very absorbent
Cons
The pad might have an unpleasant chemical smell as a result of the FlexFoam
Customer Sentiments
Some users complain about the pad's crumbling noise. Apart from this negative remark, this postpartum pad has mainly positive feedback.

The Always Maxi Overnight Pad could easily have been our overall top pick. Nevertheless, it stands as our best overnight choice and alternative top pick. It comes with an impressive super-absorbent stay-dry lining that will keep you clean even when your lochia is at its heaviest. At 15 inches, this pad is larger than most postpartum pads on the market.
The Always Maxi Overnight Pad has wings that protect against side leakage. These wings also help to hold the pad firmly. With its extra-wide back portion, it gives you the confidence to sleep soundly at night without worrying about your bedding getting stained.
Pros
The pad is super absorbent
Their unscented nature makes it suitable for women who are sensitive to odors
It offers maximum protection at night
Its wide back offers even more protection
The wings ensure that the pad stays firmly on your body
Cons
The pad is rather too big, so you get the feeling of someone wearing a diaper
The surface would most likely hang on to stitches
Customer Sentiments
Apart from the complaints that the Always Maxi Overnight Pad is bulky, there are no bad remarks. Customers especially like the fact that it offers maximum protection through the night. Some others commend the absorbency of the pad as they don't even have the feeling that they are sitting on something wet.

Always can do no wrong, can they? The Always Radiant Pad has, arguably, all the features of a good postpartum pad. Some people might be deceived to thinking that the pad is thin so it would absorb much. This pad can absorb 10 times its weight. With this on, you won't feel like you are wearing anything. The pad will make you feel comfortable and confident enough to wear your favorite clothes without fear of destroying the clothes.
The Always Radiant Pad comes with FlexFoam that will prevent your skin from being irritated. The wings of this pad ensure that it is secured in place. They can easily be kept in a nappy bag as a result of them being individually wrapped.
Pros
This pad is very comfortable
The wings ensure that the pad doesn't change its position at any time
There are not so many pads that are as thin as the Always Radiant pad, and it still won't feel bulky
It comes in various ranges of sizes
It is a bit scented
Cons
They have a higher cost price than most postpartum pads on the market
The scent might be repulsive to some women
Customer Sentiments
Many women find this pad quite impressive and this explains the positive feedback on this product.

As the name implies, these heavy flow pads are made from 100% cotton, which offers the comfort that a new mother needs. As a result of its biodegradable nature, this pad not only keeps the user clean but also keeps the environment clean. The organic fabric that it is made from also makes the pad very absorbent and delicate with the skin.
Like all other good pads, the Organyc 100% Organic Cotton Pads comes with wings that not only provides additional protection from the stains but also keeps the pad firm to the body. Although this pad can be used for both nighttime and daytime, it is more suited for use during the day as a result of its thin nature. They can easily be kept in a nappy bag as a result of them being individually wrapped.
Pros
It can be used when having a delicate skin
It is suitable for a healthier and cleaner environment due to the biodegradable cotton fabric.
It is completely organic
The pad is chlorine-free
It comes with wings that help keep it in place
Cons
This pad may be a bit more expensive than other postpartum pads on the market
It doesn't absorb as much as synthetic pads, so it will need to be changed more frequently
Customer Sentiments
Some users complain about the pad lacking enough absorbency. Another drawback is the cost in comparison with some other postpartum pads that offer more absorbency.

The Poise Incontinence Pads, as the name implies, are made for incontinency issues, meaning that they are not necessarily designed to be sanitary pads. Nevertheless, they offer a kind of absorbency that would come in handy for a new mother. They are designed in a way that you get maximum protection from leaks on both sides. Poise Incontinence pads would even be a good fit for overnight use, and you are sure to be kept dry and clean. With these pads on, you won't have to be worried about getting stained, whether at night or in the daytime.
Pros
They have a wider back for extra protection that you won't get on most sanitary pads
These pads perform a dual function of blood and incontinency issues
They are great for overnight use
It prevents the skin from getting irritated by locking moisture away
  Cons
These pads do not come with wings
Its chemical smell might seem repulsive
These pads would probably not absorb as much as most postpartum pads
 Customer Sentiments
Because they are not originally designed to be sanitary pads, these pads get a low rating from users for their lack of enough absorbency.

An alternative option for eco-conscious new moms is the Dutchess' cloth menstrual pads.  Its liner ensures that there is no leakage even with a large amount of liquid that it can hold. This pad comes with a charcoal bamboo layer that not only provides excellent absorption for heavy flow but also ensures that your skin doesn't get irritated.
Dutchess cloth pads come with cloth wings that are secured by a snap and can be easily stored. The natural dark color of these pads makes helps them not to look stained, and also makes it easy for them to be cleaned.
Pros
Their charcoal bamboo layer makes them resistant to odor
They are gentle on the skin and it won't seem like you are wearing anything
These pads are one of the few environmental friendly pads on the market
They are also budget-efficient.
They are reusable
They make use of natural materials
Cons
These pads aren't very breathable so they might feel a bit hot
Sometimes, they don't stay in their place when being used
They need to be washed often
Customer Sentiments
Many customers are drawn to these pads because they are an environmentally friendly option. Others love the fact that they are available when they are needed.

These pads are made from organic non-GMO Texas cotton. They are manufactured without pesticides, artificial dyes, fragrance, or chlorine. The few synthetic materials used for these pads include non-toxic glue for the adhesive and the plastic wrapping.  These pads are naturally absorbent and breathable as a result of the materials used in producing them. Rael Organic Cotton pads come in varieties of regular, large, and overnight. Another good thing to know about these pads is that they are biodegradable.
Pros
They are made from organic materials
Their all-natural nature makes them biodegradable
The cotton content makes the pads breathable
They come with wings to hold them in place
The cotton makes it gentle on the skin
Cons
They might not be absorbent enough
These pads are more expensive than most postpartum pads
Customer Sentiments
The only thing that customers complain about is the cost of these pads. Apart from this, customers are impressed at the length and the way the pads feel comfortable on the skin.
---
Postpartum Pads: Buying Guide
Just in case none of the above listed postpartum pad choices suit you, you might want to get something else. However, there are some features that a good postpartum pad should have. Below are some very important features to look out for when selecting your postpartum pad:
Absorbency
This is probably the most important feature of a good postpartum pad. The purpose of getting a postpartum pad will be defeated if the pad can't handle the heavy flow. That said, you'll need to choose a pad that can absorb a lot of liquid.
Comfort
Choosing a pad that does not irritate your skin is probably the wisest thing to do. Also, some pads don't stay in their place when used and this can be uncomfortable.
Size and Shape
If the postpartum pad you're considering buying is absorbent and comfortable enough, it also has to be the right size and shape. Postpartum pads with wings are the best. They are firmer and they offer more protection.
---
Frequently Asked Questions on Postpartum Pads
Are pads safer than tampons?
Of course, they are! You can use pads for longer periods than you would leave tampons in. if a tampon is left in overnight, it becomes potentially infectious, whereas there are postpartum pads that are perfect for overnight use, without risking any health challenge.
Can I reuse my postpartum pad?
It is important to know that not all pads can be reused. Synthetic postpartum pads would need to be disposed of when they get soaked while postpartum pads made from cotton can be washed and reused.
How many postpartum pads would I need?
Most women bleed for about 4-6 weeks after delivery; as such, they would need a large number of pads to keep them and their clothes clean and protected.
---
Concluding Remarks
The weeks after delivery would be messy and uncomfortable with different surprises springing up at every corner. However, postpartum pads are a way for you to effectively manage one of those surprises: bleeding. As long as you buy one of the best postpartum pads listed above, you won't need to worry about being clean, protected, and comfortable.
(Visited 527 times, 1 visits today)