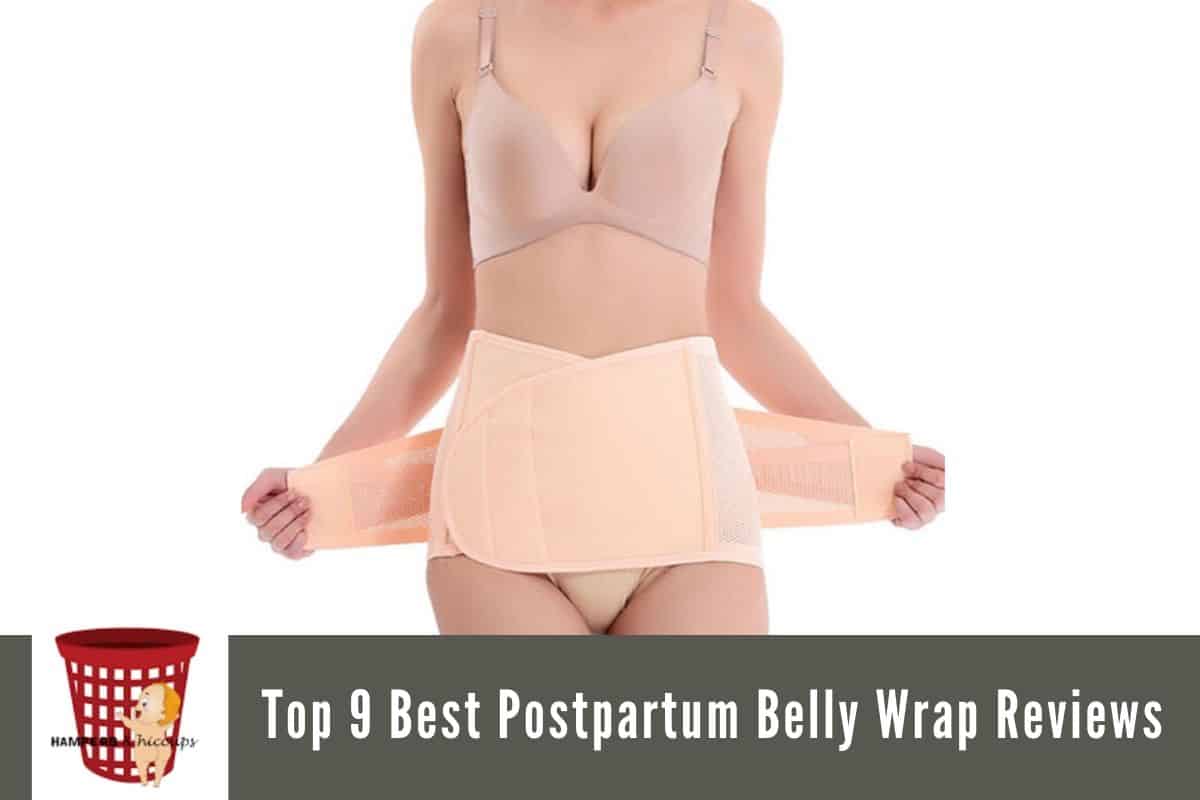 The transition from being heavily pregnant to becoming a nursing mother is one that cannot be rushed. The body of a pregnant woman undergoes several changes in the months building up to the point of childbirth. After childbirth, it also takes the body some time to readjust and get back into shape. 
Postpartum (or postnatal) period is a term used to refer to the time or period following directly after childbirth. Most women experience distress and exhaustion during this emotional period. However, it is normal to feel this way. There are various means by which nursing mothers can overcome this period, to avoid falling into depression. 
During pregnancy, the abdominal muscles expand and are weak from the point just before childbirth till the first weeks after childbirth – the postpartum period. Postpartum belly wraps help deal with the stretched abdominal muscles, flabby skin and other physical changes the body undergoes during pregnancy and childbirth.
If you're interested in getting a postpartum belly wrap, there are a lot of offerings on the market for you. A large number of products could make selection become an overwhelming task. Thus, you might want to see our list of the best postpartum belly wraps you can get right now, in no particular order.
Best Postpartum Belly Wraps: Our Top Picks

The TiRain 3 in 1 postpartum support triples as a belly belt, waist belt, and pelvis belt. It was specifically fashioned to help you shed that extra weight and regain your pre-pregnancy body. It is made with fabric that is easy on the skin, dense, very flexible and easily adaptable. 
The belly belt is dedicated to restoring your belly shape to normal, while the waist belt helps ease the back pain accumulated during pregnancy. The pelvis belt is aimed at supporting the process of recovery of the uterus completes the triple formula purpose of this product. In addition to a regular size fit, it also offers a plus-size option. This ensures that there is a comfortable size for everyone.
Pros
Made with super lightweight and breathable materials 
Triple functionality 
Easily adjustable 
Additional size option
Cons
Bulky in size and might be noticeable under clothing
Customer sentiments 
Reviews for this product were positive. Mothers loved the feel of the fabric and commended its design. Although, there were a few complaints of its bulkiness. Overall, it is a wonderful option to consider for mothers looking at losing that postpartum weight.

With its multiple size fit, this product is a very attractive option for mothers. It is also made from high-quality materials that prioritize your convenience and ease of use. The Trendyline Women Postpartum belly wrap is designed to give you the resilience to go about nursing your new baby while regaining your regular body shape. It comes in four general sizes- although the smallest of these sizes are not advised for postpartum, but regular fitness purposes.
Pros
Comfortable design 
Great value for money 
Easy to adjust 
Multiple waist size fits
Cons
Peculiarity of waist sizes may lead to wrong selections when placing orders
Customer sentiments 
The number of solid reviews on this product writes off any doubt you might have had about it. At a low price, users were surprised at just how good it performed for them. It is recommended if you don't intend to spend a lot.

For women familiar with belly wraps, it is commonplace to expect that your belly wrap is made with the best quality materials to ensure comfort and this product is no exception. This abdominal binder for women provides support to your waist and back as it wraps comfortably around your body. It also comes in varying waist fits and offers great flexibility. As the name implies, it can also be used for workout purposes in reducing belly fats and weight loss.
Pros
Made with comfortable materials
Includes a wide range of size options
Lightweight 
Cons
Cannot be used as waist corset
Customer sentiments 
The product received a lot of encouraging reviews. Although, some mothers noted that it is not as efficient with relieving back pain as others.

This product also ships with a complete package of belly belt, waist belt and pelvis belt to effectively meet all of your postpartum needs. Included in the package is an instructional guide for use, which suggests that you use the belly belt first, waist belt next, followed by the pelvis belt. The three belts are then used together in the last stage of use – about eight weeks postpartum. Worthy of note is the great customer service for this product and an interesting refund option, in case there is any problem with the product's quality after purchase. It comes in two sizes. 
Pros
Multi-functionality 
A handy instructional guide is included from the manufacturer
Alternative black color option 
Cons
Loses some flexibility after a short while
Customer sentiments 
Users were quick to point out how their belts rolled and curved up when they tried to sit down, losing the required flexibility. Otherwise, no much cause for concern here.

The Moolida Postpartum Belly Wrap is made from a high-quality cotton material that is smooth, elastic and easily masked under clothing. It allows you to sweat freely and is known to withstand overstretches and roll-ups while lying down or sitting. It is specially crafted to accelerate recovery from C-section delivery and comes in three handy sizes. The manufacturer advises use only after a week into postpartum or two weeks in for C-section delivery.
Pros 
Great sweat absorption quality
Skin-friendly cotton material
Lies unnoticed under clothes
Easily adjustable fit
Cons
Customer Sentiments
Customers loved the ease of adjustability this product offered. They also enjoyed how comfortable it felt to wear.
No products found.
No products found.
No products found.
Made from premium quality materials, the NYOrtho Abdominal Binder Lower Waist Support Belt ensures comfort and ability to breathe. The wide design of this belt means it wraps around your waist and stays firmly in place while you move around. This design also allows for easy adjustability as it is elastic enough to take almost any shape or size. The belt binder is crafted in such a way that it only wraps further around your waist, just in case you picked a bigger size.
During breastfeeding, it helps provide extra support to your waist and improve your body posture. It can be used by men and women alike to support recovery from various abdominal injuries. This support belt is also very helpful in preventing post-surgery complications. To avoid rolling and folding, the belt is well segmented into elastic bands.
Pros
Unisex design
Made with latex-free elastic
Great for back support
Ideal for post-surgery 
Cons
Elastic bands are prone to slacking overtime
Customer sentiments
Customers had a lot of praise for this product. Some women bought it for reasons other than postpartum weight. However, they were pleased with the consistent performance. 
No products found.
No products found.
No products found.
No products found.
Originally designed for waist training and tummy-slimming, the Venuzor waist trainer belt for women is a great recommendation for mothers dealing with postpartum weight. With four different colors to choose from, it offers the best aesthetic looks among its competition.
The belt's thick design provides enough heat to burn fats around your abdomen. 
It is made neoprene polyester – a material that is latex-free and offers great flexibility. It is suitable for people of all sizes as it possesses a double adjustment hook system.
Pros
Comfortable design
Made from great quality polyester 
Nice aesthetic design
Not noticeable under clothing
Cons
Customer Sentiments
Regardless of whether it was used for shedding postpartum weight, tummy slimming or in the gym, customers loved the Venuzor Waist Trainer Belt. A few bad reviews were noted for a seemingly strong smell of chemicals. Overall, customer reviews suggested this as a great product.
No products found.

Though limited in size options (only two sizes available), the Dicool Postpartum Belly Wrap Girdle Band is a multipurpose product and a great offering to consider for postpartum weight loss. The 3 in 1 belt provides multiple functions to help you achieve your desired body shape. 
It is made from high-quality materials that ensure breathability and offer great convenience. It is easy to wear and adjust. Also known to work quickly, it eases back pain, speeds up postnatal healing and provides comfort during breastfeeding.
Pros
Effective results are evident within a shorter time of use
Decent value considering its multi-functionality
Cons
Not the best adjustability when compared with others
Customer Sentiments
Reviews for this product were mostly positive.

The high waist feature of this product allows effectively double as a waist control and belly fat trimming girdle. It is designed to hold firm on your tummy and waist, offering compression to help you get back into shape quickly. 
It has an adequate number of hook rows to make it easy for you to adjust. The tummy corset is crafted to support your back, ease back pain and prevent the girdle from rolling. It is also made from lightweight materials that will not cause you any discomfort and are less detectable when you're dressed. 
Pros
Multipurpose use
The material is comfortable
Easy to wear and adjust
Cons
Customer Sentiments
Most customers loved the look and feel of this postpartum high waist girdle. It received mostly positive reviews. If you're working with a budget however, it is advisable to overlook this product and consider the less expensive ones.
---
Postpartum Belly Wraps Buying Guide
Having reviewed the benefits of a good postpartum belly wrap, you would want to be conscious of a few things before making a choice on which one to buy. A lot of these products offer multi-functionality as waist trainers, corsets and abdominal binders. It is good to pick one that prioritizes the particular purpose you intend for it to be used. Below are a few features to double-check when considering buying a postpartum belly wrap.
Comfort
Belly wraps are made from various materials. The common qualities to consider are flexibility, breathability, and adjustability. Your belly wrap should be flexible enough to retain its shape while you move around, sit, or even lie down. It should be made with soft skin-friendly materials to ensure breathability. It must also come with well-designed hooks to make it easy to adjust to your perfect fit. After buying your belly wrap, wash first before use.
Durability
Constant stretching might distort the shape of your belly wrap. A slacked belly wrap loses its ability to hold your skin in place and provides no support for your back. When selecting, you should look out for products made with the most durable materials. Also, it should be made of materials that dry quickly after wash.
Affordability
Hardly anyone would intend to spend a lot on a postpartum belly wrap. Well, you shouldn't, because you don't have to. There are a lot of decently priced products on the market that assure great performance and good value for money. They should be your preferred options.
---
FAQs on Postpartum Belly Wraps
Is it necessary to wrap my belly?
Postpartum belly wraps provide great support for women coming off the birth of a child. The body naturally returns to shape gradually after childbirth. However, belly wraps speed up these natural processes and helps ease a lot of pain in your back and abdominal areas. Wrapping your belly offers a ton of benefits to your body. It is advisable to carefully select one that suits your body shape and size after childbirth.
How do I know if I'm using my belly wrap right?
There isn't much to worry about after buying a quality postpartum belly wrap product. Most of these products provide adequate hooks to make them very easy to use. A few even come with instructional guides to ensure ease of use.
How long do I wear my wrap?
Depending on how comfortable you feel with it, belly wraps can be worn almost throughout the day for six to eight weeks after childbirth. Although some manufacturers advise you don't use the product within the first 24 hours of childbirth, the product can be worn right after childbirth; provided there are no complications from delivery.
Why Do I Need A Postpartum Belly Wrap?
Postpartum belly wraps offer many benefits. They offer compression and support for the abdomen and lower back. They also help to improve circulation and breathing. After pregnancy, sometimes the abdominals remain separated. This condition is called diastasis recti and it can be corrected using postpartum belly wraps. Furthermore, these products can help in alleviating pain and pressure around a c-section incision, while also reducing the swelling.
---
Verdict
As a woman in the postpartum phase, it is a great idea to get a postpartum belly wrap. Should you decide to take this path, picking any of our above-listed suggestions will be a quality purchase for you; one you wouldn't regret. But once again, it is important to pick one that best suits your postpartum body size and shape. Mothers aren't the only ones to consider these products as some of them are equally handy for men. If you've been looking to get a gift for a pregnant friend of yours, colleague or wife close to childbirth – you can never go wrong with a postpartum belly wrap.
(Visited 264 times, 1 visits today)